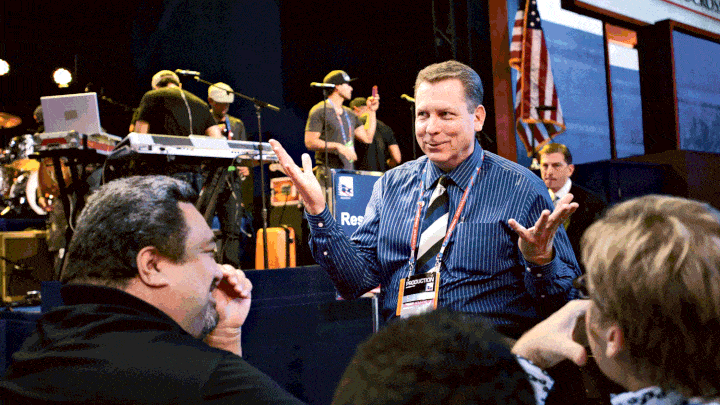 It sealed what will surely go down as one of this Republican National Convention's most memorable moments. Ann Romney, after delivering an emotional testimonial on behalf of her husband, turned to walk off the stage hand-in-hand with him on Tuesday night. And the classic song from The Temptations, "My Girl," blasted through the arena as thousands stood to cheer.
Frank Breeden did not create this scene — but he put the musical cherry on top. The convention entertainment director is responsible for making sure that what is at its heart a stodgy political event can at least occasionally get people dancing, clapping, or tearing up.
Sometimes, as in the case of Ann Romney, music can augment a scene that may reverberate all the way to November.
"Politics is about sending a message, and using music is just a very important currency these days," said the 55-year-old Breeden, a Washington literary agent who is also former president of the Gospel Music Association. "Entertainment marketing is used to convey messages to build support in any other sector of life."
The convention stage in Tampa is flanked by small platforms where the bands play, with the house band conducted by G.E. Smith, the former musical director for NBC's Saturday Night Live, on one side and the other featuring a rotating collection of groups.
(DOWNLOAD THE PLAYLIST: The Music of the RNC)
Nearly every speaker walks onstage accompanied by music. Breeden estimates that he has more than 200 songs ready for those entrances, and they share a common theme. "It's always safe, and it seems to be uplifting and inspiring," he said.
Although the music can reinforce the message, Breeden's main mission is less political. "You must entertain," he said. "Entertainment is required. After three, four hours of sitting in these seats, they need some variety. It feels good in the middle of the convention to stand up and dance. It's just fun. It creates memorable experiences, and it's unifying."
Breeden doesn't simply concern himself with the crowd in the arena seats; he also has to entertain the millions of potential voters watching at home, most with scores of other channels at their disposal. "It's more than a live television show; it's a convention where important business is being conducted," he said. "But not every business meeting has millions of dollars in assets conveying its message to a watching world. You've got to keep in mind, in addition to its business, its political side, which is very important — it's also a TV program that's competing for viewers."
The convention has already featured some marquee musical moments. The rock band 3 Doors Down closed Tuesday's program with the world premiere of a new song — the first time that has ever happened at a convention, according to Breeden. And country-music star Lane Turner sang two songs written specifically for the convention: "I Built It" and "Blood, Sweat, and Freedom."
That's a lot of musical heft for a political convention, particularly for a Republican Party whose politics often are at odds with many in the entertainment industry. But Breeden, who coordinated entertainment for the 2004 GOP convention as well, says that people shouldn't assume Hollywood and the music business are nests of liberals. "That may be true — we don't have a census on that," he said. "But I've had more outward expressions of support this time around than any time in memory for me."
We want to hear what you think about this article. Submit a letter to the editor or write to letters@theatlantic.com.