'As Maine Goes ....': The Ron Paul Movement's Last Stand
Ron Paul-supporting Republican delegates staged a protest march and walked out of the convention hall -- and Romney supporters wished them good riddance.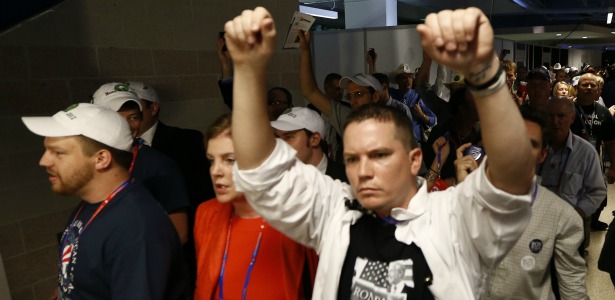 Reuters
TAMPA -- The chant went up near the tail end of John McCain's speech to the Republican convention, its rhythm but not its words audible from within the convention hall. Out on the arena concourse, a large group of delegates was making a circuit of the perimeter. What they were saying was, "As Maine goes, so goes the nation!" Several wore T-shirts with Ron Paul's name on the front and, on the back, the words "WE ARE THE FUTURE" superimposed on a picture of the Constitution.
"There is no legitimate nominee!" cried Zach Smart, an Arkansas delegate with a swatch of his dark hair dyed bright red. Smart, an engineer, wouldn't give me his age because he didn't want to be judged for his youth. "This process has been compromised! We stand with Maine!" And with that, Smart and his fellow Paul supporters -- there appeared to be at least a hundred of them -- marched out of the Republican convention. (The slogan, a historical reference, alludes to Maine's onetime status as a presidential bellwether, something that hasn't been the case since 1932.)
If you haven't been following the Ron Paul convention subplot, a quick recap: Many Paul supporters got themselves elected national convention delegates by diligently following the arcane party rules in their states. On Sunday before the convention began, some 10,000 of them attended a rally in Tampa at which Paul, the 77-year-old libertarian congressman and failed presidential candidate, spoke for more than an hour and declined to endorse Romney. During Tuesday's convention session, the Paul delegates tried and failed to head off a rule change disenfranchising them, and their votes were ignored in the roll call. But nothing grated more than the treatment of Maine, where an all-Paul delegation was selected in the state's caucuses, only to be stripped of their delegate slots by the RNC and replaced with Romney delegates.
Nonetheless, Paul got nearly 200 votes in the roll call that nominated Romney, and Smart, whose delegation listed him against his will as a Romney vote, said he understood why the establishment forces were so desperate to suppress the Paulites. "He was afraid if we got Maine in, we would have had a real vote, Mitt Romney versus Dr. Paul, and we would have nominated Dr. Paul," he said. Since the betrayal, he said, the Paul supporters had been meeting to decide what to do, and the walkout was the result.
Just before the protest, a video tribute to Ron Paul had aired on the convention floor, followed by a speech from the congressman's son, Sen. Rand Paul -- concessions the party had hoped, in vain, would be enough to placate the Paul supporters. (Rep. Paul said he was offered a speaking spot but turned it down rather than endorse Romney.) Rand Paul, for his part, gave a Romney-boosting speech consisting almost entirely of Republican rhetoric, with virtually no nod to his father's movement -- a seemingly clear signal that he sees his future not as his father's rebellious heir, but as a mainline GOP politician.
As the Paulites filed out of the convention hall, Romney delegates watched them go, displaying more relief than angst. "Go home!" one man called, while another chuckled, "Looks like we'll have more elbow room on the floor now!"
Claude Pope, a 52-year-old North Carolinian in a crisp blue seersucker suit, strolled to the edge of the arena patio and took out a pack of Winstons. "I think it's a childish, immature, sophomoric stunt," he drawled. "If you're going to be a member of a party -- we have our battles, we have our primaries, and then it's over and everyone needs to come together and support a nominee."
Then again, Pope reflected, the Paul supporters don't seem that interested in being Republican Party members. "I really think they're libertarians," he said.