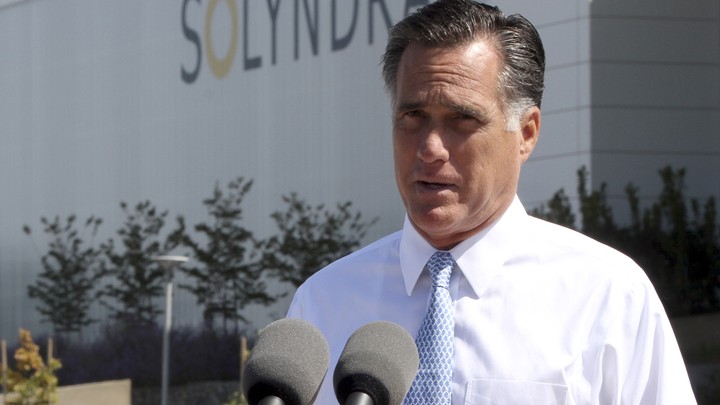 When a campaign spokesman for Mitt Romney told The Des Moines Register last week that the GOP presidential candidate does not support extending the production tax credit for wind energy, the statement surely riled up a lot of people around the country, in the wind industry and at clean-energy organizations. But Romney is facing a particular backlash in Iowa, the second-largest wind-producing state after Texas, as he campaigns there this week.
"It's likely that there will be people from the wind-energy industry at his events and they're certainly going to be extremely interested in what Governor Romney has to say," Harold Prior, executive director at the Iowa Wind Energy Association, told National Journal on Tuesday.
Romney has events in Iowa on Tuesday and Wednesday — his first campaign stop there since his campaign's controversial comment on the tax credit last week.
"We're certainly hopeful here in Iowa that they'll reconsider his position," Prior said of the campaign, indicating that Romney still has some wiggle room with Iowa voters. "If he just sends signals that he's willing to reconsider the stance that he's taken so far "¦ a willingness to take a second look at the issue will be important."
The wind industry in Iowa employs between 6,000 and 7,000 people, but as many as half of those jobs could be at risk if the tax credit expires at the end of this year, according to the American Wind Energy Association. Iowa gets 20 percent of its electricity from wind turbines — the highest percentage in the nation — and the state ranks seventh for potential wind resources, the AWEA says.
As part of an ongoing broad attack on President Obama's clean-energy efforts, including his economic-stimulus program that produced a default on a $535 million federal loan by solar-panel manufacturer Solyndra, a Romney campaign spokesman said last week the GOP's presumptive nominee is firmly opposed to extending the tax credit for wind projects.
"He will allow the wind credit to expire, end the stimulus boondoggles, and create a level playing field on which all sources of energy can compete on their merits," Shawn McCoy, a spokesman for Romney's Iowa campaign, said in an interview with The Des Moines Register. "Wind energy will thrive wherever it is economically competitive, and wherever private sector competitors with far more experience than the president believe the investment will produce results."
The statement put Romney in hot water with many Iowans, from Republican Gov. Terry Branstad to local business leaders across the state.
Branstad told Radio Iowa last week that the Romney campaign doesn't seem to understand how important wind energy to Iowa. "You've got [in Romney's campaign] a bunch of East Coast people that need to get out here in the real world to find out what's really going on," Branstad said.
Sen. Chuck Grassley, R-Iowa, a leading advocate for extending the production tax credit, has said that he thinks the Romney camp "didn't know what they were doing" by opposing the PTC. And Rep. Tom Latham, R-Iowa, said last week that he was "disappointed" by McCoy's statement, which Latham said "shows a lack of full understanding of how important the wind energy tax credit is for Iowa and our nation.  It's the wrong decision."
If nothing else, the statement did draw a clear battle line between Romney and Obama. The president has not only expressed support for extending the production tax credit, he's done it in Iowa. And as Romney headed toward a fundraiser and campaign event the state on Tuesday, the White House again reiterated its support for renewable energy projects by announcing it will expedite permit approvals for wind energy projects in Arizona and Wyoming and five solar projects in other states.
Romney could work his way back into the good graces of Iowa Republicans when he holds another campaign event in Des Moines on Wednesday morning. If Romney expressed a willingness to reconsider his position, it would be important for Iowa voters like Mark Parriott, 52, who knows exactly what it means if that tax credit is not extended.
Parriott oversees operations for wind-turbine blade manufacturer TPI Composites in Newton, Iowa. But before he became a part of the wind business, Parriott worked in manufacturing for Maytag, which employed hundreds of people in Newton — a community of 15,800. When Maytag, which had been in Newton for over 100 years, closed its doors in the fall of 2007, Parriott and 1,800 others lost their jobs.
"The economic damage to this town was severe when Maytag left," said Parriott. "It's exciting for me to be a part of something that's replacing that." So far, TPI Composites has replaced about 700 of the lost Maytag jobs.
These days, Parriott is proud to be a part of the wind industry. "I like being involved in the wind business. I feel like we're doing something good," he told National Journal earlier this year. "Even coming from a more conservative perspective, I think that having renewable sources of energy just makes sense."
People in Iowa are aware of the importance of the wind production tax credit, Parriott explained. "We talk about it all the time," he said. "We know that the three times that is has been allowed to expire in the past has had a really dampening effect."
Parriott's factory served as the backdrop for Obama's speech supporting the extension of the production tax credit in May. "If Congress doesn't act, companies like this one will take a hit," Obama said of the provision set to expire at year's end. "We can't let that happen," Obama shouted to a cheering crowd at TPI Composites.
Just a few days later, Romney appeared before the shuttered headquarters of solar-panel firm Solyndra, criticizing Obama's investments in clean energy. Romney called the vacant building "a symbol of how the president thinks about free enterprise.... Free enterprise to the president means taking money from the taxpayers and giving it freely to his friends."
We want to hear what you think about this article. Submit a letter to the editor or write to letters@theatlantic.com.
Olga Belogolova
is an associate editor at
InsideDefense.com
in Washington, D.C., where she covers the Navy. She was previously a staff reporter at
National Journal
, where she covered energy policy and other global issues.