A Wild Manager for a Disciplined Campaign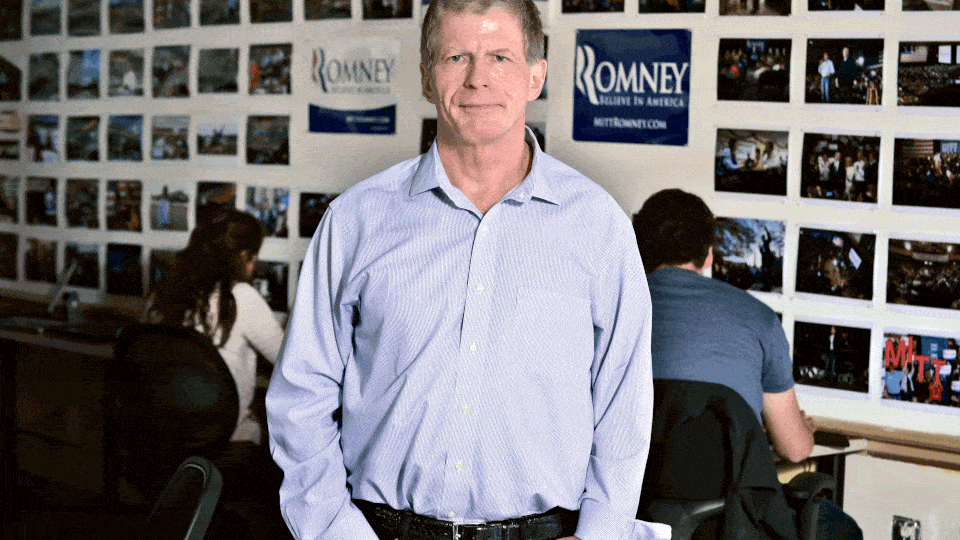 Stuart Stevens is an easy guy to love: Funny, creative, and colorful, Mitt Romney's chief strategist is an accomplished author, athlete, and world traveler portrayed in a recent New Republic profile as "a steroid-
dabbling, screenwriting bon vivant."
He is also an easy guy to hate: Insular, strong-willed, and self-promoting, Stevens has made enemies within the GOP establishment. His position atop Romney's campaign says as much about Romney as it does about the hired gun.
"It says something that I think is good about Romney — that he's willing to listen to diverse and unique opinions," said Mark McKinnon, a strategist for President George W. Bush who recruited Stevens to work for the former Texas governor. "Stuart is not a conventional voice at all. In fact," McKinnon said with a chuckle, "there's little conventional about him."
That seems fair.
Raised in Jackson, Miss., Stevens has written three books about his trips across Europe, Asia, and Africa. He has competed in cross-country ski marathons, bike races, and triathlons. In The New Republic, Noam Scheiber wrote of Stevens: "In preparation for the legendary Paris-Brest-Paris bicycle race, a 1,200-kilometer odyssey, he once put himself on an elaborate steroid regimen and documented the experience for Outside magazine."
Using the techniques of a Hollywood filmmaker and TV sports producer, Stevens created political ads early in his career that had a more homespun quality than typical political spots. One ad introduced Tom Ridge to Pennsylvania voters in the mid-1990s, opening with Ridge acknowledging that nobody had ever heard of him. The candidate's mother then peered out of a doorway and said, "Tom, put your hat on."
In 1994, all 12 of Stevens's GOP candidates won — and a political star was born. He worked for Bob Dole's 1996 presidential campaign before joining Bush's orbit in 2000. With success came enemies, not the least of which are two high-profile GOP consultants who once worked for Romney, Mike Murphy, and Alex Castellanos.
"Nothing more idiotic Stu Stevens preening in NYT Mag won't solve," Murphy tweeted in response to a November 2011 poll showing Romney trailing Newt Gingrich in Florida.
"Don't worry. Stuart will deliver [Charlie] Crist endorsement," Castellanos added, referring to the former Florida governor. Stevens worked for Crist before the Republican ran for the Senate in 2010 as an independent and lost.
After loading his 2008 campaign with high-octane consultants such as Castellanos, Murphy, and Stevens, Romney decided to rely on a single voice in 2012. He chose Stevens over Castellanos and Murphy.
Both men are biting their tongues these days. "I avoid discussing the Stuart Stevens issue," Murphy stated in an e-mail.
Castellanos said in a brief telephone interview: "I'm not his biggest fan and he's not mine, and we're not going to get married and have children together. But I hope he serves Mitt well and they win this thing."
GOP consultant John Feehery, who does not work for Romney, dismissed the sniping by Murphy and Castellanos. "Those guys are big egos, too," he said. "You've got to have one guy in a campaign who is the top dog, and that's Stevens. You can't have room for doubt."
Beyond Castellanos and Murphy, the verdict on Stevens is mixed. Several other Republican operatives, speaking on condition of anonymity to avoid angering Romney, said that Stevens is a brilliant ad man but he is light on policy and may not have the background to be a campaign's chief decision-maker, the role he plays for Romney.
"No question about it, Stu is a black-and-white guy," said McKinnon, an admirer. "Not many people are in the middle on Stu. People either love or hate Stu."