#YOHO: How Did a Large-Animal Veterinarian Knock Off a 12-Term Congressman?
A four-way primary and a harsh environment for incumbents helped Ted Yoho upset Rep. Cliff Stearns in Florida.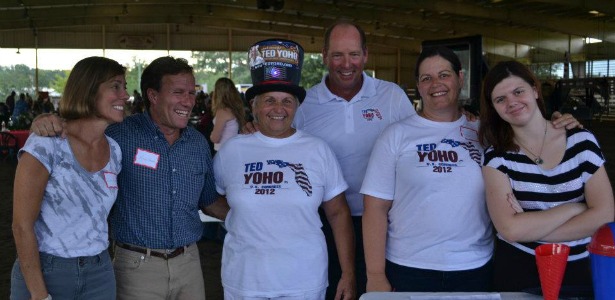 TedYoho.com
What does it feel like to pull off an unexpected defeat of an incumbent congressman?
"Like I just landed on the moon. We're excited. It's surreal," gushed Ted Yoho, moments after receiving a concession phone call from Rep. Cliff Stearns.
With his victory by a tiny margin -- 829 votes as of last count -- Yoho went from longshot primary challenger to likely future member of Congress literally overnight. Stearns has represented his Florida district in the Ocala and Gainesville area for 24 years, but lost a Republican primary to the large-animal veterinarian.
How it happened is a bit of a mystery. Since 2010, there's been lots of talk about anti-incumbent waves, which have swept up long-serving politicians like Senators Bob Bennett and Dick Lugar, but those have come when the officeholders have shown a willingness to compromise with Democrats and moderates. What makes the Stearns-Yoho race interesting is that it's not a classic Tea Party vs. establishment battle. In fact, there's little ideological space between the two men. Both are conservative Republicans. Both staunchly oppose the president. Both are pro-life. Stearns had a war chest of some $2 million for the race, though he spent just upwards of $700,000 of it; Yoho had to make do with about $300,000.
Stearns, no shrinking violet, had spearheaded high-profile fights on prized conservative causes, especially the failed solar-power company Solyndra and Planned Parenthood -- it was his congressional investigation that led the Susan G. Komen Foundation to (briefly) sever its funding for the reproductive-health organization. Stearns boasted endorsements from Rep. Paul Ryan, Rep. Allen West, Rep. Michele Bachmann, and the Family Research Council; Yoho lists no elected Republican endorsements. Distastefully, Stearns also flirted with birtherism during the campaign.
For Yoho, a first-time candidate whose campaign staff consisted of one full-time paid staffer and an intern, the reason is simple: Voters are sick of establishment candidates. That was the message of a memorable ad Yoho aired, saying: "Career politicians got us into this mess but all they do is throw mud at each other."
In another ad, Yoho took a call from a George W. Bush impersonator who portrayed the former president as eager to help him out.
Though Yoho said he'd voted for Stearns in the past, he got more and more frustrated over the last few years. Even when he agreed with the representative, there wasn't enough action.
"Mr. Stearns put this in the clearest perspective and gave me the best illustration on the radio about eight months ago," Yoho told me. "They asked him, why has no one stood up against Mr. Obama on the things he's done that are unconstitutional? He said, it's simple, all someone has to do is offer a resolution. I said, if it's so simple, you've been there 24 years!"
On matters like Planned Parenthood, Yoho said, Stearns wasn't dogged enough to get results. "I think they're important to deal with, but it's too little too late. That was 16 months ago. There's no follow up."
Yoho may be on to something. Historically, even when voters have said they're disgusted with Congress -- such as now -- they've remained supportive of their own members of the House. Despite the wave of upsets in 2010 and this year, incumbency is still an advantage overall, but it may be less helpful in lower-profile local races. Voters who weren't paying close attention may just be less likely to go with the familiar name than they used to be. Yoho was also helped by the fact that he was in a four-way race. Two other candidates pulled 19 and 14 percent apiece, meaning that Yoho only needed 34 percent of the vote to beat Stearns.
No one from Stearns's campaign was immediately available to comment. Yoho said his concession phone call was "very gracious, very humble, he just said congratulations. He couldn't been any more gracious."
Yoho now turns to the general election. He's expected to win the seat, which is in a Republican district. If elected, he's pledged to serve no more than four terms.