Will the Decline in Marriage Mean a Decline in Political Power for Mothers?
Unmarried mothers are now the majority of new moms under 30, and 41 percent of non-college educated moms. Too bad they don't vote so much.
What if the goal of women's equality within the American political system is partly dependent on the persistence of marriage as an institution here? The rise in the percentage of women who have kids outside of marriage in the United States without a concomitant transformation of unmarried mothers into more engaged political participants suggests that, far from experiencing a long-forecast and organic increase in political power in the years ahead, women will actually see it decline.
How's that? Let me walk you though some of the studies pointing in this direction.
Over the weekend, Jason DeParle wrote a provocative piece about growing class divisions in family structure. Though there was some debate over how he described one of the studies cited in the piece, in the main his New York Times piece was provocative not because of anything he wrote, but because the topic is one that is so fraught (with defenders of single moms, in particular, sensitive to any hint of woman-blaming for a social transformation many women feel helpless to fight given the changes in working-class male values and economic prospects). Observed DeParle, describing one partial source of the new inequality:
College-educated Americans ... are increasingly likely to marry one another, compounding their growing advantages in pay. Less-educated women ... are growing less likely to marry at all, raising children on pinched paychecks that come in ones, not twos.

Estimates vary widely, but scholars have said that changes in marriage patterns -- as opposed to changes in individual earnings -- may account for as much as 40 percent of the growth in certain measures of inequality. Long a nation of economic extremes, the United States is also becoming a society of family haves and family have-nots, with marriage and its rewards evermore confined to the fortunate classes. ...

About 41 percent of births in the United States occur outside marriage, up sharply from 17 percent three decades ago. But equally sharp are the educational divides, according to an analysis by Child Trends, a Washington research group. Less than 10 percent of the births to college-educated women occur outside marriage, while for women with high school degrees or less the figure is nearly 60 percent. ...

Long concentrated among minorities, motherhood outside marriage now ... is growing fastest in the lower reaches of the white middle class -- among women ... who have some postsecondary schooling but no four-year degree.
Heather Boushey and I described the same educational/family structure divide back in 2002, at the front-end of the wave of out-of-wedlock births to white working-class women, and in the context of explaining the so-called baby bust among high-achieving women:
The so-called baby bust thus has far less to do with female accomplishment or age-related infertility than it does with the persistence of traditional values among economic elites. For high-achieving women, it might as well still be the Eisenhower era, which was the last time the nation as a whole had such a low rate of unmarried births. Because of high-achieving women's greater behavioral conservatism, it is marriage -- not degree of professional success -- that is the single largest determinant of whether they will have children.

So why don't these women just get married? The answer is, they do. Remember, high-achieving women are just as likely to be married at 28 to 35 and at 36 to 40 as are all other working women. And once they marry, they are just as likely to have kids, though they tend to do so somewhat later in life. The difference is that the ones who don't marry rarely have kids.
The class division in unmarried motherhood has implications beyond economic inequality, a divide in life experiences for a whole new generation of children, or an increase in the percent of women who never have kids because they don't marry. The new family structures also have potentially profound implications for our political system, and for the power of mothers within it, according to data crunched for a presentation by Lake Research Partners for The Voter Participation Center earlier this year.
The number of unmarried mothers is rapidly increasing as a fraction of the potential voting population because it is rapidly increasing as a fraction of women with children, but their turnout out and the percent of the electorate they comprise has not kept pace with that increase: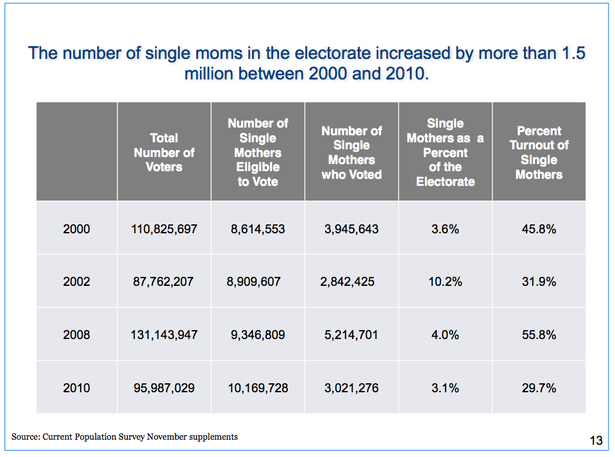 The problem for women's political power is that unmarried mothers turn out at the lowest rate of any group of women, when you divide women by whether they are married and have children. That was true in 2008, when 56 percent of unmarried moms voted -- versus 69 percent of married moms and 72 percent of married women without kids: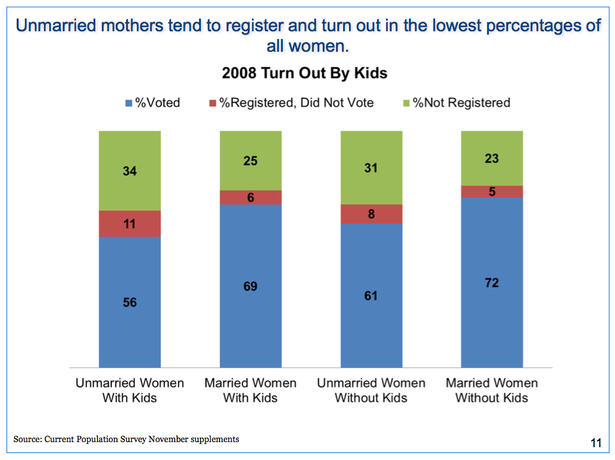 And it was even truer in 2010, when only 30 percent of unmarried mothers voted, compared to 47 percent of married moms and 58 percent of married women without kids (turnout generally goes down during mid-term contests, and overall Democratic turnout was down that year as the groups Obama's candidacy had pulled into the electorate failed to return at high levels for the state-by-state contests):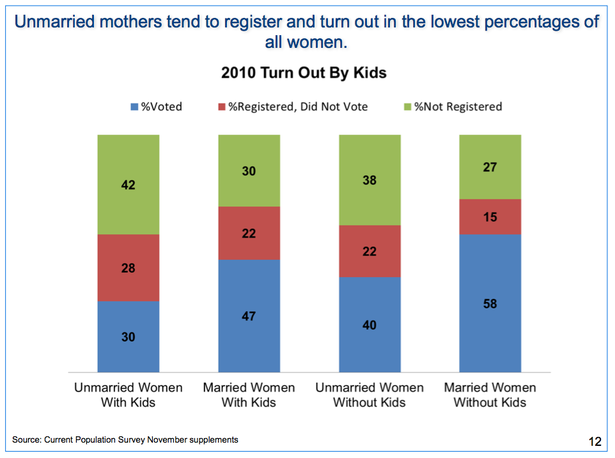 In short, as more and more women become unmarried moms, more mothers will find themselves too pressed to vote. And yet unmarried moms are a group that could only benefit from increasing their political power -- potentially improving their place in society, and within the economy. According to The American Prospect's report on poverty in America:
Households with only one wage-earner -- typically those headed by single mothers -- have found it extremely difficult to support a family. The share of families with children headed by single mothers rose from 12.8 percent in 1970 to 26.2 percent in 2010.... In 2010, 46.9 percent of children under 18 living in households headed by a single mother were poor.
Lake Partners found the new wave of unmarried moms doing poorly in other ways, too: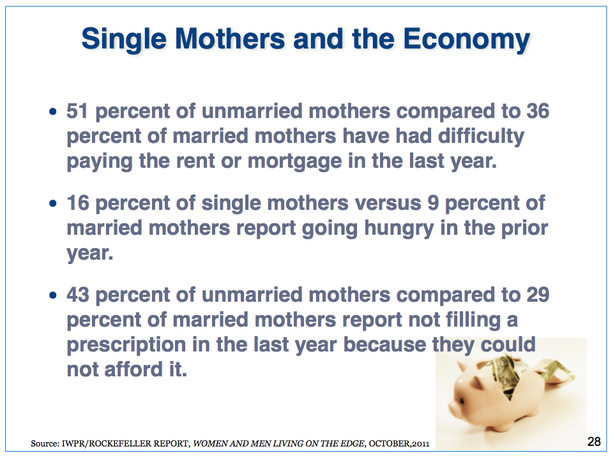 What are the long-term political implications of the impoverishment and political disengagement of mothers, now that the majority of births to women under 30 -- the population of women that is most likely to have new kids, for obvious reasons -- are to unmarried ones?
When they do vote, unmarried mothers (just like unmarried women, more generally) vote heavily Democratic. In 2008, according to the Lake Partners data, 74 percent of unmarried mothers voted for Barack Obama, as compared to 51 percent of married ones.
All of which adds up to an unavoidable logical inference: The transformation of motherhood into a non-marital phenomenon -- a social practice that at the same time hurts women economically and pulls them away from the political world -- could well lead to a decline in political power for mothers, and eventually for all women, since more than 80 percent of women eventually have kids. And it also could lead to a decline in the political fortunes of Democrats in all but the most motivating contests.
Given that, it's hard to see how we get to the world Anne-Marie Slaughter is calling for, where women have more power to influence the governance of their country, and eventually transform the workplace to make it more family friendly.
"Having a mate who will be an equal partner is absolutely essential for women" to achieve workplace success, Slaughter told attendees at the Aspen Ideas Festival at the start of the month.
But unless we reach some new and unforseen tipping point, provoking some new and unforseen organization of women on their own behalf, it seems more likely the feminist transformation of the workplace outside of the most elite circles will stall out as a consequence of the way the decline of marriage threatens to pull mothers away from political engagement.