Why on Earth Is Mitt Romney Raising Money Overseas?
Despite the political risks, both Romney and Obama see ex-pats as an untapped campaign resource ripe for the taking.
Despite the political risks, both Romney and Obama see ex-pats as an untapped campaign resource ripe for the taking.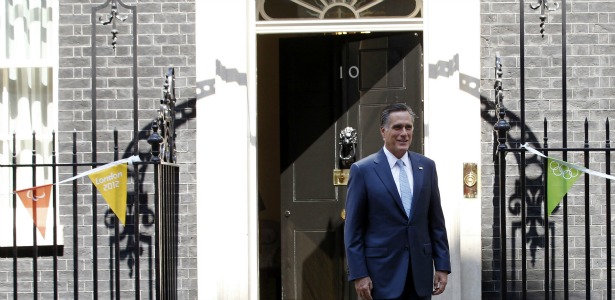 Reuters
After being hammered for having Swiss bank accounts, parking his money in the Cayman Islands, and leading a company that pioneered offshoring of jobs, one might think that Mitt Romney would be skittish about passing the hat while in London and Israel.
Quite the opposite, though. The presumptive Republican nominee is attending a $2,500-per-head reception today with banking executives; he'll also go to dinner where attendance costs $25,000. Later on his overseas jaunt, he'll host a fundraiser in Jerusalem that costs either a $50,000 check or bundling of $100,000 in contributions to attend. The donors won't be foreign nationals -- noncitizens, except green-card holders, are prohibited from giving to campaigns -- but rather wealthy ex-pats, like financiers working in the City of London.
As Lisa Lerer reported in Bloomberg BusinessWeek this month, Romney isn't alone. Though Barack Obama hasn't personally traveled abroad to raise cash, his campaign hasn't been squeamish about hitting up donors overseas.
Though Mitt Romney has raised more money than Barack Obama in recent months, the president is still beating him in the little-noticed race to tap wealthy expats, topping Romney's overseas donations by a nearly 2-to-1 margin, according to the Center for Responsive Politics .... Obama and Romney have raised just under $1 million, combined, from abroad--a tiny percentage of the $385 million donated for their races so far. The Romney camp is betting that face time with the candidate will encourage more expats to give. "There are millions of Americans who live abroad," says Ari Fleischer, a former press secretary to George W. Bush. "My question is, why wouldn't somebody do this?"
For Romney, there's a political risk in looking for money overseas. But the fundraisers dovetail neatly with his trip to Britain, Poland, and Israel, a voyage meant to shore up his foreign-policy credentials, arguably the weakest part of his resume. And for better or worse, Romney's repeated verbal missteps while in London are sucking up press attention and overshadowing the fundraising.