Why Isn't Obama Speaking to the NAACP?
Romney spoke to the annual gathering of black leaders, but the president is sending lower-ranking officials. There's no obvious political explanation for the dis.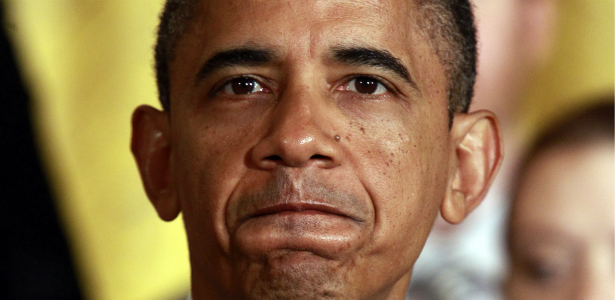 Reuters
President Obama is going to win the African-American vote. By a lot. Let's just get that out of the way. Even so, his decision not to speak at this week's NAACP convention is perplexing.
Obama's opponent, Mitt Romney, spoke at the annual gathering of black activists on Wednesday, and while he was booed for his trouble, he was also widely praised for making a symbolic gesture of outreach and braving the hostile crowd. Obama, on the other hand, sent two lower-ranking Democrats in his stead -- Attorney General Eric Holder spoke Tuesday, and Vice President Joe Biden is scheduled to speak Thursday. The official explanation from the White House was that Obama had "scheduling" issues.
When the president is invited and sends an underling instead, that's an undeniable dis, especially when his opponent shows up in person. Obama, who won 95 percent of the black vote in 2008 (and who, you may have heard, is America's first black president), may believe he can afford to take black voters for granted. But that's not at all clear.
There are numerous states where black voter turnout could be crucial to Obama's hopes. The Southern swing states -- Virginia, North Carolina, and Florida -- are the most obvious, but African Americans also make up a substantial portion of the electorate in Rust Belt swing states such as Ohio and Pennsylvania. Black voters in those states probably aren't going to vote for Romney, but Obama needs to make sure as many of them come out to vote for him as possible.
Obama has spent recent weeks revving up other elements of his base -- youths, gays, Latinos -- with both campaign events and election-year policy interventions. But African Americans haven't gotten any conspicuous outreach. Meanwhile, the president's decision to come out in favor of gay marriage has the potential to alienate at least a few black voters. Romney's comments in favor of preserving "traditional marriage," between a man and a woman, were applauded by the NAACP audience Wednesday.
Obama's decision to forgo the convention would make sense if there were an obvious political downside, but I can't think of one. Is he afraid it would remind white voters that he's black? It seems a little late for that. If anything, such a speech would contrast Obama's presumably warm reception with Romney's chilly one. It's hard to see how that's a bad thing for the president.