What Is Going On With Jesse Jackson Jr.? A Primer
The Illinois Democratic representative is reportedly undergoing inpatient treatment for an ailment of some kind.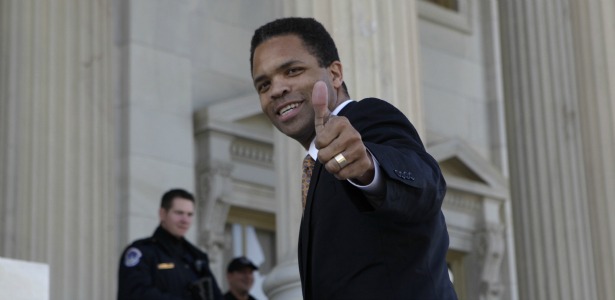 Reuters
Who is Jesse Jackson Jr.?
As his name suggests, he's the son of the famed civil-rights icon and former presidential candidate. The younger Jackson is 47 years old and has represented Illinois' second congressional district -- which includes some of South Side Chicago and some southern suburbs -- since 1995. Like his father, he's a Democrat, and a liberal; he was tied for the most left-leaning member of the House in National Journal's most recent rankings). A trained lawyer with a master's in theology, he's basically been a lifelong politician. While his father has a famously fraught relationship with Barack Obama, the congressman is closer to his former colleague in the Illinois delegation, and served as national co-chair of Obama's 2008 campaign. Interestingly, Jackson Jr. is also a huge Civil War buff.
What's going on with him right now?
Although Jackson once had a reputation for frantically rushing to make almost every vote, he hasn't been in Washington since June 10. Very few people seem to know where he is. On June 25, his office announced that he had taken a medical leave of absence two weeks earlier and was being treated for "exhaustion." On July 5, Jackson's staff released further information, stating:
Recently, we have been made aware that he has grappled with certain physical and emotional ailments privately for a long period of time. At present, he is undergoing further evaluation and treatment at an in-patient medical facility. According to the preliminary diagnosis from his doctors, Congressman Jackson will need to receive extended in-patient treatment as well as continuing medical treatment thereafter.
Naturally that only created more confusion, since it didn't clarify where he was or what he was suffering from. There have been rumors of a suicide attempt, which have been denied. Wednesday, NBC reported that he was being treated in Arizona for alcoholism, but it's now reported that he is being treated for a "mood disorder," perhaps in addition to or instead of alcoholism. It's unclear what the disorder might be, but it's believed to be serious, since most -- such as depression -- are treated on an outpatient basis.
Hasn't he been caught up in controversy before?
It doesn't help Jackson's case that he's been in hot water in recent years, although for very different reasons. Jackson was rumored to be a candidate to fill Obama's Senate seat after the 2008 presidential election. In fact, allies allegedly offered to pay Gov. Rod Blagojevich a $1.5 million kickback for appointing Jackson, although the congressman denied knowing of the effort. A House Ethics Committee investigation is ongoing. He also confessed in 2010 to an extramarital affair. His wife, Sandi Jackson, is a Chicago alderman.
What happens now?
Jackson's circle is under fire for being so tightlipped. Right now, the controversy seems to be playing out according to the Tip O'Neill adage that all politics is local. While Speaker John Boehner and national Republicans have avoided getting involved, Jackson's hometown paper, the Chicago Tribune, slapped down requests for privacy. "No, we're sorry, this isn't a private matter," the paper said in an editorial Thursday, arguing that Jackson owes his constituents more information. As Dave Weigel points out, Jackson and his advisers have failed to learn the lesson of recent political scandals involving absence from office: the attempt to hide information almost always comes back to bite you. For the time being, Jackson seems to be safe. He survived a primary and is in a safely Democratic seat. But if his condition remains mysterious or if it appears he won't be able to return to service any time soon, calls for him to step down may become too loud to ignore.