What Do Your Favorite Websites Say About Your Politics?
Republicans play FarmVille, Democrats read Buzzfeed. Mapping the social web against your political preferences. Click to enlarge.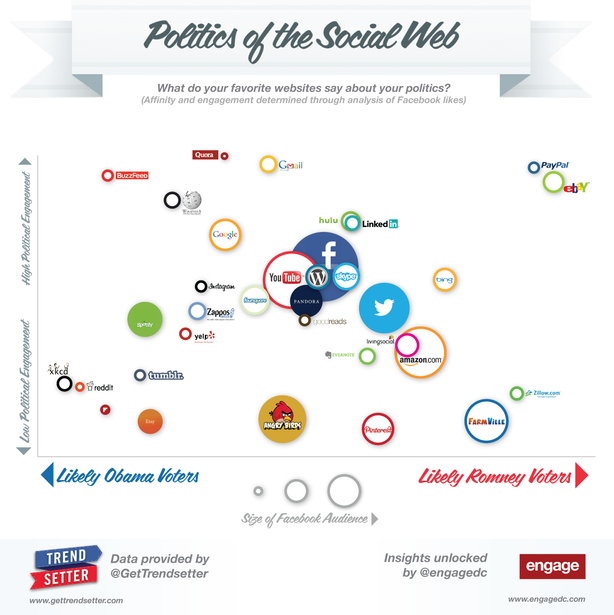 Writes Engage President Patrick Ruffini:
Over the past few months, we've crunched countless "Likes" from thousands of users of Trendsetter, our first-of-its-kind platform that ties together polling, social influence data, and consumer preferences. We've used it to map the politics of the social web, analyzing the political partisanship of the user bases of various social properties. Using predictive modeling of Facebook likes, we tied political preferences and engagement to one's choice of social media, and this bubble graph is the result....

Sites that tend to skew more Republican include those oriented towards commerce and personal finance -- like PayPal, eBay, Zillow and LinkedIn (not to mention Amazon, albeit at lower levels of political engagement). Sites that index higher for political engagement include Quora, BuzzFeed, and Wikipedia, which emphasize information and knowledge. Meanwhile, visual pinboards and social games may be fertile ground for the campaigns to find new voters, as those sites often demonstrate defined political leanings combined with lower levels of political engagement.
In short:

Campaign 2012 is a contest between Etsy-shopping, Spotify-listening Tumblr readers and eBay-shopping, Pandora-listening FarmVille players. As I suspect you may have suspected.
Update 7/11/12 5:15 p.m.: If you're interested in more on how consumer preferences are allied with political ones, check out Terrence McCoy's April Atlantic story on how "Political strategists buy consumer information from data brokers, mash it up with voter records and online behavior, then run the seemingly-mundane minutiae of modern life -- most-visited websites, which soda's in the fridge -- through complicated algorithms and: pow! They know with "amazing" accuracy not only if, but why, someone supports Barack Obama or Romney." McCoy reports on a different data set, developed by National Media Research Planning & Placement, which showed that heavy Internet users overall skew slightly Republican, but that Pandora and Twitter users skewed Democratic while Facebook users were about in the middle and auction site users leaned the GOP.