Washington, D.C.: Still a Tough Town for the Ladies
Even after decades of progress, women in the capital say they have to work harder than men to get ahead. In their view, job opportunities are not equal.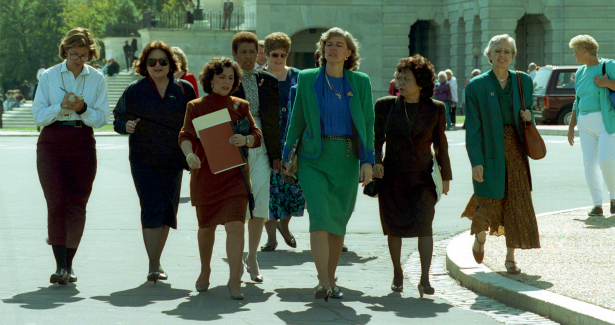 The air conditioning at the Firehook Bakery near Farragut Square in Washington is barely keeping up with the 100-degree temperature outside. Pamela O'Leary and Mwende Katwiwa find a private table in back. Katwiwa readies her notebook and pen, while O'Leary sips her coffee. "What are the main differences between Washington, D.C., and other places you've worked?" Katwiwa asks.
"You always have to dress really conservative here," O'Leary responds. "Dressing well, doing your hair properly, wearing makeup. I got called out by my female mentors because of that. I appreciated that, but I don't know that a female supervisor would do that to a male."
O'Leary and Katwiwa are practicing the time-honored networking tradition of the "informational interview." O'Leary specializes in teaching young women the rules -- particularly the unwritten ones -- of climbing the professional ladder in the nation's capital. She offers feedback to Katwiwa when the interview is over. "You did great. You showed up early. You had lots of great questions .... Always remember to watch the time. These things should go about 20 to 30 minutes. Do you remember what else you are supposed to ask?"
Katwiwa, a Tulane University student who is interning this summer at the United Nations Population Fund and hopes to find a job in Washington after graduation, dutifully repeats what she has learned. "Is there any other person I can contact? Oh, and remember to send a thank-you note."
After the mock interview, Katwiwa reflects on the encounter's curious blend of Emily Post etiquette and girlfriend sharing. "I had never heard of an informational interview. It seems like such a D.C. thing. I would never think to ask a person about her life. I would think it would be too personal or improper."
O'Leary has conducted hundreds of these practice sessions with female college students who want to break into the capital's cloistered political class. The mission of the Public Leadership Education Network, where O'Leary is executive director, is to place women in leadership posts in all areas of public policy.
O'Leary tells her charges to lower their voices, shake hands firmly, introduce themselves with their first and last name, and attend cocktail parties where they don't know a soul and come away with at least one contact. She teaches them about 15-second elevator pitches and personal branding. ("Take the drinking photos off your Facebook page. Set up a Google alert of yourself.")
"Washington, D.C. -- the government in any form -- is the ultimate old boys' network," O'Leary told National Journal. Women "excel in the traditional education system," she said. "We study hard. We get good grades. But that doesn't translate into gender parity."
At 27, O'Leary is not far removed from the experiences of the women she coaches, and that makes her both accessible and mildly intimidating to them. "It's the whole idea of self-promotion. That's what it comes down to," she said. "That's part of your job. You have to do these things on a regular basis in order to succeed." If you are a natural introvert, she added, "it's not going to feel comfortable."
O'Leary knows that her own success in Washington depends on her willingness to push boundaries without coming across as too aggressive. She leaped at the chance to work in a congressional office, consciously risking the goodwill of her bosses in Los Angeles by turning down a two-year appointment there. "We're all OK now," she said. She changed her name from Pammy to Pamela when she moved east. She is taking golf lessons to improve her networking opportunities.
APPROACHING THE INNER CIRCLE
O'Leary is a younger version of the typical political professional in Washington -- highly focused, whip smart, and well aware that those traits alone won't get her ahead. She echoes the feelings of many women in the city when she says that she must work doubly hard because of her gender. The overwhelming prevalence of this "we work harder" idea is surprising, considering that the town's network of lobbyists, political advocates, government-relations officers, congressional aides, and administration officials is teeming with women.
An NJ online survey of 717 women professionals and nearly two dozen interviews with women across the spectrum of policy and politics echoed O'Leary's perspective: This is a tough town, and it's even tougher for women. Almost three-fourths of the women surveyed (73 percent) said that men have more opportunities to get ahead than women. Half said they had personally experienced discrimination at work because of their gender. Older women told NJ that the path is easier now than when they started out. But women still have a long, long way to go.
Sixty percent of the respondents said that it is harder for women than for men to attain positions of leadership. Yet almost the same number of women (65 percent) said they believed they could advance as far as their talents would take them, regardless of gender.
The current cover story in The Atlantic (which is owned by Atlantic Media, National Journal's parent company), "Why Women Still Can't Have It All," captured the dilemmas of professional women in balancing work and family. NJ's research into the status of women in Washington shows that those problems are no less potent in a political town that, in many ways, represents the ultimate professional meritocracy. An Ivy League education is less important than being able to spot a problem in a draft bill and knowing someone on the Hill who can fix it.
A tour of duty through Congress or the administration is a virtual requirement for high-level policy and lobbying jobs, and that path has an equalizing effect on women's employment in public policy. An added leveling component comes from the political correctness that fuels this town. Women matter as a voting bloc. They need to be represented, at least pictorially, in the power factions of government. "In government, the salaries are capped at the top for men, and women have a chance for reaching that top," said Heidi Hartmann, a George Washington University professor who heads the Institute for Women's Policy Research and studies women in the workplace. "In Congress and the federal government, women are moving up and getting a higher share of the federal jobs," she added. "It's a continuing problem to still get in there on equal footing."
---
MORE FROM NATIONAL JOURNAL
---
The "but" that lingers in Hartmann's analysis crops up in every conversation or query about the role of women in Washington. Women are indeed muscling their way toward the back rooms where the most important decisions are made. But the door is still closed much of the time. Even President Obama, who arguably is one of the most feminist presidents in U.S. history, is not immune to criticism. "The people he plays basketball and golf with are male. Most of his Cabinet secretaries are men," Hartmann said. "There does still seem to be a sense in which the inner circle is frequently male-dominated."
FAMILY BIAS
Washington has always provided opportunities for white-collar professionals. The government serves up a steady stream of jobs that are oriented toward the social sciences. Nowadays, those jobs attract more women, who cluster in social-science or arts-oriented studies and are graduating from college at higher rates than men. The city is home to several major universities, a key factor in upping women's labor participation. Women also tend to have the kinds of attributes -- diligence, good manners, smarts -- that make them easy hires. "Washington is one of those markets where it's really all about your talent," said Leslie Hortum, who manages the D.C. office of Spencer Stuart, an executive search firm.
The city's professional women are already luckier than a broad swath of the people in the country who didn't have access to higher education. Yet they still face career barriers, and often the biggest one is having a family. The most prestigious jobs tend to be the worst for families. Top lobbyists, congressional aides, and White House staffers cope with long and unpredictable hours, lots of travel, and relentless pressure to influence the legislative or regulatory machine. Several women who mentor younger professionals told National Journal that balancing work and family is one of the foremost concerns in women's minds even before they graduate from college. Men typically don't worry about family as often or in the same way, they observed.
Two schools of thought prevail about how work and family mesh in Washington. One is a traditional feminist notion that workplaces need to adapt to allow women to have both a career and children. And workplaces aren't there yet. "I wouldn't say that Washington, D.C., is a family-friendly town," said Debra Ness, president of the National Partnership for Women and Families, who advocates for gender equity in the workplace. "There are huge disparities in how women with children fare versus men with children. There is a level of discrimination in caregiving roles that affects women's ability to move up the career ladder."
The bias against women in the workplace isn't as overt as it was in the 1970s and '80s when women were routinely denied employment, Ness says, but it still exists. "It's not as obvious when a woman doesn't get a promotion because she has kids."
The second school of thought, likely to be expressed by conservative and business-oriented women, is more mercenary. You can't be the head of a major lobbying association if you have six children, these women said. You also won't pass the laugh test on a high-level executive search if you look like Grandma. The family and work balance can be managed, as many women in the city have shown, but it requires tough decisions and sacrifices from the whole family.
"How honest are we with each other about our family demands?... We choose, I believe, often not to put in 50 or 60 hours a week to be with our kids, where someone else is willing to do that," said Penny Young Nance, president of Concerned Women for America.
Several of the women on NJ's 25 most influential list credited their husbands for stepping off the career fast track to allow them to advance. Reliable nannies are also essential, others say.
Being a woman can actually be a boon to winning the top nongovernment jobs in Washington, Spencer Stuart's Hortum says. She has placed many women as trade-association presidents and corporate vice presidents. "Most of our clients ask us for a diverse slate of candidates. Some will say, 'It would be great to have a woman,' " she said.
Women who have young children, however, may not be the best fit to lead an association. "I'm really honest. I will say if a job requires an awful lot of travel. It is certainly something that a woman thinks about," Hortum said. Executive-search committees know they cannot ask directly about a candidate's commitment to her family versus her job, but they can make sure she knows what they expect. "You have to be really clear about the requirements of the job," Hortum emphasized. The candidates "make that choice."
ACT LIKE A MAN, THINK LIKE A WOMAN
Politics thrives on relationships. The most powerful professionals have access to the key administration and congressional aides who can give them vital information that affects their industries. The best lobbyists and politicians have deep networks built on years of trust and friendship, some of it created during off hours sipping martinis or teeing off on the golf course.
Yet the qualities needed to navigate the political scene--empathy, observation, loyalty--are particularly innate to women. "This whole field of politics and public affairs has become increasingly female over the years," said Public Affairs Council President Doug Pinkham, whose group represents public- and government-affairs executives "There is a much stronger move toward an integrated approach to advocacy, not just old buddies sharing a scotch on Capitol Hill."
Women working inside the Beltway already have the same hard-charging drive associated with men, Pinkham observes, but they also have an ability to see the forest through the trees. "It's not this, 'I win, you lose.' It's a much more broad, inclusive, ambiguous approach, where you don't know if you're going to win. It's about building allies. I think that Washington is slowly becoming less of a man's world."
"Women are the best networkers in the whole world," contended Susan Scanlan, who runs the Women's Research and Education Institute. She has observed the trends for Washington women since the 1970s. Thirty years ago, Scanlan says, female professionals "had been conditioned to treat other women as rivals." Now, the swelling ranks of professional women in the city make it easier for them to work in teams and help each other out.
Women in Government Relations is one of many networks that focuses on the needs of professional women in policy and politics. Its members span the policy arena--working in such fields as transportation, education, and health care--but they share common concerns. "We really talk about some of those challenges we face. It still remains a very male-dominated industry," said Patricia Gaitan, the group's executive director. "This is what you need to do in order to ask for a raise. This is what you need to do to make sure your name is in this document. This is the way you get the credit you deserve."
The key to success for women in Washington is turning the unspoken prejudices to their advantage, says Peggy Tighe, who has worked in the city for more than 20 years. Now a partner at the Strategic Health Care lobbying firm, she is a former president of Women in Government Relations and regularly speaks to up-and-coming women about how to make it inside the Beltway.
"Strom Thurmond touched my ass," Tighe said of the late senator from South Carolina, who was notorious for his interactions with women. "You don't scream and yell and be offended. I literally grabbed Strom Thurmond's hand and said, 'Oh, Senator, it's so good to see you,' so he wouldn't touch my ass. Don't assume that everything you were taught in your feminist class is actionable. You've got to be tough to work in this town." Tighe says she doesn't shy away from acting like a man in her job. She drinks with her male colleagues, curses, and tells dirty jokes. It doesn't pay to be easily offended, she says, but it also helps to have other women to share her experiences with. "There is the old boys' club and the not-so-old girls' club," Tighe said. The girls' club "is about how to handle your infertility and your boyfriend as well as how to ask for a raise."
INCOMPLETE PICTURE
Employment figures on professional women in Washington are spotty at best. Surveys are akin to several flashlights shining on various parts of an elephant. They offer just enough information to suggest her massive presence but do not illuminate the whole animal. The most basic statistics on the nongovernment political sector are simply missing. We don't know, for example, how many lobbyists are women.
The employment picture for women on Capitol Hill serves as a template, albeit an imperfect one, for how Washington works. The gender inequities are the greatest at the very top -- only 17 percent of elected members of Congress are women--and the disparities diminish down the ladder. LegiStorm, which keeps track of congressional staff and their salaries, provided NJ with a salary breakdown of congressional aides by gender.
The number of women and men employed on Capitol Hill is roughly equal, but more than twice as many chiefs of staff are men. The disparity is even starker among Republican members, who employ more than four times as many men than women in their top staff spots. In offices headed by Democrats, the number of male and female chiefs of staff is almost equal in the House, while men still outnumber women 2-to-1 in the Senate.
The paucity of senior women congressional aides is just as pronounced among legislative directors, who generally occupy the No. 2 spot in a member's office. Men outnumber female legislative directors by almost 2-to-1. Down the job ladder, the imbalance doesn't disappear until reaching mid-level legislative-assistant jobs. These positions represent the bulk of the professional jobs on the Hill. Among House members, slightly more women than men hold legislative-assistant posts. Men have a slight edge in the Senate.
The relative gender parity among mid- to lower-level congressional staffers is not surprising. No one disputes that it is far easier for women to get hired in entry-level public-policy jobs, or in mid-career professional slots, than it was even 10 years ago. Legislative-assistant positions are a traditional gateway to more senior lobbying or government roles. These are jobs in which ambitious men and women excel but aren't likely to linger as they head up or out to more lucrative gigs with better hours. Men may hold more of the top spots in congressional offices simply because it takes longer to advance to them. Women are only starting to get to those levels.
The pattern of female workers in the executive branch mirrors that of Capitol Hill. The overall number of male and female federal workers in Washington is about equal, according to the most recent data from the Office of Personnel Management. But there are half again as many men than women at the General Schedule 15 level, where the annual salaries range from $99,000 to $129,000. The Equal Employment Opportunity Commission says that women make up 44 percent of the overall federal workforce nationwide, but they are overrepresented at lower levels and underrepresented at senior levels.
PAY UP
Lessons on effective salary negotiation are a common feature of women's networking organizations in D.C. They address a widely held fear among the capital's women that they are at a disadvantage in negotiating pay. Conventional wisdom holds that women are less likely to ask for a raise or a promotion. "They often come across as shrill," said one female executive who has been involved in several high-level political hiring negotiations and who spoke on background for the express purpose of being forthright. O'Leary, of the Public Leadership Education Network, says that the pay gaps can start in a woman's first job negotiation, particularly if she appears overeager to break in. (Men, everyone agreed, are naturally more aggressive about salary discussions.) "The magic phrase we tell them to use is, 'This number is important to me. What can we do to get me closer to this number?' Then smile and shut up," O'Leary said. "Don't accept the offer immediately."
A predetermined and ostensibly gender-blind government pay scale somewhat narrows the pay gap between Washington's male and female political professionals. If a woman is placed in a certain position in the federal government, she must earn the same as a similarly situated man.
Likewise, almost no difference exists in pay for men and women in comparable congressional jobs, according to the figures compiled by LegiStorm. The slightly higher pay for men on Capitol Hill, at about $30 per day, is attributable to the greater concentration of men in higher-ranking positions.
The pay situation gets far murkier when examining the private-sector employers and nonprofit groups that thrive on Washington politics. The existing data are either proprietary or too generalized to provide any meaningful conclusions. For example, the Census Bureau shows a $9,000 gap between the median earnings of men and women who live in the District of Columbia and work in "public administration." But the figures don't reveal what positions those men and women hold or whether they even work inside the District.
NJ conducted its own salary survey of the heads of more than 500 Washington-based associations, which found a pay gap of 10 to 20 percent between men and women. The difference between the median annual compensation of female and male leaders of trade groups is on the 10 percent side, with women earning about $433,000 and men earning $483,000. Averaging the compensation, however, reveals a gap closer to 20 percent. A few unusually high compensation packages for men in the lobbying community, such as the $11.6 million for Billy Tauzin, former president of Pharmaceutical Research and Manufacturers of America, helps to skew that figure.
NJ's survey clearly illustrates the scarcity of women in top lobbying and trade-group posts. Four times as many men than women hold these leadership positions.
Anecdotally, it is easy to point to the seven prominent female association presidents who make more than $1 million a year. But it is worth noting that the lowest annual compensation in the survey, at $93,757, also belongs to a woman -- Margaret Baptiste, formerly of the National Active and Retired Federal Employees Association.
Outside of government jobs, the situation for women in political Washington isn't far off the national picture. Full-time working women across the country earn about 82 cents on the dollar compared with men, according to the Bureau of Labor Statistics.
OPTIONS MAKE THE WOMAN
Marilyn Mohrman-Gillis started working in D.C. as a litigator in 1979, when few women were lawyers and even fewer were partners. Like every professional in the city, she has war stories. A college professor threatened to flunk her because she was a woman. She had to finish a Supreme Court brief hours after giving birth to her third child. Her struggle to balance work and family (she has four children) peaked during an unpleasant legal dispute over a landfill in Islip, N.Y., which required her to be away every weekend. "At the end of that I said, 'There is more to life than garbage.' "
Washington can offer a rare gift to professionals like Mohrman-Gillis who are coping with family and work conflicts -- it gives them the chance to reboot their vocations without losing ground. When litigating became untenable, Mohrman-Gillis took a job at the Federal Communications Commission. "Washington in general is just very wide open in giving opportunities for talented professionals, whether they are men or women, to redirect their careers," she said. "It is unlike other cities where the economy is more based on for-profit companies."
Mohrman-Gillis is now the managing director of public policy and communications for the Certified Financial Planner Board of Standards, and she has spent the past several years making sure that the financial-planning community has a seat at the regulatory table, especially now, in the wake of the Dodd-Frank financial-reform law. The effort has put the group on the public-policy map.
Decades of life experience separate Mohrman-Gillis and O'Leary of the Public Leadership Education Network, but they and the other professionals who spoke to NJ share the same impression about women in Washington: Although career barriers still exist, they far are less daunting than they once were.
A woman may be alone in a boardroom full of men, but now nobody questions her right to be there or her ability to run the meeting. A hidden expectation of underperformance may still dog women professionals, particularly younger ones. Those biases can be overcome, however.
To succeed, women have to be at the top of their game. To survive, they have to know when to alter their career path to accommodate their rest of their life. The benefits of working in the political class in Washington lie in the rich array of career options it offers. The government will always be here, along with the businesses and interest groups that deal with it. And those organizations will always need women.
Catherine Hollander contributed