U.S. Voters: Congress Is Selfish About Campaign Finance
Eighty percent of those polled believe reforms are designed to get sitting lawmakers re-elected.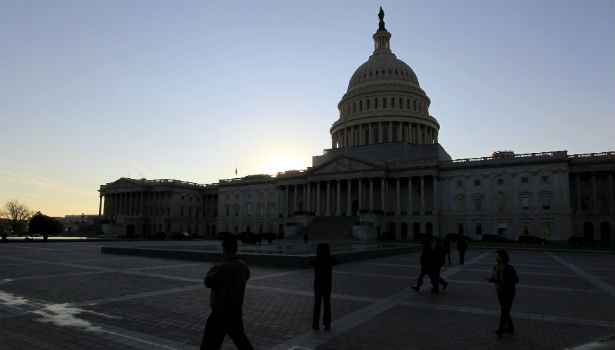 Reuters
A new nationwide poll finds that 57 percent of American voters think the current system of financing political campaigns doesn't work. No surprise, really. But here's the kicker: 80 percent don't trust Congress to make changes.
This situation puts campaign reformers in quite a pickle: While voters dislike the status quo -- a mere 6 percent think the current system works very well -- they also have little confidence that lawmakers, those who have the power to change that system, will do so in a way that won't rig it in their own favor.
Solving the nation's most entrenched problems
See full coverage
By a lopsided 80 percent to 12 percent, voters polled said they believe members of Congress are more interested in helping themselves get re-elected when they design campaign finance laws than they are in improving the system. Seems that voters don't trust politicians to make the rules by which they themselves are hired and fired.
The survey, conducted by Clarus Research Group from June 21-25 for Common Good, the nonpartisan government reform coalition, also found that voters overwhelmingly support full disclosure of campaign finances, but strongly oppose public funding of campaigns for president and Congress.
In terms of possible campaign reforms, voters have clear views:
88 percent think that all political campaign contributions and expenditures should be publicly disclosed. Over four-fifths of Republicans, Democrats, and independents are in agreement on this issue.
75 percent support an amendment to the U.S. Constitution that would give Congress the power to limit the amount of money that can be spent on political campaigns for president and Congress. Democrats tend to be more supportive of such an amendment (81 percent) than Republicans (74 percent). Independents, at 68 percent, are the least enthusiastic, though they still support it by a huge margin.
75 percent oppose publicly funding political campaigns for president and Congress with tax dollars, and 23 percent support it. While Democrats are more likely than Republicans to endorse public financing (35 percent versus 11 percent), a solid majority of Democrats -- 61 percent -- nonetheless oppose it. Interestingly, 78 percent of independents are in opposition. The only voter group that registers less than 60 percent opposition is African-Americans, who oppose public financing by a 55 percent to 36 percent margin.
---
Clarus Research Group is a nonpartisan survey firm based in Washington, D.C. The survey sample included 1,000 self-identified registered voters with a margin of error of +/- 3.1%. Interviewing was conducted through live telephone calls, using both landline and cell calling.