The Scariest Chart for the Romney Campaign on Bain Attacks
Searches for the firm on Google are shooting up -- especially in crucial swing states.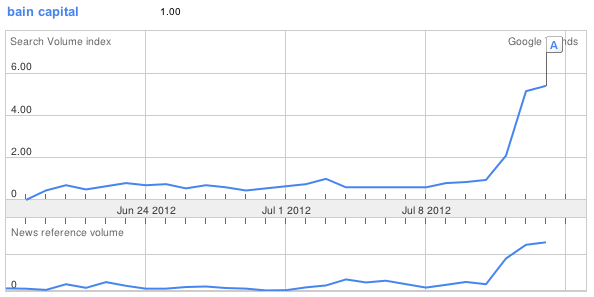 Screenshot
Although there's some polling evidence and Mitt Romney's allies are getting worried, it's a little early to tell how effective President Obama's attacks on the Republican nominee's time at Bain Capital will be -- or how much that will affect the ultimate result of the campaign.
But we can say with some confidence that the attacks are getting Americans' attention. Via Politico's Alex Burns, here's a chart that shows that Google searches for "Bain Capital" have increased exponentially since late last week, when reports about Romney's confusing involvement -- or non-involvement --with the firm from 1999 to 2002 started to surface. The numbers along the y-axis are Google's search volume index, basically an arbitrary number that measures recent searches relative to past ones. It's the rapid growth that should be scary for the Romney campaign -- it means that voters are taking notice of the controversy, and makes it harder to change the subject to something less favorable to Obama.
The list of locations with the greatest interest has some red flags, too:
Massachusetts, United States
Virginia, United States
District of Columbia, United States
Ohio, United States
Pennsylvania, United States
Florida, United States
New York, United States
North Carolina, United States
Washington, United States
Arizona, United States
Of those 10, six are swing states.