The Only Thing That Looks Worse Than Romney's Vacation Is Obama's Jobs Report
Here is your 2012 presidential campaign in a nutshell: The unrepentant rich guy vs. the president drowning in bad economic news.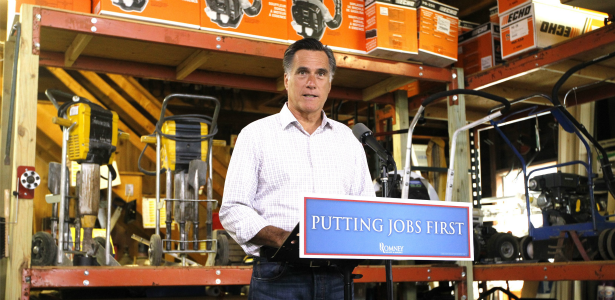 Associated Press
Mitt Romney strode to a podium in a hardware store in Wolfeboro, New Hampshire, on Friday morning, looking tanned and relaxed against a backdrop cluttered with manly implements. He had taken time out from vacationing at his estate on Lake Winnipesaukee to deliver a statement deploring the awful new jobs report, which he called "another kick in the gut to middle-class families."
When it was time for questions -- in a rare-ish occurrence that seemed to signal he's trying to loosen up, Romney took questions from the assembled press -- someone asked about that vacation, which has included such conspicuously not-miserable fun in the sun as jet-skiing with his wife and a highly structured series of contests called the "Romney Olympics."
"I'm delighted to be able to take a vacation with my family," Romney said. "I think all Americans appreciate the memories they have with their children and their grandchildren. I hope that more Americans will be able to take vacations when I'm president of the United States."
More than one wag suggested on Twitter that Romney's new slogan could be, "A jetski in every pot!" But if the vacation imagery was awkward for Romney (the president, for his part, recently decided to forgo his usual summer trip to Martha's Vineyard), Obama, speaking a few minutes later at a campaign event in Poland, Ohio, faced an even more sticky situation -- that unsightly jobs report, which showed the country created just 80,000 new jobs in June.
Romney, wanting to talk about the jobs numbers, got sidetracked talking about vacation; Obama, hoping to avoid the jobs issue at all costs, appeared to want to talk about vacation instead. He opened with a description of his Fourth of July. He reminisced at some length about his own childhood vacations, which, he noted pointedly, were not "some fancy vacation at some fancy resort." (In case you're wondering, Obama, according to real-time presidential historian Mark Knoller of CBS Radio, has been on vacation for all or part of 81 days of his presidency, compared to 243 vacation days at the equivalent point in George W. Bush's first term.)
Eight minutes into a nearly 40-minute speech, Obama breezed by the lousy news; along with the rest of the jobs created over the last 28 months, he said, "That's a step in the right direction. But we can't be satisfied." Then he quickly moved on to what he preferred to talk about, which was absolutely anything else.
Here is your 2012 presidential campaign, stalled in the summer doldrums, in a nutshell: The unrepentant rich guy vs. the president drowning in bad economic news.
Both men's responses to the news were unsatisfactory in their way. On the one hand, Romney's plans, such as they are, largely consist of supply-side magical thinking -- cutting taxes and regulation to spur growth under the assumption that jobs and income will trickle down to the masses. And Romney, as governor of Massachusetts, once had more sympathy for the argument that "it takes a while to get things turned around" in the wake of a major recession.
On the other hand, Obama's contention that things are moving "in the right direction" isn't believable -- as my colleague Matthew O'Brien notes, "At this rate, unemployment will come down to pre-recession levels approximately never." And the president's suggestion that the election can "break the stalemate" in Washington is equally unlikely: Even if Obama wins, Democrats have little chance of taking back the House of Representatives -- meaning our current configuration of divided government would persist.
Would you like to know whether the jobs report means Obama will win or lose the election? Sorry, it's not that simple. As Nate Silver explains at length in the New York Times, even a complicated amalgam of economic indicators taken together can't predict a presidential election. You'll just have to keep paying attention to this dismal, uninspiring campaign instead.