The Amazing Story of Allie and Stephanie
On Sunday, President Obama visited with the injured in Aurora, Colo., and spoke of a young woman whose presence of mind and courage kept her friend alive.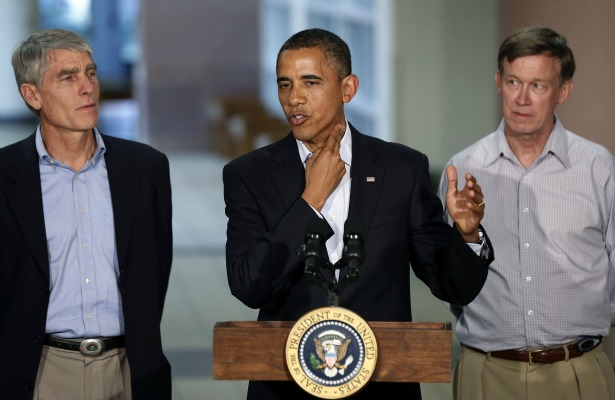 After visiting with families of survivors of the shooting in an Aurora, Colo., movie theater and also those recovering from their injuries, President Obama on Sunday spoke about the tragedy and told a story of remarkable courage by some of the first victims in the theater:
There's one particular story I want to tell because this was the last visit that I had and I think it's representative of everything that I saw and heard today. I had a chance, just now, about five minutes ago, to visit with Allie Young -- Allie is 19 years old -- and I also had a chance to visit with Allie's best friend, Stephanie Davies, who's 21. Stephanie was actually downstairs with Allie as well as Allie's parents when I walked into the room.

And I don't think this story has been heard -- at least I hadn't read it yet -- but I wanted to share it with you. When the gunman initially came in and threw the canisters, he threw them only a few feet away from Allie and Stephanie, who were sitting there watching the film. Allie stood up, seeing that she might need to do something or at least warn the other people who were there. And she was immediately shot. And she was shot in the neck, and it punctured a vein, and immediately she started spurting blood.

And apparently, as she dropped down on the floor, Stephanie -- 21 years old -- had the presence of mind to drop down on the ground with her, pull her out of the aisle, place her fingers over where she -- where Allie had been wounded, and applied pressure the entire time while the gunman was still shooting. Allie told Stephanie she needed to run. Stephanie refused to go -- instead, actually, with her other hand, called 911 on her cell phone.

Once the SWAT team came in, they were still trying to clear the theater. Stephanie then, with the help of several others, carries Allie across two parking lots to where the ambulance is waiting. And because of Stephanie's timely actions, I just had a conversation with Allie downstairs, and she is going to be fine.

I don't know how many people at any age would have the presence of mind that Stephanie did, or the courage that Allie showed. And so, as tragic as the circumstances of what we've seen today are, as heartbreaking as it is for the families, it's worth us spending most of our time reflecting on young Americans like Allie and Stephanie, because they represent what's best in us, and they assure us that out of this darkness a brighter day is going to come.
As the days pass, more and more stories of heroism and altruism in the theater emerge. The New York Daily News describes some devastating ones in its weekend story, "'Dark Knight Rises' shooting: Three heroes died in Aurora taking bullets for their girlfriends."