Ted Cruz, the Texas Senate Primary, and the Undead Tea Party
His crushing victory over establishment candidate David Dewhurst shows that the movement remains a potent force.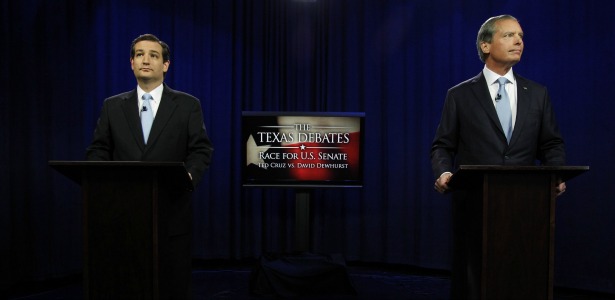 Updated August 1
Time and again, the Tea Party has been declared moribund, splintered, and ineffective. And time and again, it has pulled off surprising upsets. The insurgent conservative moment won a significant victory Tuesday in Texas, where attorney Ted Cruz scored a stunning 13-point win over David Dewhurst in a Republican primary for the state's open U.S. Senate seat. The margin of victory exceeded even recent polls that showed Cruz leading by around 10 points.
Back in May, when Tea Party favorite Richard Mourdock knocked longtime Senator Richard Lugar in the Indiana GOP primary, it seemed certain that Lugar would be the Tea Party's only major establishment scalp in the 2012 cycle. But the terrain has turned topsy-turvy and trends Tea-ward once again.
Cruz's resurgence was surprising for many reasons. Dewhurst, the current lieutenant governor, has the support of the state's powerful Republican establishment, including Gov. Rick Perry -- himself a Tea Party figurehead. Dewhurst has outspent Cruz nearly 3-to-1, even though major outside groups like FreedomWorks have backed Cruz. Dewhurst also had the benefit of a large personal fortune to aid him. Whether there are significant policy differences between the candidates is a matter of some debate. The New York Times noted, "The two candidates differ little on major issues -- both call for repealing Obama's health care law, balancing the budget, abolishing the Department of Education and ending abortion." But Dewhurst skeptics contended that he has been too willing to compromise with Democrats. As for Cruz, he was endorsed by the likes of Sarah Palin and Glenn Beck, but he hardly fits the stereotype of the Tea Partier as a homespun, flyover country conservative. A former state solicitor general, Cruz attended Harvard Law School, clerked for late Supreme Court Chief Justice William Rehnquist, and has argued before the nation's highest court nine times, more than any current member of Congress.
Given his 14 years of prominence in state politics, it was long assumed that that Dewhurst would romp. But the momentum shifted in dramatic fashion in late May, when Cruz earned 32 percent of the vote in the first round of voting, a three-way primary, to deprive Dewhurst of the 50 percent he needed to avoid a runoff. After that, Cruz was off and running, rapidly gaining ground. Dave Weigel notes that a fluke of election scheduling gave Cruz nearly two months until the runoff, a remarkable benefit for an insurgent campaign.
From a Senate control standpoint, the race is likely to have little impact -- barring unforeseen catastrophe, Republicans will hold the seat being vacated by the retiring Kay Bailey Hutchison regardless of who wins. (Dewhurst's loss is however, a major defeat for Perry.) But Cruz's last-minute dash illustrates three important points about where the Tea Party stands in summer 2012. First, don't count any Tea Party contender out until the election day. Take Deb Fischer, who came from almost nowhere to beat Jon Bruning in the Republican primary in Nebraska. In both Fischer and Cruz's case, the smart money fled when the candidates didn't seem to be getting a toehold one and two months out. But grassroots organization eventually pulled them up late in the game.
Second, Sarah Palin's limelight may have dimmed, but it hasn't been extinguished. Even as she waits -- probably in vain -- for an invitation to speak at the Republican National Convention, she's kept her name in the news by intervening in Senate races across the country.. So far, she's endorsed Cruz; Utah establishment figure Orrin Hatch; Missouri contender Sarah Steelman; and Arizona Rep. Jeff Flake. It's not a straight-Tea Party ticket, but it's a smart one that's likely to give her a strong won-lost record and enhance her credibility.
Third, individual candidates aside, it's too soon to declare the Tea Party dead as a force in national politics. Sure, that should seem obvious, but how many obituaries have we seen? Just because its national approval ratings have tanked doesn't mean Tea Party-affiliated candidates can't win. Here's a quick rundown of the Tea Party scorecard in major contested Senate primaries so far this year:
Nebraska: Tea Partier Deb Fischer defeated Jon Bruning for an open seat.
Indiana: Tea Partier Richard Mourdock defeated incumbent Senator Richard Lugar.
Texas: Tea Partier Cruz defeats Dewhurst.
Utah: Senator Orrin Hatch held off a challenge from Tea Party favorite Dan Liljenquist to keep his seat.
Wisconsin: Although former governor Tommy Thompson initially looked unassailable in the GOP race for an open seat, he's struggled to seal the deal. An automated poll released Tuesday shows neither Thompson nor Tea Party standard-bearer Eric Hovde breaking 25 percent support in a four-way race.
Arizona: Rep. Jeff Flake has the momentum -- as well as the backing of many top Republicans like Sarah Palin and Senator Jim DeMint -- in the nomination battle to replace retiring Senator Jon Kyl. That has prevented Will Cardon from taking up the Tea Party mantle.
Maine: Moderate GOP Senator Olympia Snowe looked likely to survive a primary challenge, but opted to retire. Both Republican Charles Summers, not a Tea Partier, and Democrat Cynthia Dill trail independent former governor Angus King.
Florida: Tea Party sweetheart Adam Hasner was unable to gain a toehold and dropped out. Rep. Connie Mack, a longtime member of Congress and son of a senator, seems poised to win the August 14 primary.
Depending on how you slice it, the Tea Party seems to batting nearly .500. Not too shabby for a movement long ago declared over.