Some Good Samaritan Is Trying to Help Mitt Romney Get a Job on LinkedIn
A prankster creates a fake, unflattering profile for the candidate on the professional social-networking site.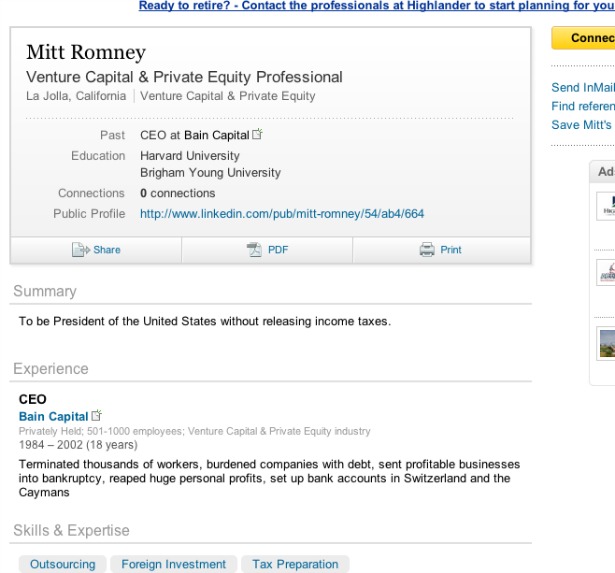 Some kind soul has apparently learned that Mitt Romney is seeking a new job -- as he has remarked, he's unemployed! -- and since he's perhaps a bit old to know the ins and outs of the social-media environment, created a page for him on LinkedIn, the Facebook of job seekers and folks you met once at a hazy networking event several years back.
Actually, perhaps it's not so charitable. Note that his "skills" include outsourcing, his "summary" is "To be President of the United States without releasing income taxes" and his career experience is listed thusly:
Terminated thousands of workers, burdened companies with debt, sent profitable businesses into bankruptcy, reaped huge personal profits, set up bank accounts in Switzerland and the Caymans
It's unclear who's behind the prank (is that you, Matt Ortega?), and it wouldn't be surprising if it gets pulled down as a fake before too long. While a LinkedIn page isn't nearly as fun as the Romney campaign's fake Twitter accounts, we'll award a few points for originality.
Hat tip: Jared Keller