Romney Embraces Cheney, Sort Of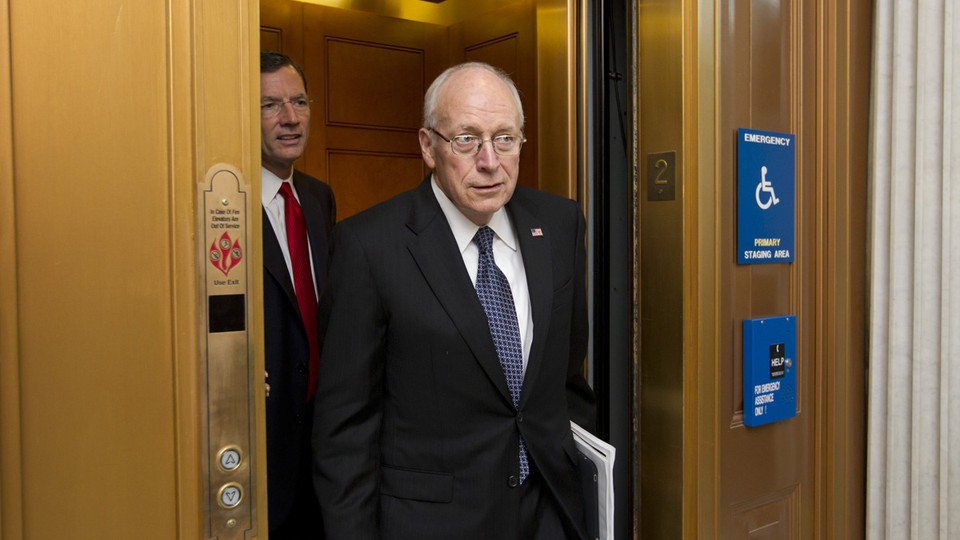 He came back from five heart attacks, multiple major medical procedures, a heart transplant, a botched war, and some of the lowest approval ratings ever recorded for a vice president. And now Dick Cheney has come out of the political shadows to embrace the candidacy of Mitt Romney. And, to no one's surprise, Democrats have wasted little time trying to make sure no voter missed seeing the two Republicans together, linking Romney to what they routinely label the "failed policies of Bush-Cheney."
For most of the past year, Romney has kept a polite distance from both former President George W. Bush and his vice president, Cheney. His people, after all, could read the polling that showed voters still place the primary blame for the recession of 2008-2009 on Bush's shoulders. And Cheney was out of sight, battling the health problems that culminated on March 24 with a heart transplant. But now fully recovered from the surgery and energized by the political campaign, Cheney hosted a fundraiser for Romney in Wyoming on July 12. On Tuesday, he also met with House Republican leaders to give them his advice on coming legislative battles with the White House.
The reemergence of the controversial Cheney has delighted Democrats, who love reminding voters of the foreign and domestic messes President Obama inherited. But Republicans are gambling that the 71-year-old Cheney will be seen by the electorate as a respected figure from the past and not a predictor of Romney's presidency despite polls showing him still deeply unpopular. The latest polling on Cheney was in July 2010 when Gallup found 36 percent of voters have a favorable view of the former vice president, while 52 percent view him unfavorably.
On Tuesday, the presumptive Republican nominee talked cautiously about the Cheney event in an interview with National Review, explaining that he spoke "at length" with Cheney about foreign policy, "in particular the circumstances surrounding some of the foreign-policy decisions of the Bush administration." He said they discussed "the process of decision-making, and he described the individuals, the types of meetings that occurred, and the expression of views." The main focus, he said, was on "the process by which the White House was able to take on important issues."
By no longer keeping Cheney at arms-length, though, Romney risks a new Democratic attack strategy. The lines of that attack were evident on Tuesday in an article written for the News Tribune in Tacoma, Wash., by Democratic Rep. Adam Smith. Smith called it "particularly worrisome" that Romney went to Cheney's Wyoming home and praised him as a "person of wisdom and judgment." He noted that 17 of Romney's 24 top foreign-policy advisers hail from the Bush administration, calling it a "frightening prospect" that Romney would resurrect that administration's "failed foreign policies, starting the war in Iraq with no plan to finish it, bullying our allies around the world, and watching while Iran and North Korea moved forward with their nuclear programs." He added that Romney has embraced "the recklessness of Dick Cheney." Smith concluded that "a Romney presidency promises to take us back to something all too familiar: a Bush-Cheney doctrine — equal parts naïve and cavalier — which eagerly embraces military force without fully considering the consequences."
The attack did not surprise Republicans. "Democrats will always try to blame Bush and Cheney for everything because that's all they have," said Republican strategist Keith Appell. "They have nothing else. All they can do is try to point people back to Bush and Cheney. I just don't think that is going to fly. They'll do it but it won't work." Appell said it was appropriate for Romney to meet with Cheney, whom he said is "very well-respected and well-liked" by Republicans. But he said Romney doesn't really need his help on fundraising. "I don't think Dick Cheney or anybody can energize the Republican base more than it already is. Obama energizes the Republican base like no other figure on the left," he said. "Folks are just really scared about what a second Obama term can mean. And I think Cheney is a great contrast to Obama."
Democratic pollster Mark Mellman said he does not see Cheney's reemergence having a big impact on the dynamics of the race. But he questioned its wisdom. "Being associated with Dick Cheney is not a good message for Republicans," he told National Journal. "Will it dominate the campaign? No. But it's not exactly the message you want to be communicating." Told that the two Republicans had discussed foreign policy, he laughingly asked, "What new war did they talk about?"
Mellman also left no doubt that Democrats have their sights set on another veteran of the Bush presidency — Sen. Rob Portman, R-Ohio, who was Bush's budget director and trade representative. If Romney picks Portman as his running-mate, Democrats are eager to stress his ties to Bush. "If they end up with Rob Portman as their VP nominee, here you have a guy who can reasonably be called one of the architects of the Bush economic policies," said Mellman. "Put that together with Cheney, that is really not the way I would want to run."
In California, longtime Republican strategist Dan Schnur, who is now the director of the Jesse M. Unruh Institute of Politics at the University of Southern California, voiced doubts any of this will move many votes. "There is still an anti-Bush sentiment among voters," he said. "But those voters are predisposed toward Obama. So it becomes a motivating tactic rather than a piece of persuasion. For a democratic loyalist, Cheney is still a motivator. For an undecided swing voter, he is not particularly relevant either way."