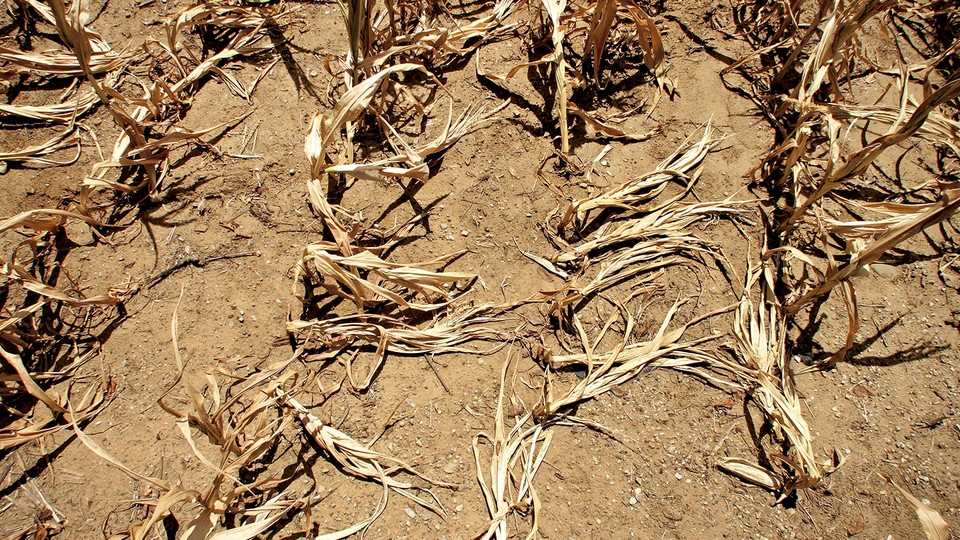 Half the continental United States is desperate for rain. And while farmers don't need politicians to tell them a drought is on, the presidential campaigns are starting to notice. The White House dispatched Michael Scuse, an Agriculture undersecretary, to survey the damage in the Midwest this week. Meanwhile, GOP presidential candidate Mitt Romney said that his "thoughts are with farmers and ranchers during this difficult time." This is the most widespread drought since 1956: The Agriculture Department has declared disasters in more than 1,000 counties across 26 states and reported last week that just 31 percent of national corn crops are in good or excellent condition, down from 40 percent a week earlier.
Members of Congress want to help, and several are seeking federal aid for desiccated farms and baked crops. The farm bill pending in Congress may furnish a safety net going forward, but supplemental assistance programs for crops and livestock that kick in during times of disaster expired last year. So some argue that they should extend disaster aid retroactively to help farmers hit by the current drought. "We're obviously going to need some help working with Congress to revive the disaster programs that were allowed to expire last year," Agriculture Secretary Tom Vilsack, a former Iowa governor, said at a press conference on Wednesday. Now, a disagreement over how — and whether — to cover this year's losses threatens the massive five-year farm bill those dehydrated farmers are clamoring for.
(RELATED: A Visual Guide to the Drought)
A number of Democratic members want to revive the Supplemental Revenue Assistance Payments Program — known as SURE — and cover losses from this year. Rep. Kristi Noem, R-S.D., even added an extension of the livestock program to the farm bill that passed the House Agriculture Committee, but the crop component still lies in limbo. "Farmers could have protected themselves with crop insurance, but a lot of times they don't buy sufficient coverage," says Agriculture ranking member Collin Peterson, D-Minn. "If we can get this thing to conference "¦ my expectation would be that we would extend the disaster provisions for the 2012 crop."
The problem is that an extension attached to the farm bill could upset a delicate balance. House leaders have not brought the farm bill to the floor, partly because many Republicans cannot support legislation that costs $1 trillion over 10 years. So SURE — which in December 2011 issued $2.8 billion for 2008 and 2009 losses — could make farm-bill passage even harder. Four of 26 committee Republicans voted against the five-year measure in markup, and it has drawn the ire of Republican Study Committee Chairman Jim Jordan of Ohio. "We still need to pass some sort of a farm bill, but to try and push the farm bill because of the drought and do extreme things is irresponsible," says freshman Rep. Marlin Stutzman, R-Ind., who opposed the bill in committee.
Republican committee aides contend that extending SURE is nothing more than a political ploy in an election year to pander to states hurting from the drought. They note that government crop insurance already helps cover losses, that neither the House's nor the Senate's legislation includes crop disaster-assistance extensions, and that even some farmers didn't like the program because of how long it took to make payments. "If this is really being done in the name of assistance in a time of disaster, then how can they be supporting a system that can take up to two years to pay out?" wonders a GOP aide, who asked not to be named.
At the very least, Republicans say they want to separate SURE from the farm bill. They point to Senate legislation sponsored by Sens. Max Baucus, D-Mont.; Kent Conrad, D-N.D.; Jon Tester, D-Mont.; and Tim Johnson, D-S.D., to extend SURE and speed its payment process, which Congress could approve without risking the entire five-year agricultural-program reauthorization. The National Farmer's Union supports this provision but wants to join both bills together for what it considers the best chance of passage. Normal crop assistance is not enough, contends Chandler Goule, the organization's vice president for government affairs. "Crop insurance is one tool in a toolbox," he says.
Still, some think that regular crop insurance is sufficient and worry about the moral hazard of protecting farmers who failed to buy it. Pam Johnson, the director of the National Corn Growers Association and a sixth-generation corn farmer from Iowa, says that the insurance in the current authorization is enough to keep her farm — and most others — afloat. So who then is in need of extra disaster relief? "I would be speculating," she says, "but I'd ask, "˜Are these people who didn't invest in crop insurance?' "
Of course, the last thing proponents of the farm bill want is for SURE discussions to muddy passage of the legislation, because that would have much starker consequences during the drought. And in the scheme of the overall bill, this supplemental disaster program is merely a speck of ink on its pages.