Pilgrims' Progress: Nuns Return Home After Bus Tour Against Ryan Budget
The group of Catholic holy women spent two weeks on the road to protest cuts to social services proposed by Republican budget guru Paul Ryan.
The group of Catholic holy women spent two weeks on the road to protest cuts to social services proposed by Republican budget guru Paul Ryan.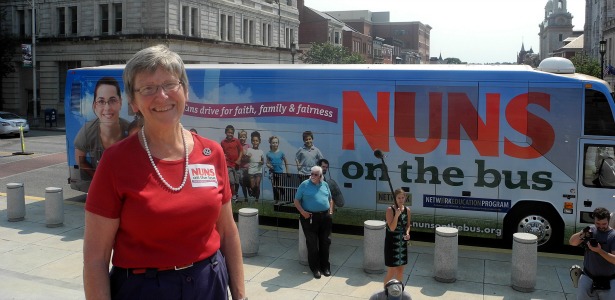 Last week, the most famous old lady on a bus was Karen Klein, whose torment by a couple of middle school monsters in Greece, New York, went viral (8 million clicks and counting) and netted her a new pension fund ($677,000 and counting). The bullies got one-year suspensions and Klein got a much-overdue vacation.
On Monday, the second most famous old ladies on a bus -- the "Nuns on the Bus" -- arrived in Washington after two weeks, nine states, 31 towns, and 2,700 miles on the road. They'd taken to the highway to decry Rep. Paul Ryan's proposed federal budget -- now a cornerstone of the Republican platform -- which slashes funding for food stamps, Medicare, and social services. Ryan, a practicing Catholic, has defended his budget as aligned with the teachings of the Church. The sisters, backed by American bishops, have a slightly different reading of the Gospel. "Many politicians offer deeply flawed theological justifications for the federal budget," said Sister Simone Campbell, the executive director of Network, a Catholic social justice group, and the Whoopi Goldberg-style ringleader of the Nuns on the Bus. "They oughta get some theological help." She added, "They gut the very programs that help Catholic sisters house the homeless, feed the hungry, and give children a chance."
It's been a turbulent few months for American nuns. In April, the Vatican handed down a report excoriating the Leadership Council of Women Religious -- a group that represents most of the 57,000 nuns in the United States -- for breaking with Church doctrine on social issues (e.g., abortion, contraception, homosexuality) and entertaining "radical feminist themes." The sisters were gobsmacked. "I've given my life to living in this way," Campbell said. "If you vow poverty, chastity, and obedience, you live open to embracing everybody. If the whole idea of Catholic sisters is to hug the world -- and then they say you work too much with the poor? It hurt."
Campbell went on The Colbert Report earlier this month to announce the Nuns on the Bus tour. "Nuns aren't used to having the focus on them. So what we said was, 'Let's use this moment of notoriety to lift up our mission.'"
A young man hawked cheerful blue Nuns on the Bus t-shirts, with a list of heartland cities printed on the back as if it were a Sufjan Stevens tour.
Perhaps 300 well-wishers, young and old, were on hand to welcome the nuns home. Perspiring (a little), smiling (a lot), snowy-haired and sensibly dressed, the sisters took to the steps of the United Methodist Building in the shadow of the Supreme Court to lead the assembled crowd in prayer. "Who would Jesus execute?" read one spectator's button. A young man hawked cheerful blue "Nuns on the Bus" t-shirts, with a list of heartland cities -- Des Moines, Dubuque, Grand Rapids -- printed on the back as if it were a Sufjan Stevens tour.
Sister Diane Donoghue, 81 years old and, by her own estimation, still kicking, took the mic. The bus had stopped by Rep. Eric Cantor's office yesterday, she said. The crowd hissed. There, the sisters had met a woman with cerebral palsy who depended on federal assistance. The crowd awwed. "I'm not going to stand here and say that the Ryan budget is moral," Donoghue said. "It's immoral!" The crowd went bonkers.
Campbell and her busmates had drafted an alternative to the Ryan budget, a fifty-three page "faithful budget." On day two of the road trip, they stopped by Ryan's office in Janesville, Wisconsin, to deliver it in person. Then it was off to the next motherhouse for a "friendraiser" and a little shuteye. Onward, through Illinois, Indiana, and Ohio, visiting Republican representatives' offices, food pantries, and homeless shelters along the way. Progressive elements of the Catholic Church were on hand to greet them in every town, with open arms and open wallets. In Milwaukee, a homecoming committee hung a banner over the highway that read, "Question Austerity." The bus swung through Philadelphia and Baltimore, with one tour date -- at Rep. Roscoe Bartlett's office -- cancelled due to high winds and a blackout.
Some hapless roadie had scheduled the Washington press conference for high noon, under full sun, in 100-degree heat. Jackie Wilson's "(Your Love Keeps Lifting Me) Higher and Higher" blasted over the PA as the crowd swelled. Campbell gave her stump speech one more time. "Sisters don't do it just with grace, for heaven's sake. We need money to make it happen," she said. She doled out hugs and handshakes, mugged for a few iPhone snapshots, and then escaped across the street to collect herself beneath a shady pin oak.
Three television crews were waiting. With all the media appearances she'd done in the last 15 days, surely Ryan -- and the Vatican -- had taken notice. "I think they're listening now," she said. Missionary work accomplished.
Might there be a reunion tour in the works? "Well, it's all in Holy Spirit's hands, and I'm not 100 percent sure what the Spirit has in mind," Campbell said. "I have to go do some serious praying. But I have to tell you -- first, I have to take a nap and do my laundry."