Picture of the Day: Mitt Romney Swims With His Shirt On
The Republican presidential contender shows he's more modest than the man he hopes to replace.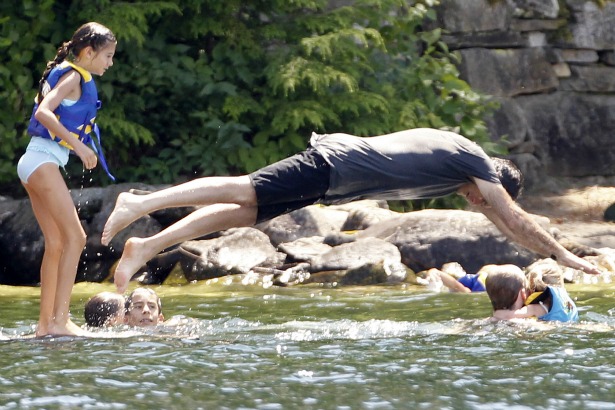 Charles Dharapak / Associated Press
Mitt Romney, you may have heard, is on vacation this week. And after taking some time to criticize President Obama over his jobs report this morning, he went back to frolicking with his family. It's unclear whether this is recreational swimming or part of the famed Romney Olympics, but here's what we know: Mitt Romney does not like to swim with his shirt off. He's previously been photographed in a wetsuit while bodyboarding.
Friday's weak jobs report deals a blow to the reelection hopes of Obama, who's flaunted his abs while hitting the beach in Hawaii. So the question is, is America ready for a non-shirtless president? We'll find out in November.