Picture of the Day: Attempted White House Mythbusting Raises New and Troubling Questions
The administration insists it didn't remove a bust of Winston Churchill. But what are Obama and David Cameron doing in this photo?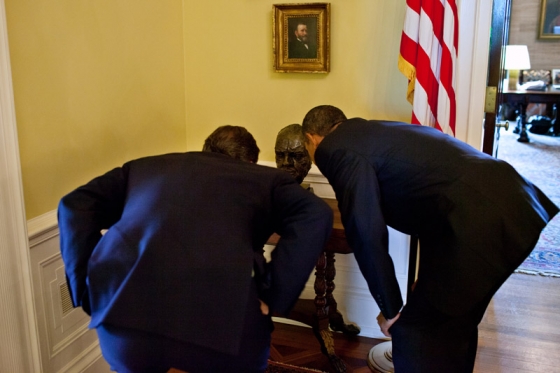 Pete Souza / The White House
Something we've learned about the Obama White House: If you needle them enough, no matter how inane the subject matter, they will eventually throw up their hands in disgust and impatience and indulge you. It worked with Obama's birth certificate, which he finally released in a fit of pique. Today, after Charles Krauthammer repeated a canard that the president had removed a bust of Winston Churchill from the White House and sent it back to the British Embassy -- if true, a serious snub of a valued ally -- the administration felt compelled to clarify. In a blog post, White House communications director Dan Pfeiffer explained that Obama had moved the bust from the Oval Office to another space in the executive mansion, and only in order to better feature an Abraham Lincoln statue (Unlike Churchill, it should be noted that both of Lincoln's parents were Americans; furthermore, he was also president of the United States).
To emphasize his point, Pfeiffer added a picture of Obama and British Prime Minister David Cameron looking at the Churchill statue. Unfortunately, the rather peculiar photo raises as many questions as the post was meant to answer. What exactly are the two men craning to examine so closely? Aren't they familiar with the late statesman's pudgy visage? And don't two heads of state have better things to do with their time?