Outage Outrage: The Politics of Electricity
Maryland Gov. Martin O'Malley wants to run for president in 2016, but he can't even deal with a dismal power utility in his home state.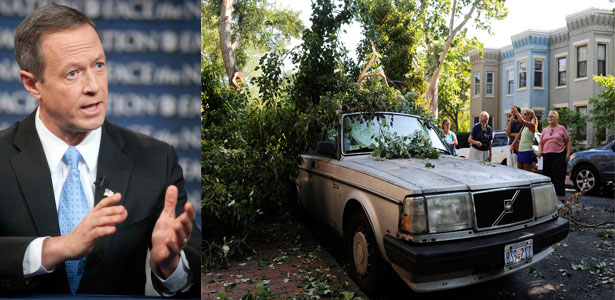 Getty Images (left); Reuters
President Barack Obama traveled to Colorado Springs on Friday to inspect wildfire damage. Will he visit Montgomery County, Maryland? There, the nation's worst electric-power utility is once again performing dismally in the wake of a storm. Meanwhile Maryland's governor is Martin O'Malley, constantly mentioned -- just ask him! -- as the Democratic Party's hope for the White House in 2016. Yet in six years in office, O'Malley has done nothing to address his state's power-utility woes.
Four days after an unusually strong "derecho" thunderstorm struck the nation's capital area, Dominion Power, the utility for the Northern Virginia suburbs around Washington, D.C., had restored 67 percent of its outages. BG&E, the utility for Baltimore, had restored 61 percent. Together these two high-performing utilities had restored power to about 750,000 customers by the fourth day. The woeful Pepco, which serves Montgomery County and parts of D.C., had restored just 43 percent of its outages, bringing a mere 200,000 back online. Some 239,000 Pepco customers remained without power, and the utility was saying it would be until Friday night before power was back, and then only to 90 percent of outages. This is happening as a heat wave pushes daily temperatures close to 100 degrees.
Montgomery County, Maryland, is one of the nation's bluest and wealthiest counties; its perennially awful power service raises the question of whether liberals can make the trains run on time.
As for O'Malley, utility regulation is one of the classic challenges of government, requiring persistence and attention to detail. O'Malley might have proved himself with White House-level competence by dealing with Pepco. Instead he has done nothing, while gallivanting around the nation promoting himself. Sunday, with a power crisis at home, the governor was more interested in engaging in self-promotion on Face the Nation. O'Malley's abysmal performance in his own state makes his claim to national leadership seem a practical joke.
First, the utility situation. Last year Business Insider rated Pepco "the most hated company in America." A 2010 Washington Post series found, "In reliability studies, the company ranks near the bottom in keeping the power on and bringing it back once it goes out."
You've already guessed that your correspondent lives in a Pepco-served neighborhood of Montgomery County. I will recount just the recent outrages in my neighborhood: In 2010, three extended power failures of at least three days' duration, plus four hour-long failures. In 2011, a three-day outage, plus five failures of at least two hours. In 2012, two multiple-hour failures before the current outage. At noon Monday, on the fourth day of the latest failure, I checked the Pepco website for my neighborhood. It said, "No crew assigned."
How does Pepco get away with this? Maryland's Public Service Commission is a notorious lapdog, in part because although Maryland local government traditionally is clean, the Maryland statehouse traditionally is corrupt. Think Spiro Agnew, who in 1973 resigned as Richard Nixon's vice president owing to charges of bribery from his term as Maryland governor, becoming the sole U.S. vice president to resign because of corruption. As the good-government website OurDC notes,"From 2008 to 2010, Pepco CEO Joe Rigby earned $8.8 million and Pepco top officers earned more than $22 million. During that same period, Pepco reported $882 million in profits, paid no federal and state income taxes and received $817 million in tax refunds." Yet as the money rolled in, the Maryland Public Service Commission allowed Pepco to cut back on maintenance, in order to divert funds to dividends and management bonuses.
Given how bad Pepco is, O'Malley would seem to have a tremendous opportunity to make his mark as a reformer. That's if he was in Annapolis.
In 2011, there were Maryland statehouse hearings resulting in what was spun as a crackdown on Pepco. The "crackdown" was ridiculously modest -- a rule that Pepco must improve reliability by three percent per year. But the rule doesn't take effect until 2013, and the fine for a violation is $10,000, chickenfeed to a company with a $260 million net income in 2011.
Pepco faces a simple reliability equation: The more it spends on improving service, the less is available for dividends and executive bonuses. CEO Rigby is a major shareholder, so in effect awards himself a commission when he keeps infrastructure spending low and dividends high. After the mega-thunderstorm, Dominion Power took 14 hours to restore all its transformers and main feeder lines -- this is the first step in any utility's storm recovery -- while Pepco took 36 hours. That's because Pepco transformers were in poor repair when the storm hit, despite an advertising campaign promising improvements. Within 48 hours of the storm, Dominion had 2,000 out-of-state workers present to assist in restoration; Pepco had just 300. If Pepco drags its feet on recovery, the utility avoids paying doubletime or tripletime, plus expenses, to out-of-state crews. And Pepco knows it can drag its feet without any risk of action by Maryland regulators.
Given how bad Pepco is, O'Malley would seem to have a tremendous opportunity to make his mark as a reformer, bringing a tainted regulatory hierarchy to heel. This is especially true because Maryland law assigns all authority over power utilities to the state level -- there's nothing the Montgomery County Council can do. If O'Malley runs for the presidency, his performance in Annapolis would be expected to be his strongest credential.
That's if he was in Annapolis. O'Malley openly ignores his own state to travel elsewhere. Not only did O'Malley flee his own state this weekend at the first sign of trouble. Recently he's frequently appeared in the national media to talk about Romney, health care, the economy, Congress, and other topics. O'Malley doesn't have time to deal with issues that impact his own state, but has plenty of time to campaign in New Hampshire.
After the storm struck, O'Malley declared he would "keep his boot up Pepco's backside" -- not for reform, but to make sure the utility met its extremely sluggish self-set deadline of most customers restored after a week. Reforming state services would be actual work; the governor is much more interested in being interviewed about himself than in performing his duties.
O'Malley's AWOL status during a state crisis is not all the donkey party should worry about. Two months ago O'Malley pushed through the Maryland statehouse a bill raising state taxes. Taxes do need to go up -- but he immediately awarded the entire sum to public-sector unions. The Democratic donor base likes that. But voters increasingly are hostile to government awarding itself raises at voters' expense: Think Wisconsin. Calamity may await the Democratic Party at the polls in 2016 if O'Malley, a man who is mismanaging is own state, lays a claim to running the country.
****
Postscript: Through 2010, the political force holding Pepco's feet to the fire during power failures was not the governor but WTOP, the local newsradio station. After all, when the power is out viewers can't watch television news and may not have access to the Washington Post, so they listen to battery-powered radios.
In 2011, Pepco became a major advertiser on WTOP, and since has been treated with kid gloves. This morning WTOP was running storm coverage that began with a voiceover saying, "Utilities are working very hard to restore your power." The station had Pepco official Tom Graham on. He wasn't asked why Pepco performance was so poor compared to that of other utilities hit by the same storm. He did declare that Pepco deserves sympathy because "100 mile per hour" winds hit the region. The peak gust at Reagan National Airport was 70 miles per hour. WTOP didn't challenge him on this, nor note that utilities are supposed to anticipate and prepare for bad weather. "We appreciate your keeping us in the loop, Tom," the WTOP correspondent said after serving up softball questions.
Updated, 7/3/12: Douglas R. M. Nazarian, chairman of the Maryland Public Service Commission, responds to Gregg Easterbrook below.