Obama's Awkward Dance on Campaign Fundraising
The president is caught between his disdain for Citizens United and his need for cash, between populism and the importance of big donors.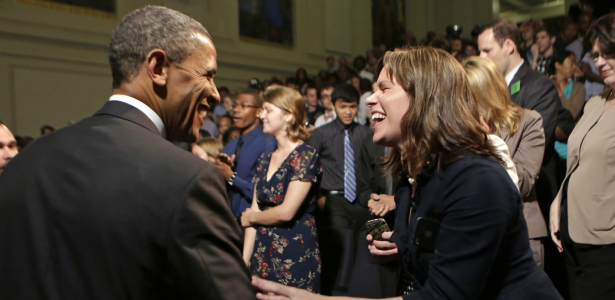 Reuters
Democrats have always had to go to rich people for money, but this year, it's been a little more awkward. Some wealthy donors have been turned off by President Obama's anti-Wall Street rhetoric. He's no longer so exciting. And some wealthy progressives -- such as billionaire Warren Buffett -- have vowed not to contribute to the super PACs spawned by the Citizens United ruling.
Between Republican challenger Mitt Romney's multimillion-dollar fundraising binge since the Supreme Court's health care ruling, and right-wing outside groups planning to spend millions attacking the president this cycle, Obama's fundraising has taken on a new urgency. Last Friday, the president called some of his wealthiest 2008 donors and begged them to open their wallets. "I'm asking you to meet or exceed what you did in 2008," Obama said, according to The Daily Beast, "because we're going to have to deal with these super PACs in a serious way."
An Obama campaign official said the president routinely makes fundraising calls from Air Force One, but not how many or how often. The phone was put in during Obama's term and is paid for by the campaign. Officials with George W. Bush's White House remember a similar phone aboard the plane but weren't sure Bush used it. In Bill Clinton's terms, which came under congressional and political scrutiny for awarding donors with overnight stays in the Lincoln Bedroom, no phone, officials said.
Here's what can get lost in the brouhaha over big money donors: Diminished enthusiasm among the 1 percent doesn't necessarily mean game over for Obama. His fundraising picture isn't bleak -- and, as the call to donors shows, he's already using the anticipated onslaught from the right to his political advantage.
Last Tuesday, the president e-mailed supporters, "I will be the first president in modern history to be outspent in his reelection campaign." Inviting backers to give as little as $3, he wrote, "Donate today to stand for our kind of politics."
Obama needs the big players to pony up, and he needs donors to give to both his campaign and to outside groups. But he also needs to protect his message of middle-class solidarity, and avoid alienating Democrats who are philosophically opposed to outside money in politics.
Obama's relationship with Priorities USA Action is a case in point. He initially spoke out against the Citizens United ruling but backpedaled to support the super PAC dedicated to his reelection. The support is conditional, however; the president, first lady, and vice president won't attend events hosted by the group, and Obama for America is not supporting Priorities USA, the super PAC's sister organization that does not disclose its donors.
Priorities USA Action has only recently seen its fundraising numbers tick up. For months, a major obstacle was a perception among Democrats that Obama couldn't possibly lose, the group's senior strategist Bill Burton said.
But that mood has changed. May was Priorities USA Action's best fundraising month yet, and the group expects giving to increase as November nears. It has raised about $40 million so far, according to Deputy Communications Director Marcy Stech.
Democrats don't expect left-wing super PACs and social-welfare organizations to match the funding of their right-wing counterparts. There just isn't the donor base, Burton said.
"I would not oversell the importance of half a dozen deep pockets on the Democratic side," added Michael J. Malbin, executive director of the Campaign Finance Institute. "The deep pockets have to do it on the Republican side, because the candidate has such a weak showing among the donors who give within legal contribution limits, especially smaller donors."
The president has managed to out-raise Romney so far by relying on small donors. As of May, 71 percent of individual donations to Obama were $999 or less, while 60 percent of donations to Romney were the $2,500 maximum, according to the Campaign Finance Institute. Donations of $200 or less have netted Obama almost $100 million, more than he's managed to raise from donations that are above $1,000.
The campaign also has found creative ways to cultivate small donors. In May, the financial takings from a dinner at actor George Clooney's mansion were essentially doubled by an online "win a dinner" contest: Clooney's friends gave about $6 million, and the contest brought in the rest of the campaign's nearly $15 million haul.
Democrats don't expect left-wing super PACs and social-welfare organizations to match the funding of their right-wing counterparts. There just isn't the donor base.
"Campaigns have to go to their strengths," said Tad Devine, president of Devine Mulvey and a senior strategist to Sen. John Kerry's, D-Mass., 2004 presidential campaign. "The great strength of the Democrats is being able to mobilize millions of people," he said -- not convincing donors and corporations to cut big checks.
To try to compete with Republican mega-donors, Devine added, would be "like McCain trying to raise money online" in the 2008 presidential election.
Obama has about 532 campaign "bundlers," wealthy individuals who help rally groups of like-minded donors, according to Open Secrets. More than half of them didn't do it for the president last cycle, a statistic that suggests the president's base of support may have shifted.
Obama doesn't have a Democratic version of Sheldon Adelson, the casino mogul who recently gave $10 million to Romney's super PAC. The closest comparison the president has, so far, is DreamWorks Animation CEO Jeffrey Katzenberg. Katzenberg has given $2 million to Priorities USA Action, according to Open Secrets, and has raised at least $50,000 for the Obama campaign.
Right now, substantial fundraising by the campaign could be more efficient than a surge of donations to outside groups, analysts say.
For one thing, thanks to Federal Communications Commission regulations, campaigns and party organizations pay the lowest rate available rate on ad buys in the run-up to an election. This means that the air war, while expensive for both sides, will be more so for, say, Crossroads GPS than for Obama for America.
And the risk of losing the air war, while real, may be overstated. Experts say the influx of outside spending on television ads has more power to sway downballot races than to affect a campaign featuring a president.
"My own view is that those dollars become quite unproductive," Brookings Institution senior fellow Thomas Mann said, the more GOP-leaning attack ads saturate the market. Burton said it's a "very expensive endeavor to try to change people's perception about the president." Romney, on the other hand, he said is "a blank slate."
Obama's recent fundraising pleas do exactly what he needs to do: establish a sense of urgency. The wave of excitement that allowed the president to raise a record-breaking $750 million in 2008 has subsided, and recapturing that enthusiasm is the campaign's challenge.
The avalanche of spending from the right provides an alarm bell that Democrats aren't hesitating to ring.
"The Republican super PACs, apart from Romney and apart from his own super PAC, intend to spend a billion dollars in this campaign," Obama strategist David Axelrod told Current TV in May. "So a handful of ... billionaires with a special-interest agenda are going to try to buy this government."
The campaign wants to position the president as the candidate of middle-class uplift, and Romney as the out-of-touch rich guy. Talking about Obama's fundraising challenges and linking Romney to behind-the-scenes billionaires makes that narrative more urgent. Emphasizing Obama's reliance on small donors gives the story authenticity.
"What's at stake is the very idea that regular people should still be in control of elections in this country," Deputy Campaign Manager Juliana Smoot wrote in a recent fundraising email.