Obama Is Already Blowing His Second Chance at Selling Health-Care Reform
The president could be convincing the public his reforms are needed. Instead, he's trying to skirt the subject entirely.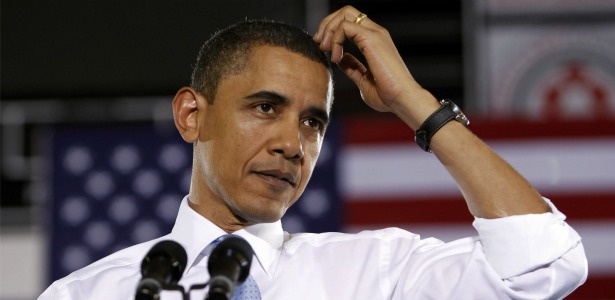 Reuters
With just over four months to go before the election, and Republicans ravening to make health care a frontline issue, the Obama campaign still appears to be pursuing a "wishful thinking" strategy. They are simply wishing that the Affordable Care Act, the president's signature domestic achievement, would go away now that the Supreme Court has delivered what they hope is a "final answer," to quote White House Chief of Staff Jacob Lew. "I don't think the American people want to have this debate again," Lew said on Fox News Sunday, reflecting the "let's move on" approach reported by National Journal's Major Garrett, among others.
But the Republican Party clearly does intend to have this debate, all the way into November, and Lew's tepid talking-points are a warning sign that the White House is, yet again, surrendering the message war on a central issue that even Obama partisans admit was poorly marketed the first time around, before and after ACA was signed into law in 2010.
It's not that Republicans have a better message. Questioned on Fox News Sunday, Senate Minority Leader Mitch McConnell had no answer to give host Chris Wallace when the latter asked what the GOP would do about the 30 million uninsured. "That's not the issue," McConnell sputtered. Like Speaker John Boehner on Face the Nation, he indicated that the GOP clearly had no alternative "replace" plan of its own beyond what Boehner called a "common-sense, step-by-step approach."
Already the ACA's opponents, with their flair for the simplistic, are aggressively portraying the Supreme Court justification of the individual mandate based on Congress' taxing powers as a furtive "middle-class tax increase" introduced by Obama. And as we have seen happen again and again -- notably when Obama's 2009 stimulus plan was portrayed as runaway big government rather than what it mainly was, an effort to prevent a Depression -- it is the GOP narrative that will sink in unless it is aggressively countered with a powerful marketing message.
A Pew Research Center study also recently concluded that the Democrats consistently failed to do this last time, saying "the language and framing of the issue favored by the [ACA] bill's Republican critics was far more prevalent in the news coverage."
The opportunity to resell ACA exists. A new Reuters/Ipsos poll indicates that support for the law is rising since the Supreme Court decision. And as my former Newsweek colleague Geoffrey Cowley, one of the most astute health-care journalists in the country, points out, "polls consistently show that more Americans oppose the Affordable Care Act than support it -- not because they've evaluated and rejected it but because they don't understand it."
Just as important, Obama really has no choice but to mount a selling job extraordinaire on the ACA. Beyond Joe Biden's somewhat tongue-in-cheek line -- "Bin Laden is dead and General Motors is alive" -- the president's campaign doesn't have much of a positive narrative to sell, especially on the economy. Indeed, it's something of a mystery why the Obamans are so eager to return to that subject. At this point, based on the latest GDP growth numbers, he's likely to head into the fall with unemployment still above 8 percent, as it has been now for a record 41 months (it was 7.8 percent when Obama took office).
As Cowley puts it: "If the president can use this week's court ruling to reassert his own gifts as a storyteller -- and his supporters can spark the kind of social-media uprising that helped elect him -- health-care reform may yet have a chance." And so might Obama -- for a second term.