New Polls Show Bad Economy Taking Its Toll on Obama
In the first polls since the president's Bain offensive, the toplines look bad for him and the underlying trends are even bleaker.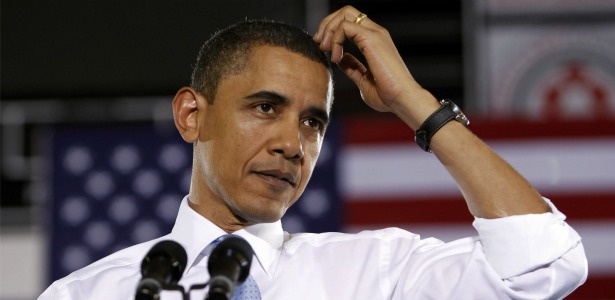 Reuters
The first round of polls is out after President Obama's Bain attacks against Mitt Romney and the results aren't good news for the White House. By themselves, the national toplines are discouraging enough -- Romney holds a (statistically insignificant) 47 to 46 percent lead in the new CBS/New York Times poll, and the president is stuck at 47 percent in the just-released Fox News and NPR poll in 12 battleground states.
But beneath the head-to-head numbers, the results foreshadow some tough times ahead for Obama. Voters appear to be processing the worsening economic news belatedly, and their pessimism shows in spades. In the CBS/NYT poll, Obama's job approval dropped to 44 percent, with only 39 percent approving of his economic performance -- down five points from April. For the first time since January, more voters now think the economy is getting worse. Nearly two-thirds of voters now place some blame on the president for the weak economic conditions, with 34 percent giving him "significant" responsibility. An outright 52 percent majority of independents believe Obama will "never improve" the economy. These aren't numbers that victories are made of.
And in a sign that the newfound negative tone of the campaign may be backfiring, the poll showed Obama's favorability ratings -- always his strong suit -- at an all-time low as president. Only 36 percent in the NYT/CBS poll view him favorably, a six-point drop over the last three months, with 48 percent viewing him unfavorably. Romney's favorables aren't good, either -- 32/36 fav/unfav -- but mutually assured destruction isn't going to win the election for the president.
The state-by-state numbers aren't any more encouraging. Quinnipiac's just-released poll of Virginia voters shows Obama and Romney tied, with Obama only polling at 44 percent. Among non-college educated whites, Obama's job approval dropped even further, down to 29 percent, with only 40 percent of college-educated whites approving of his job performance. To compensate in the Old Dominion, Obama would need overwhelming support from minorities and turnout comparable to their 2008 levels.
All told, the numbers paint a picture of voters growing increasingly disillusioned with the president. By going hard negative against Romney, the president is landing some solid blows. But without much of a positive governing agenda to campaign on, it doesn't look like that will be enough by itself.