Muslim Americans Using Comedy to Break Down Stereotypes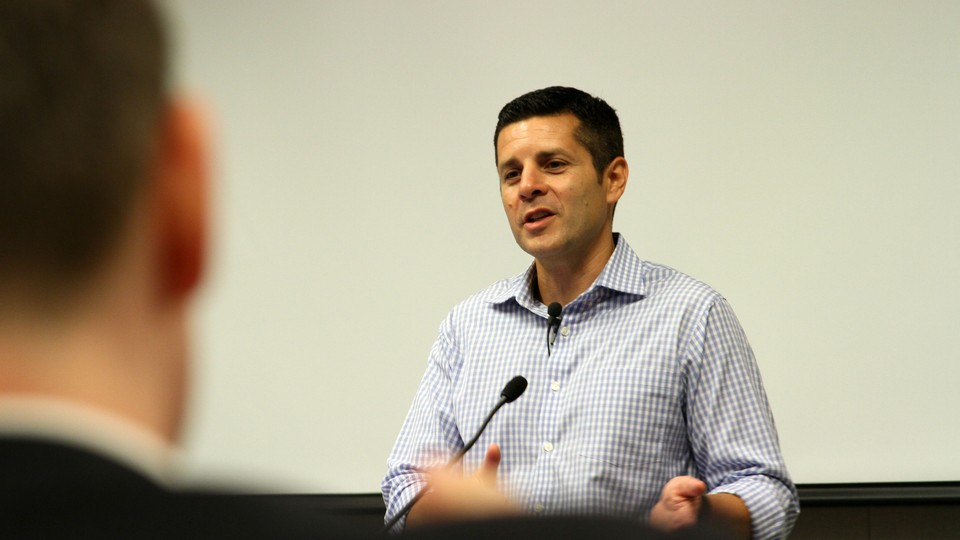 Political comedy is nothing new. But in a post 9/11-world, some young Muslim Americans are finding that comedy is one way to break down stereotypes and educate mainstream America about one of the most racially diverse religious groups in the U.S.
(RELATED: See our gallery with photos from the event.)
Comedian Dean Obeidallah, a New Jersey native whose father is Palestinian and mother Sicilian, told a small recent gathering in Washington that humor is a way to openly talk about important subjects on politics, religion, and current affairs. Obeidallah, an attorney-turned-comedian, performed in Comedy Central's Axis of Evil special. He is the coproducer of an upcoming documentary, The Muslims are Coming!
Obeidallah and a group of other comedians toured the Deep South — Alabama, Mississippi, Tennessee, Georgia, and Florida — and hosted free events. The majority of their audience was white, he said. These comedians get their material from their own experiences or those of other Muslims in America. Similarly, other comedians have used their ethnic and religious background to bridge understanding of their communities and mainstream America--and get laughs while doing it. Allah Made Me Funny, the longest-running collective of Muslim comics, has toured more than 30 countries.
The jokes touch on sensitive topics, such as Muslims being harassed at the airport. "Dress white, make your flight. Dress brown, never leave town," Obeidallah told a crowd last week, immediately drawing laughs.
Since 2001, the Muslim-American population has been in the spotlight, and usually a harsh one. During the July 12 event in Washington, a student forum sponsored by the American Islamic Congress, some of the young attendees talked about getting stares at the airport or having fellow students at their college campuses deface their property; one described the controversy sparked by the suggestion that a university provide separate gym facilities for males and females.
One man in the audience who is in the military said that when he is in uniform, people walk up to him, look him in the eyes, and shake his hand to thank him for his service, but that when he's in street clothes and a Muslim cap, people give him nasty stares.
Muslim Americans have faced a series of challenges. Earlier this year, Louisiana lawmakers supported Gov. Bobby Jindal's school voucher program, which on Aug. 1 gives parents the option to send their children to public or religious schools. State Rep. Valarie Hodges, who initially backed the voucher program, later said she had no idea it also meant some parents would send their children to Muslim schools.
"We need to ensure that it does not open the door to fund radical Islam schools," Hodges, a Republican, told the Livingston Parish News. "There are a thousand Muslim schools that have sprung up recently. I don't support using public funds for teaching Islam anywhere here in Louisiana."
A similar defensiveness spurred a national debate over the proposal in 2010 to construct a Muslim community center and mosque in Lower Manhattan. Critics of the project said such buildings so close to Ground Zero would be an affront to victims of Sept. 11. At a local hearing on the issue, some people displayed pictures of loved ones killed during the attacks, according to The New York Times, while others held signs that read: "Show respect for 9/11. No mosque!"
A 2011 Pew Research Center report indicated that there is no apparent increase in extremism among Muslim Americans. Still, about 48 percent of those polled said their leaders had not been doing enough to speak out against Islamic extremists.
"That was a wake-up call," Obeidallah said. "I thought things had gotten better in our community."
During their tour in the South, Obeidallah and his fellow comedians set up tables on the street. Obeidallah invited passersby to stop and chat. "There are live Muslims here to answer your questions," he said. People wanted to know why Muslims aren't speaking out against violence.
"Are you kidding me? We heard that everywhere we went," he said. "They don't think we are terrorists, but"¦ they think we're not out there denouncing [extremists] enough."