Mitt Romney's Trip to Israel: Is the Jewish Vote up for Grabs?
The Republican doesn't expect to win the group, but he's emphasized strained American-Israeli relations as a way to cut into Obama's advantage.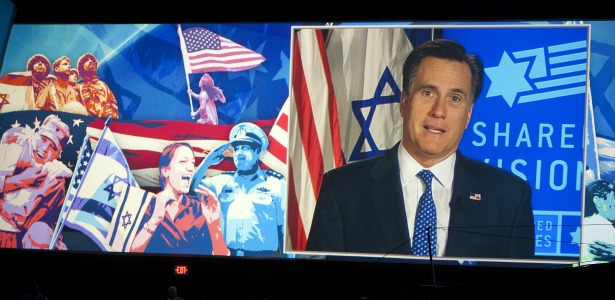 Why is this election year different from all other election years? The answer to this twist on the age-old Passover seder question is, probably not much, at least when it comes to the Jewish vote.
Every four years, the Republican presidential nominee makes a play for Jewish voters, and every four years, the ticket falls woefully short. Since 1992, the GOP nominee has received between 15 percent and 23 percent of the Jewish vote, according to a new analysis from the nonpartisan Solomon Project.
Recent history is not deterring Mitt Romney, however, who will make the biggest overture possible to the American Jewish community when he arrives in Israel on Sunday.
For Romney, it could be worth it.
Tight races like the 2012 campaign are won and lost at the margins -- picking up a percentage here, another there -- and strategists in both parties say that the Jewish community is one place where Romney could find an edge. A Gallup poll in June showed Obama receiving 64 percent of the Jewish vote. That's a 10-point drop from his level of support shortly before the 2008 election and five points worse than his overall decline among registered voters.
"He's in what I would call the danger zone for a Democrat," said Tevi Troy, a senior fellow at the Hudson Institute and a Romney adviser. "The question is not whether the Republican nominee is going to get the majority of the Jewish vote. It's whether the party will make important inroads in the community, and I'm optimistic that we will."
Romney also will visit London and Poland in his first overseas trip as the presumed GOP nominee.
In a sign that Obama's team is eyeing Romney's itinerary closely, top campaign surrogates gave a sweeping defense of the administration's commitment to Israel nearly a week in advance of the Republican's trip in a telephone call with reporters. Robert Gibbs, a senior adviser to the Obama campaign, said on Monday that Obama had "substantive meetings" with Israeli and Palestinian leaders as a candidate in 2008 and questioned whether Romney's overseas trip will be "one long photo-op." Gibbs also downplayed the tension between the Obama administration and Israeli Prime Minister Benjamin Netanyahu.
Colin Kahl, former deputy assistant Defense secretary for the Middle East, said that Obama has offered "record high'' security funding, helped build an iron-dome system to protect Israelis from rockets coming from the Gaza strip, and acted aggressively to thwart Iran's nuclear threat.
Kahl also went so far as to say that Jewish voters could expect Obama to make a trip to Israel during his second term. He noted that Ronald Reagan never visited Israel during his administration and that George W. Bush did not go until the last year of his second term.
"Being a friend to Israel, at least in our view, shouldn't be judged purely by a travel itinerary," Kahl said. "The administration's support and cooperation for Israel has been unprecedented."
Obama himself affirmed his commitment to Israel just last week while campaigning in a heavily Jewish retirement community in West Palm Beach, Florida, where candidates often warm up the crowd with free bagels and cream cheese. "I want everyone here to know, in my administration, we haven't just preserved the unbreakable bond with Israel -- we have strengthened it," Obama told hundreds of residents.
Republicans are energetically circulating the opposite message, particularly in toss-up states with large Jewish populations, such as Florida, Pennsylvania, Ohio, and Virginia. Hours after the Obama campaign's call on Romney's trip, Rep. Ileana Ros-Lehtinen, R-Fla., and Virginia Gov. Bob McDonnell both issued broadsides against Obama's relationship with Israel. Ros-Lehtinen called the hint right before Romney's trip that Obama would visit in his second term "politically inspired."
"U.S.-Israeli relations have been strained by the failure of the Obama administration to stress unequivocal support for our long-standing ally," McDonnell said in a statement. "Thus, it's no surprise that President Obama is struggling to shore up support in the Jewish community."
Exit polls in 2008 suggested that Obama received 78 percent of the Jewish vote, roughly the same level of support that Bill Clinton got in 1996, Al Gore got in 2000, and John Kerry received in 2004. But the analysis of the Jewish vote by the Solomon Project, which combined national and state data, pegged Obama's Jewish support in 2008 slightly lower, at 74 percent. That's still a high benchmark, but a lower baseline than widely reported.
"I don't expect he will do quite as well in 2012,'' said Democratic pollster Mark Mellman, one of three authors of the report. "He's going to do less well in the country as a whole, so you'd expect him to do less well in the Jewish community."
Jewish voters remain much more Democratic than the rest of the electorate, the Solomon Project found. The analysis takes the long view, noting that between 1972 and 1988, Republican nominees attracted between 31 percent and 37 percent of the Jewish vote. Since 1992, the GOP nominee hasn't broken 23 percent, a trend Mellman described in part as a reaction to the rise of the Religious Right's influence in the GOP.
But Romney sees an opening in the administration's failure to broker peace between the Israelis and Palestinians. He has delivered critical speeches to pro-Israel advocacy groups such as the American Israel Public Affairs Committee and the Republican Jewish Coalition, and he's deployed high-profile surrogates in the Jewish community, such as John Bolton, the former U.S ambassador to the United Nations, and Dan Senor, an adviser to the Bush administration.
"Republicans say every four years that Jews are moving away from the Democratic Party, but, if anything, the trend is in the other direction," Mellman said. "I don't expect that to change significantly."
Obama's success among Jewish voters in 2008 defied a whisper campaign that called him a Muslim with terrorist leanings -- falsehoods that the campaign sought to dispel with truth-squading websites that emphasized Obama's Christian background.
Obama's reelection campaign has not launched any similar platforms this year, suggesting that it does not see the persistent rumors about his religion as a problem for now. However, the campaign website does include a section titled "President Obama's Stance on Israel: Myths vs. Facts."