JFK's Womanizing: Why Americans Just Don't Care
Caitlin Flanagan chats with readers about our beloved and complicated 35th president.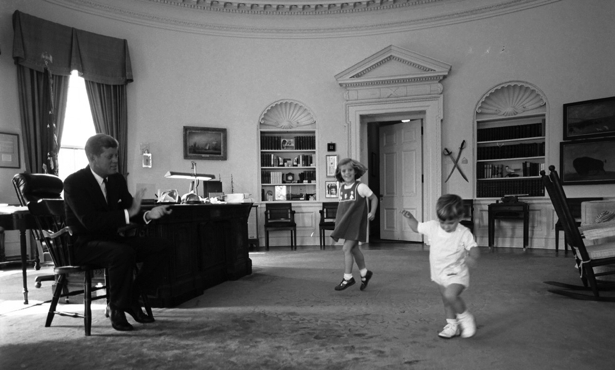 John F. Kennedy Library
Contributing editor Caitlin Flanagan talks about her recent essay on history's inclination to overlook the 35th president's philandering.
He was a beloved president and a model father. He was also a notorious philanderer, as a new book reveals in sordid detail. But despite these contradictions, Caitlin Flanagan writes in her new Atlantic essay, Americans will never grow disenchanted with John. F. Kennedy.
On July 11, Caitlin Flanagan came online to discuss Kennedy's complexities with readers. The event is now closed, but you can read the full transcript below.

---
morten_yvonner: Jackie survived many tragedies, including her own illness, however, I truly believe she, like many mothers would not have faired well with the death of a child-especially her beloved John. Do you agree?
Wednesday July 11, 2012 3:00
Caitlin Flanagan: I remember when John Kennedy, Jr. died I thought immediately about his mother, and what a blessing it was that she had not had to endure that ultimate loss. I've learned enough about grief over the years to know it's impossible to predict how anyone will respond to it - and the ones who do so with fortitude are by no means the ones less hollowed out by it than the ones who are more obviously broken by it. Perhaps she would have faced it with her characteristic grace and courage.
Wednesday July 11, 2012 3:06
Harry: What time is this going to begin?
Wednesday July 11, 2012 3:06
Caitlin Flanagan: Harry, it's on.
Wednesday July 11, 2012 3:06
kelly: Why do you think Americans cared so much more about Bill Clinton's indiscretions than JFK's? Was it just because it was a different era, or is JFK just somehow magically immune to that kind of judgment?
Wednesday July 11, 2012 3:06
Caitlin Flanagan: I think of course that it was a different era. But, for all of his womanizing, Kennedy didn't leave any unhappy customers behind. If what so many apparently well-informed sources say is true about Clinton - that his sexual past includes not only a wide number of partners, but also a significant number of women who report (at the very least) aggressive and unwanted sexual approaches from him, this seems not to have been JFK's style at all. He may have broken hearts, but I've never read a single account in which a woman felt that he had done anything other than seduce her.
Wednesday July 11, 2012 3:11
Harry: this is painful. it's like watching paint dry
Wednesday July 11, 2012 3:12
Caitlin Flanagan: Harry, there are other things to do on the Internet besides hovering on at Atlantic live chat.
Wednesday July 11, 2012 3:13
alison: What do you think makes a man a good father? (President or not.)
Wednesday July 11, 2012 3:13
Caitlin Flanagan: I'm sitting a friend who just offered a good answer to this one: "undying loyalty."
Wednesday July 11, 2012 3:15
Sam: Has the definitive number of women Kennedy slept with while a) married & b) in office ever been determined?
Wednesday July 11, 2012 3:15
Caitlin Flanagan: No - but there are numerous accounts that suggest if he wasn't in Wilt Chamberlin territory, he wasn't too far off.
Wednesday July 11, 2012 3:17
arosner: There's one thing I wasn't totally clear on after reading your article. It was obviously a different time back in JFK's day. A president could be having all sorts of affairs and suffering from secret illnesses, and the public didn't really need to know about it. But do you think that way of operating is better than the way we do things today? Do we need more of that romance in our politics, or is it dangerous?
Wednesday July 11, 2012 3:17
Caitlin Flanagan: Romance seems to be essential for political success - policy differences aside, Obama is enjoying a romance with his supporters, while Romney can't get to first base.
Wednesday July 11, 2012 3:19
Lockwood: Did his early death affect our perception of him? Would we feel the same way about his womanizing if we didn't see his life cut short?
Wednesday July 11, 2012 3:19
Caitlin Flanagan: Certainly his early death shaped our perception of his to a great extent. He was an athlete dying young, in that respect.
Wednesday July 11, 2012 3:20
Harry: you ain't kidding there, Caitlin
Wednesday July 11, 2012 3:20
Caitlin Flanagan: Harry, I told you to go outside and play.
Wednesday July 11, 2012 3:20
alison: Interesting. So does it matter if a man is involved with his kids, helping out on a day-to-day basis? Or is it enough to pop in here and there for Kodak moments and fatherly advice?
Wednesday July 11, 2012 3:21
Caitlin Flanagan: Everyone always says (and the social science research, for whatever that is worth, supports) that the bar seems to be lower for fathers than for mothers. The mere presence of a father in the home predicts all sorts of positive outcomes, no matter how involved or not.
Wednesday July 11, 2012 3:22
Alain: How big a role would you say the assassination of JFK played in immortalizing and immunizing his legacy, no matter how sordid his private life appeared to the public? What ifs not withstanding is there a certain degree of shame associated with that tragic moment in American history that not only allows the public to conveniently forget his indescretions but embrace them as well?
Wednesday July 11, 2012 3:22
Caitlin Flanagan: Yes, I think your exactly right. In writing the piece I sat down and watched the funeral day coverage all the way through - not just the parts we always see in clips. The monumentality of that day, the shock and grief combined with the formality and stunning grace - it was enough, more than enough, to secure a legacy of good wishes and close feeling.
Wednesday July 11, 2012 3:24
Marie: as you so brilliantly convey in your piece, JFK's extracurricular behavior directly undermines the image of the doting family man for which he is beloved. Why do you think those who still revere him are so willing to overlook this?
Wednesday July 11, 2012 3:24
Caitlin Flanagan: I don't know! I think the allure of all the things we want him to stand for must be very powerful. If we want to believe something strongly enough, we will believe it.
Wednesday July 11, 2012 3:25
NC: Are there any believable reports of illegitimate children from Kennedy's numerous affairs?
Wednesday July 11, 2012 3:25
Caitlin Flanagan: No. We the recent book by Mimi Alford reports that he had an abortionist (as doctors who performed abortions were than called) in his rolodex and had functionaries who could put a pregnant woman in touch with him.
Wednesday July 11, 2012 3:26
Lockwood: America's general opinion toward casual sex is seeming to get more liberal with the waning of religion influence. Birth control and other contraceptives are more widely accepted. But when it comes to our politicians, we seem to have gotten more conservative. Scandals are blown up and looked down upon (i.e. Edwards etc.) . Is this a sign of the media's gain in power or that we really aren't much more liberal when it comes to sex? Also harry, shut up.
Wednesday July 11, 2012 3:27
Caitlin Flanagan: Lockwood, we must be nice to Harry! He's in the grips of an Internet addiction.
You are so right - it's something I'd love to write a piece about. The only people we seem to expect to live a Ward and June Cleaver existence are our politicians - who, because of the very nature of the job, are the least likely to manage it. Although they do themselves no favors by constantly presenting themselves as family people of the century.
Wednesday July 11, 2012 3:29
heather: It comes up with both Clinton and Kennedy (and that ubiquitous French president comparison): why should we care? With Kennedy, is part of it that he got such a big boost out of his wife's popularity and his family man image? Is it that the public itself feels cheated? Clinton's harassments are probably more problematic from a feminist perspective, but Kennedy's philandering tends to provoke a more raw, emotional response.
Wednesday July 11, 2012 3:29
Caitlin Flanagan: Clinton certainly got a pass from a lot of feminists for his alleged behavior toward women - so maybe politics really are at the heart of all of this.
Wednesday July 11, 2012 3:30
atlantis: How do we know we can believe Mimi Alford's account? How can we be sure which JFK stories, if any, to believe?
Wednesday July 11, 2012 3:30
Caitlin Flanagan: Great question - when we were preparing the piece for publication we talked a lot about whether or not to believe Alford. But, as I note in the piece, even the most die-hard JFK supporters have given up doubting the women who have come forward - further investigation always reveals that they are telling the truth. In her case, there is enough evidence to support her story that no one has posed a serious challenge to it.
Wednesday July 11, 2012 3:33
Alex: Do you think the uncaring attitude of most people is somehow related to Jackie's icy demeanor or anti-feminist stances? Or the fact that she was seemingly in the habit of picking men who were destined for power or had an extremely large amount of money? Perhaps because Jackie looked to these things for security and acquired them so easily, we don't feel sympathy for her?
Wednesday July 11, 2012 3:33
Caitlin Flanagan: I think Jackie enjoyed a tremendous amount os sympathy from the American public, certainly at the time of the assassination.
Wednesday July 11, 2012 3:35
atlantis: Do you think Obama could ever get away with the stuff JFK got away with? He's a pretty charming guy.
Wednesday July 11, 2012 3:37
Caitlin Flanagan: God no!
Wednesday July 11, 2012 3:37
Alex: Certainly at that time she had sympathy, but with the writings of Gore Vidal and others and the Schlesinger recordings, there was less sympathy right?
Wednesday July 11, 2012 3:40
Caitlin Flanagan: The Schelssinger recordings leave one with a very sympathetic attitude toward Jackie - Caroline Kennedy made the decision to release them, and she would never do anything that would hurt her mother's image or legacy. The comments I quoted about Martin Luther King and the civil rights movement are the shocking parts of the conversation, and to Caroline's credit she left them in. But other than that the tapes contribute to her legacy.
Wednesday July 11, 2012 3:42
atlantis: Although, no one seems to talk about how JFK's philandering would have affected his popularity if it had come out while he was actually president? For that matter, if Clinton had been assassinated in office, would we have cared that much about Lewinsky revelations if they came out today?
Wednesday July 11, 2012 3:43
Caitlin Flanagan: You're probably right about that.
Wednesday July 11, 2012 3:43
gwendolyth: Did you have any personal inspirations for writing this piece, (ie. family members, friends).
Wednesday July 11, 2012 3:43
Caitlin Flanagan: One of my sons, when quite young, did a school report on John Kennedy. It was, perforce, an uncritical report, and a lovely one - I realized anew how appealing the Kennedy myth is, and how easily I fell back into it. The experience helped to inspire me to write the essay.
Wednesday July 11, 2012 3:45
Scott Kinder-Pyle: Jackie's push for the "fable" is actually very damaging, I think. Rather than honestly confronting issues of character, she trained a generation or so that image is everything... In postmodernity we're still recovering.
Wednesday July 11, 2012 3:47
Caitlin Flanagan: You're right - one of the shocks of adult life is realizing that the image people present to world doesn't always - or even often - match the reality.
Wednesday July 11, 2012 3:47
Mike: Do you think the JFK Affairs and J. Edgar Hoovers knowledge of his activities, even with the Secret service trying to cover them up, is the main reason Bobby kennedy was never able to get Hoover emoved as FBI Director ?
Wednesday July 11, 2012 3:48
Caitlin Flanagan: That's certainly what a lot of people think.
Wednesday July 11, 2012 3:48
krysnth: Hi Caitlin,You seem to be really get under the skin of a certain type of femalecontingent that dominate the popular media forums. I think it has a lot ofto do with your particular voice, which directs very visceral personalfeelings toward your subjects in a way that's abrasive but often slyly so.I think a lot of people miss the self mockery in your satire, because thisparticular style is discouraged in how "right thinking" people should frametheir thoughts in a public forum. You remind me a lot of writers likePauline Kael, Camille Paglia, and although not really so brassy, JoanDidion. How did you come to develop this particular voice as a writer? Areyou conscious of this divide between yourself and your critics that oftenmakes it seems as though you are speaking in different tongues?Thanks,Christine
Wednesday July 11, 2012 3:53
Caitlin Flanagan: Yes, I have definitely committed many thought crimes - and will continue to do so until they take me off to forced labor.
Wednesday July 11, 2012 3:53
chriscahill65: Hi Caitlin,1) You note that Jacqueline Kennedy was "one of the worldliest women of the20th century, no stranger to the variety of sexual experiences that sooften shaped the lives of bored aristocrats. " Since the sexual habits andmorality of, say, the characters depicted in Laclos's "Dangerous Liaisons"has little overlap with the codes of behavior insisted upon by, say, theLegion of Decency or -- more incoherently --Oprah Winfrey, wouldn't it makesense to put aside entirely the idea that "we" should excuse (or notexcuse) the "philandering" of JFK (or of anyone else to whom we are notpersonally married or, I guess, engaged, or at least dating)?2) I'm intrigued by the wildly divergent moral judgements that are bandiedabout in the media regarding the sexual and romantic lives of strangers. Onthe one hand, there is the response to Patti Smith's National BookAward-winning "Just Kids," her moving account of her unconventional loveaffair with the gay photographer Robert Mapplethorpe. An actress is quotedin "O" magazine saying about that book: "Their story sort of restored myfaith in people. They went through so much but could still forgive and loveeach other." On the other hand, we are still encouraged to pretend that weall share a common sexual morality ("cheating," etc.) and that we shouldcomfortably sit in judgement like the Atlanta biddies deciding whether ornot to accept Rhett Butler into polite society. Do you think there is somecore code of sexual morality that a journalist
Wednesday July 11, 2012 3:56
Caitlin Flanagan: There doesn't seem to be a question here, but I like everything you have to say.
Wednesday July 11, 2012 3:57
wstein: A comment not a question...I read your essay on JFK with interest. I agree with you on some of the points you made about President Kennedy, but I was more interested in your comments on Mrs. Kennedy and the children, the famous photographs, and what it said about the Kennedy's as a family. Recently I ran across an essay by Katherine Anne Porter written shortly after the assassination and I hope you will allow me to quote from that essay at length, because it brings us back to that fateful time and shows us a true profile in courage:"I have a dear friend whose beloved died not long ago, and hewrote me an account of her going away, and he said "I never heard ofor imagined a more memorable performance." I knew exactly what he meant,and within a few days I witnessed Mrs. Kennedy's performance at the greatcrisis of her life, and it was flawless and entirely admirable; I haveno words good enough to praise it. The firmness with which she refusedto leave the body of her husband, keeping her long vigil beside him,but not idly, not in tears, planning and arranging for his burial tothe last detail. What relentless will she showed, fending off the officioussympathy of all those necessary persons who swarm about tragic occasions,each anxious to be of service, true, but all too ready to manage and meddle.She refused to be cheated of her right to this most terrible moment ofher life, this long torment of farewell and relinquishment, of her wishto be conscious of every moment of her sufferi
Wednesday July 11, 2012 3:57
kelly: How do you come up with your article topics? Do you usually come up with them yourself, or does The Atlantic ask you to write about certain things?
Wednesday July 11, 2012 3:57
Caitlin Flanagan: My editor and I are pretty good at coming up with subjects together - I'm currently writing about Marilyn Monore, which was his idea. Currently, I've been writing a series on famous women (including this piece on Jackie) and we've been choosing them together.
Okay everyone - thank you so much for these questions. It's been fun. Best, Caitlin
Wednesday July 11, 2012 3:59
---