Highlights from Our Facebook Chat on Immigration and Hispanic Voters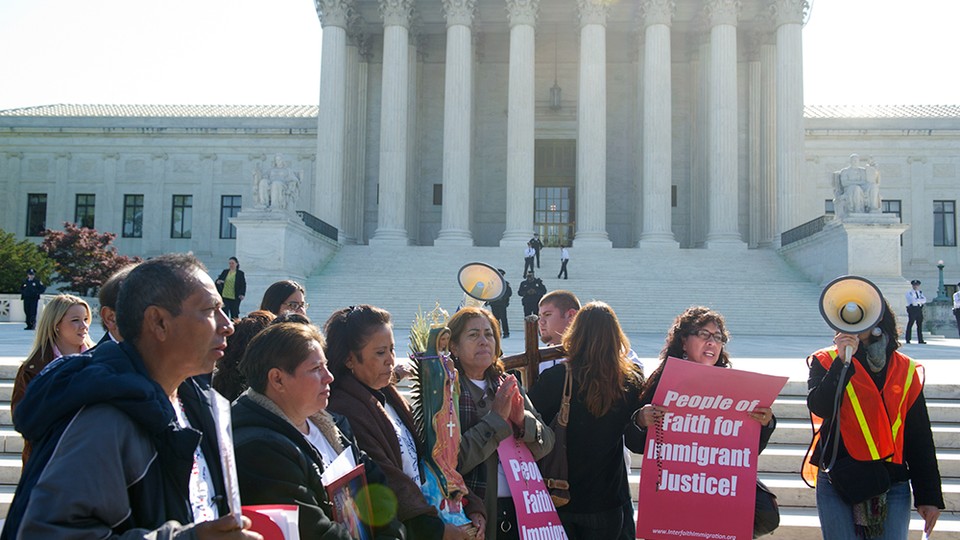 On July 25, The Next America hosted a live Facebook chat with National Journal correspondent Fawn Johnson about the politics of immigration and the power of the Hispanic voting bloc.
Read the full chat transcript here. Or peruse the highlights below, powered by Storify.
[View the story "Immigration and the Hispanic Vote" on Storify]
Immigration and the Hispanic Vote
On July 25, The Next America hosted a live Facebook chat with National Journal correspondent Fawn Johnson about the politics of immigration and the power of the Hispanic voting bloc.

Storified by National Journal · Wed, Jul 25 2012 12:03:15

Some highlights from the chat:

U.S. Latino voters have responded overwhelmingly that their major issues of concern have been jobs and the economy. But even so, immigration policy remains strongly associated with the idea of the Latino voting bloc. Readers seemed to agree.
most polls show that while immigration is an important issue for Latino voters, like most everyone else, there are other issues that are more important, such as the economy, jobs, for instance. So does it really matter for this election? is immigration really that much of a factor, especially when neither party has really moved on it legislatively?Patricia GuadalupePatricia: Even Latinos worry about the economy and health care. So immigration gets stuck third or fourth in the issues that voters care about. The place where it starts to matter is in areas like Nevada or Florida, where the Latino vote could tip the balance for the candidates. It's about turnout among Latinos.National JournalRepublicans that I talk with now say Romney is probably best to steer clear of immigration, which can hurt him more than it helps him. Romney can also hope that Hispanics will be less enthused about Obama than they were in '08, since almost none of their priorities have come into being.National JournalData indicate that the Latino population in the U.S. is also largely young. An estimated 50,000 Latino Americans turn 18 every month. It's clear that there's no ignoring this young voting bloc, which historically has been quite disengaged from the electoral process.
The Pew Hispanic Center shows that a substantial portion of the Latino population is under 18, which means the possibility for future growth in the voting bloc. What will it take to overcome young adult apathy and engage them as voters?McKenzie RomeroMcKenzie: Latino youth in many ways are no different from the rest of the teens in this country--in some ways more engaged with the world but perhaps less so with politics. Pollster Celinda Lake says the upcoming generation of voters is more color blind than any other preceding it, which means that voter outreach efforts should probably target the age and not the race.National JournalOne question posed: Realistically, how do you think that Obama's executive order to halt deportations of young illegal immigrants will play out?The Next America by National JournalObama's move to defer deportations for youth is huge for voter turnout. The "dreamers" have been asking for that since he got into office. Plus, they have an added incentive. If Romney wins, it's not clear that he will continue the program.National JournalAccording to a Pew Hispanic Center report, 51 percent of Latinos identify themselves by their country of origin--not by the label Hispanic or Latino. The key finding? The more than 50 million Latinos in the U.S. are wildly different from one another in their views and their cultures. Those differences do play a significant part in how they vote and view the political process.
how has the influx of Puerto Ricans in central Florida changed the landscape for both parties this year since they tend to vote Democratic compared to Cuban Americans in Miami who tend to vote Republican? is immigration even an issue in FLorida?Patricia GuadalupePatricia: Immigration is definitely an issue in Florida, but you accurately point out that the Puerto Rican voters and the Cuban Americans see the issue very differently. I don't think candidates can ignore immigration, but it's entirely possible that the two voting blocs will cancel each other out.National Journalthanks. I was curious if you've seen any difference in ads or other outreach/approach in Florida because of this. i don't think there's any other state with such a contrast within the same ethnic group.Patricia GuadalupePatricia: I haven't looked at the Florida advertising from the candidates, so I'm not sure if it's any different than anywhere else. You have peaked my interest! I know that Florida's own Sen. Marco Rubio has spent a lot of time trying to diminish the negative rhetoric coming out of the GOP on immigration, with a moderate degree of success.National JournalNo chat about immigration in the U.S. could ignore one of the largest issues that has captivated the nation: The Supreme Court's decision on Arizona's immigration bill, S.B. 1070.
Could you talk about the impact the SCOTUS decision has had on states other than AZ with laws similar to SB1070?Stephanie CzekalinskiStephanie: For those who don't follow this as closely as we do, the Supreme Court upheld the "show me your papers" part of Arizona's law but it struck down the other three parts on warrantless arrests, undocumented work, and ID requirements. That means that all states that have similar laws (Alabama, Georgia, Indiana, South Carolina and Utah) will need to rethink their own laws.National JournalMore on SCOTUS: All the states with immigration laws include something like "show me your papers"--police officers asking for legal certification, but they also include other provisions that are untested, like outlawing rentals to illegal immigrants. the ACLU and other civil rights groups have lawsuits teed up in all of those states (and Arizona) to challenge those provisions. It's not over.National JournalCould the civil rights trial against AZ Sheriff Joe Arpaio reignite immigration reform as a priority election issue among voters?McKenzie RomeroMcKenzie: I doubt it. Sheriff Joe is a special case, even in Arizona. The conservatives in the county next to him don't like him.National JournalAnd one last thought from our immigration correspondent:
The most interesting? Here's a few parting thoughts: 1) I once had a political strategist say to me, "We don't do immigration. There's no lobbying money in it." This means it's a home-grown issue coming from people and not monied interest. Harder to cover, but with a lot fewer trappings of traditional business issues like taxesNational JournalRead the full chat transcript here:
Our chat with National Journal's Fawn Johnson on immigration and the Hispanic vote is starting now! Post a comment below this photo with your questions. Like us to follow along and don't forget to refresh the page to get the latest input. (Photo credit: NJ/Chet Susslin)The Next America by National Journal
Immigration and the Hispanic Vote
On July 25, The Next America hosted a live Facebook chat with National Journal correspondent Fawn Johnson about the politics of immigration and the power of the Hispanic voting bloc.
Storified by National Journal · Wed, Jul 25 2012 12:03:15
Some highlights from the chat:
U.S. Latino voters have responded overwhelmingly that their major issues of concern have been jobs and the economy. But even so, immigration policy remains strongly associated with the idea of the Latino voting bloc. Readers seemed to agree.
most polls show that while immigration is an important issue for Latino voters, like most everyone else, there are other issues that are more important, such as the economy, jobs, for instance. So does it really matter for this election? is immigration really that much of a factor, especially when neither party has really moved on it legislatively?Patricia GuadalupePatricia: Even Latinos worry about the economy and health care. So immigration gets stuck third or fourth in the issues that voters care about. The place where it starts to matter is in areas like Nevada or Florida, where the Latino vote could tip the balance for the candidates. It's about turnout among Latinos.National JournalRepublicans that I talk with now say Romney is probably best to steer clear of immigration, which can hurt him more than it helps him. Romney can also hope that Hispanics will be less enthused about Obama than they were in '08, since almost none of their priorities have come into being.National JournalData indicate that the Latino population in the U.S. is also largely young. An estimated 50,000 Latino Americans turn 18 every month. It's clear that there's no ignoring this young voting bloc, which historically has been quite disengaged from the electoral process.
The Pew Hispanic Center shows that a substantial portion of the Latino population is under 18, which means the possibility for future growth in the voting bloc. What will it take to overcome young adult apathy and engage them as voters?McKenzie RomeroMcKenzie: Latino youth in many ways are no different from the rest of the teens in this country--in some ways more engaged with the world but perhaps less so with politics. Pollster Celinda Lake says the upcoming generation of voters is more color blind than any other preceding it, which means that voter outreach efforts should probably target the age and not the race.National JournalOne question posed: Realistically, how do you think that Obama's executive order to halt deportations of young illegal immigrants will play out?The Next America by National JournalObama's move to defer deportations for youth is huge for voter turnout. The "dreamers" have been asking for that since he got into office. Plus, they have an added incentive. If Romney wins, it's not clear that he will continue the program.National JournalAccording to a Pew Hispanic Center report, 51 percent of Latinos identify themselves by their country of origin--not by the label Hispanic or Latino. The key finding? The more than 50 million Latinos in the U.S. are wildly different from one another in their views and their cultures. Those differences do play a significant part in how they vote and view the political process.
how has the influx of Puerto Ricans in central Florida changed the landscape for both parties this year since they tend to vote Democratic compared to Cuban Americans in Miami who tend to vote Republican? is immigration even an issue in FLorida?Patricia GuadalupePatricia: Immigration is definitely an issue in Florida, but you accurately point out that the Puerto Rican voters and the Cuban Americans see the issue very differently. I don't think candidates can ignore immigration, but it's entirely possible that the two voting blocs will cancel each other out.National Journalthanks. I was curious if you've seen any difference in ads or other outreach/approach in Florida because of this. i don't think there's any other state with such a contrast within the same ethnic group.Patricia GuadalupePatricia: I haven't looked at the Florida advertising from the candidates, so I'm not sure if it's any different than anywhere else. You have peaked my interest! I know that Florida's own Sen. Marco Rubio has spent a lot of time trying to diminish the negative rhetoric coming out of the GOP on immigration, with a moderate degree of success.National JournalNo chat about immigration in the U.S. could ignore one of the largest issues that has captivated the nation: The Supreme Court's decision on Arizona's immigration bill, S.B. 1070.
Could you talk about the impact the SCOTUS decision has had on states other than AZ with laws similar to SB1070?Stephanie CzekalinskiStephanie: For those who don't follow this as closely as we do, the Supreme Court upheld the "show me your papers" part of Arizona's law but it struck down the other three parts on warrantless arrests, undocumented work, and ID requirements. That means that all states that have similar laws (Alabama, Georgia, Indiana, South Carolina and Utah) will need to rethink their own laws.National JournalMore on SCOTUS: All the states with immigration laws include something like "show me your papers"--police officers asking for legal certification, but they also include other provisions that are untested, like outlawing rentals to illegal immigrants. the ACLU and other civil rights groups have lawsuits teed up in all of those states (and Arizona) to challenge those provisions. It's not over.National JournalCould the civil rights trial against AZ Sheriff Joe Arpaio reignite immigration reform as a priority election issue among voters?McKenzie RomeroMcKenzie: I doubt it. Sheriff Joe is a special case, even in Arizona. The conservatives in the county next to him don't like him.National JournalAnd one last thought from our immigration correspondent:
The most interesting? Here's a few parting thoughts: 1) I once had a political strategist say to me, "We don't do immigration. There's no lobbying money in it." This means it's a home-grown issue coming from people and not monied interest. Harder to cover, but with a lot fewer trappings of traditional business issues like taxesNational JournalRead the full chat transcript here:
Our chat with National Journal's Fawn Johnson on immigration and the Hispanic vote is starting now! Post a comment below this photo with your questions. Like us to follow along and don't forget to refresh the page to get the latest input. (Photo credit: NJ/Chet Susslin)The Next America by National Journal