George W. Bush: Politics Is a Swamp and 'I'm Not Crawling Back In'
The former president went on to explain that he felt a moral responsibility to fight AIDS in Africa.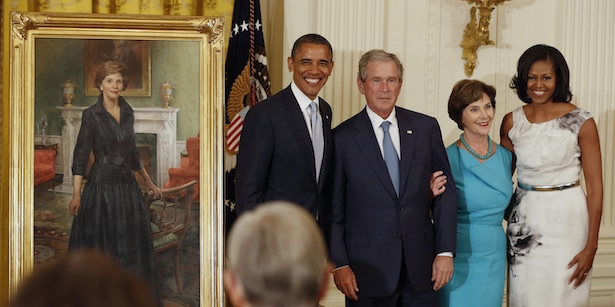 Reuters
In a rare interview, former president George W. Bush explains his reticence to take part in American political debates and his work, both during and after his time in office, to fight AIDS in Africa.
On the subject of politics, he said that "eight years was awesome. I was famous and I was powerful, but I have no desire for fame and power anymore. I don't want to undermine our president, whoever the president is." In his view, "I think its bad for the presidency to have former presidents bloviating, opining, and telling people how it ought to be done." Nor does he want to play a major role in determining who gets elected. "I crawled out of the swamp, and I'm not crawling back in," he said. "I'm a supporter of Mitt Romney. I hope he does well. But he can do well without me."
Asked about AIDS in Africa, and why he made it a priority during his presidency and post-presidency, he said this:

In life you've got to set priorities. I also believe that a principle worth defending, which we'll defend at the Bush Center, is, 'To whom much is given, much is required.' I believe we're a blessed nation that therefore has a sense of responsibility to the extent we can to help others. In this case there was a pandemic destroying an entire generation of people. And I didn't see how I could be president of the most powerful and the richest nation and not lend our support to saving lives. It would have been unconscionable not to act.

The interview, conducted by Peter Robinson, can be viewed here and here.