Democrats Prepare to Bring Out the Big Gun in Charlotte: Bill Clinton
What a difference four years makes: After demonizing the former president, Obama turns to him for a marquee convention speaking slot.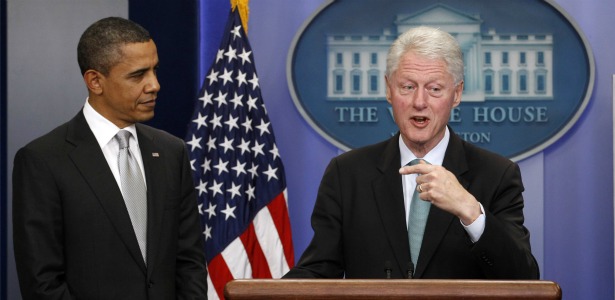 Reuters
"There's a philosophy of saying and doing anything it takes." That was David Axelrod's critique of Hillary Clinton's presidential campaign back in 2008, when he accused Bill Clinton of "doing slash and burn stuff" to win the nomination.
Now, four years later, it takes Bill Clinton to make the case for reelecting President Obama.
Democrats will announce today that Clinton will give a prime-time address at this year's convention in Charlotte, formally nominating Obama for a second term in office and offering a clear contrast between his candidate and Republican Mitt Romney.
The formal nomination is an insider's curiosity, a stark reversal from 2008, when Clinton's anger over the primaries was still palpable (And a nice parallel with 2008, when it was Hillary Clinton who moved that Obama's nomination be recorded as unanimous).
But the speech he will give is the truly important signal, another twist in the complicated and decidedly awkward political relationship between the two giants of Democratic politics made necessary by one's search for a legacy and another's hunt for reelection.
It's a sign that the president who felt our pain is still the politician best able to connect with voters who will decide this election. At a moment when Americans are choosing between an incumbent who can't stop talking about how rich he is and a Republican who can't stop talking about his buddies who own NASCAR and NFL teams, Clinton is perhaps the only national figure average Americans trust to understand what they're going through.
Axelrod, Obama's top strategist, said as much in an interview with The New York Times yesterday: "There isn't anybody on the planet who has a greater perspective on not just the last four years, but the last two decades, than Bill Clinton."
Consider that statement for a moment. On its face, it highlights an interesting insidery tale of two giant personalities still struggling to control the Democratic Party -- the party's last president, who won a second term, and its current incumbent, who's struggling to do the same. But dive deeper and it reflects a bigger tale of an administration finding its way.
Just four years ago, Obama contrasted himself with Clinton during the Democratic primaries. Obama highlighted Ronald Reagan -- a president who did big things on the national stage -- as the model he wanted to emulate. That was an implicit knock at Clinton, whose smaller, incremental steps were hallmarks of his run for re-election and second term.
Now, facing a Republican House of Representatives and a Senate Republican Conference that routinely blocks his priorities, Obama has been forced to pursue the same small-step strategies, using his executive power to advance administration agendas. Coincidentally, Obama's altered approach has come as he's relied more on Clinton as a political surrogate.
Clinton's planned address also highlights the fact that Democrats face a dramatically compressed convention schedule, something that's largely their own fault.
The incumbent's party traditionally holds its convention after the party out of power, and Democrats decided on Labor Day week before Republicans picked their dates. The party with the closest connection to the labor movement can't hold events on Labor Day itself, meaning Democrats had to compress their schedule into three days instead of four. Adding to Democrats' scheduling troubles, the NFL will kick off its 2012 season with a prime-time opener on Wednesday night, the night usually reserved for a party's vice presidential nominee.
That means Democrats have to squeeze four nights of speakers into half the time. Convention speaking slots are already coveted, and the subjects of jealous behind-the-scenes campaigning. The Democratic schedule means even more prominent party leaders will be snubbed this year. Even Obama and Vice President Joe Biden now have to share a night (I wrote about both sides' convention headaches a few months ago).
If the Clintons understood the value of doing whatever it takes to win, it's apparently another lesson the former president has imparted to the current one. What it takes is the campaign's best surrogate delivering the contrast that will define the 2012 election.