CNN's Bogus Drone-Deaths Graphic
A column claims that zero innocents have been killed during strikes inside Pakistan this year -- information neither CNN nor anyone else can verify.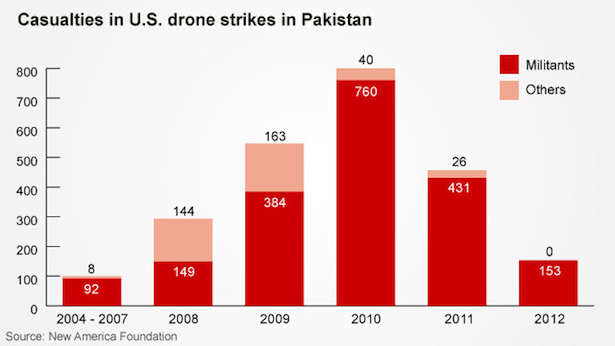 The graphic above appears in a July 4 CNN
column
 titled "Drones decimating Taliban in Pakistan." It indicates that the Pakistan drone program overseen by Nobel Peace Prize winner Barack Obama killed 163 innocent people in 2009, 40 innocent people in 2010, 26 innocents in 2011, and zero innocent people in 2012. Is our drone-strike program really only killing bad guys now?
The casual CNN reader can be forgiven for drawing that conclusion.
Why worry about drones if everyone dying from them is now a militant?
she might conclude. What the authors neglect to mention is this bit from the May 29, 
New York Times story
that explains how the United States government -- and perhaps our allies of convenience inside Pakistan? -- define "militant." Per the newspaper (emphasis added), "Mr. Obama embraced a disputed method for counting civilian casualties that did little to box him in.
It in effect counts all military-age males in a strike zone as combatants, according to several administration officials, unless there is explicit intelligence posthumously proving them innocent.
"
Our strategy is to "just change the meaning of words," as Jon Stewart
put it
on
The Daily Show
. But journalistic entities aren't letting their readers in on the new meaning of militant. And there's another problem too.
As you can see, authors Peter Bergen and Jennifer Rowland cite the New America Foundation -- where both work -- for the chart. That organization, in turn, relies on the press to track the number of drone strikes in Pakistan, and whether the resulting deaths claimed the lives of "militants" or "others." They link the relevant information
here
.
The most recent example:
26. July 2nd, 2012
Location: Dre Nishter village, North Waziristan
Militant Leaders: Unknown
Militants Killed: 6-8
Source: AP, AFP, The Guardian, Dawn

So what happens when we click through to the linked press reports?
Here's the relevant part of the AP story:
DERA ISMAIL KHAN, Pakistan (AP) -- Pakistani intelligence officials say a U.S. drone strike has killed eight suspected militants in the North Waziristan tribal region near the Afghan border. They say missiles fired from an unmanned drone struck a house in Dre Nishter village early Sunday. They spoke on condition of anonymity because they were not authorized to talk to the media. The officials said the house was being used by militants loyal to commander Hafiz Gul Bahadur, and some foreigners were also among the dead.

The AFP story:
A US drone attack on a militant compound in Pakistan's northwestern tribal area killed six insurgents, security officials said. The unmanned aircraft on Sunday fired two missiles on the compound in Shawal district, 50 kilometres (30 miles) southwest of Miranshah, the main town of North Waziristan tribal district, near the Afghan border, they said. "Two missiles targeted the compound, killing six militants," a security official told AFP.

"The strike destroyed the house and triggered a fire," another official said. "It was difficult to identify the bodies immediately as some of them were charred," he said.
And the story from
The Guardian
:
US missiles fired from a drone in a Pakistani tribal region near the Afghan border killed eight suspected militants early Sunday, officials said, as the controversial American strikes continue despite Islamabad's persistent demands that they stop. The latest attack killed fighters loyal to militant commander Hafiz Gul Bahadur, local authorites said.

Bahadur is believed by residents of the region to have an informal working relationship with the Pakistani army, refraining from targeting the security forces while focusing on US and Nato forces in nearby Afghanistan. The continued strikes, despite the likely political fallout, show Washington's confidence in the effectiveness of the drone program against al-Qaida and Taliban fighters who allegedly use Pakistan as a base.


Two Pakistani intelligence officials said four Hellfire missiles were fired at a house used by suspected militants in Dre Nishter village of North Waziristan.
Note how questionable this information is. According to anonymous officials in Pakistan, missiles were fired at a house, though reports conflict about how many missiles, as well as how many people were killed. What is consistent is the detail that bodies found after the fact were charred beyond recognition. Based on those reports, CNN cites the New America Foundation to convey the information that either 6 or 8 militants were killed and zero innocents were killed.
But they can't possibly know that. Maybe they were all bad guys. Perhaps a kid was in the house. The fact that we don't know for sure ought to be acknowledged.
Or take the events of June 4, 2012. Here is the New America Foundation summary:
Location: Hassokhel, North Waziristan
Militant Leaders: Unknown
Militants Killed: 15
Others killed: Unknown
Source: Reuters, ET, NYT, AP, BBC, AFP, CNN
Assumed target: Compound (Unclear)

Once again, all the stories are sourced to anonymous Pakistani officials.
The New York Times
reporter
couldn't be sure
if 15 or 16 people were killed. The Associated Press write-up has this detail: "At the time of the attack, suspected militants were gathered to offer condolences to the brother of a militant commander killed during another drone strike Saturday." Here's
the BBC version
: "... the first missile struck the compound in Hesokhel before dawn, killing three militants, security officials said. A second missile then killed 12 more militants who had arrived at the scene, they added." Said
a Pakistani official
to AFP: "The bodies of those killed were unable to be identified."
It appears that after killing a suspected militant we waited for people to rush to the scene of the explosion, then killed lots of people who did, presuming they were all militants, though their bodies couldn't be identified. Perhaps they were all militants. Perhaps not. The point is that the New America Foundation doesn't know.
To be clear, it's good that New America is gleaning what information it can from press accounts, and there's nothing wrong with conveying their findings -- but not without context. It is difficult to believe that anonymous Pakistani sources would be treated so credulously if they were passing on information that reflected poorly rather than well on the United States.
What context do I suggest?
Americans ought to know that the Bureau of Investigative Journalism
claims
to have verified a minimum of three civilian casualties in 2012, that the U.S. government's definition of militants makes its claims unreliable, and that our method of identifying militants almost certainly isn't foolproof. Clive Stafford Smith, who has reported from Pakistan,
wrote
in
The Guardian
last month that "just as with Guantánamo Bay, the CIA is paying bounties to those who will identify 'terrorists'. Five thousand dollars is an enormous sum for a Waziri informant, translating to perhaps £250,000 in London terms. The informant has a calculation to make: is it safer to place a GPS tag on the car of a truly dangerous terrorist, or to call down death on a Nobody (with the beginnings of a beard), reporting that he is a militant? Too many 'militants' are just young men with stubble."
Then there's this passage from the
New York Times
:
The C.I.A. accounting has so troubled some administration officials outside the agency that they have brought their concerns to the White House. One called it "guilt by association" that has led to "deceptive" estimates of civilian casualties.



"It bothers me when they say there were seven guys, so they must all be militants," the official said. "They count the corpses and they're not really sure who they are."

News accounts of the drone program should stick to reporting what is known, and treating claims by both the U.S. government and the Pakistanis with the skepticism that off-the-record statements on classified unaccountable programs desserve. That skepticism is especially warranted when another set of anonymous officials claims that the official accounts are unreliable.