Can Politicians Have It All?
Anne-Marie Slaughter, Mitch Daniels and the price of public service: Is our leadership suffering because of the pressure of public life on families?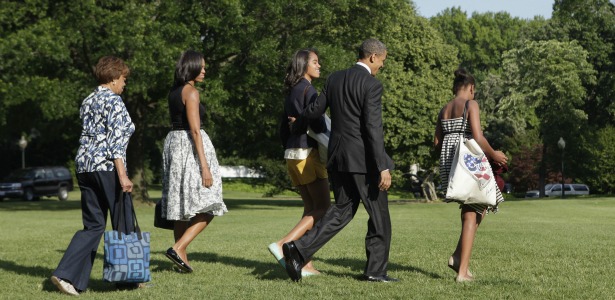 Reuters
Notes from the Aspen Ideas Festival --
See full coverage
In all the lively and fascinating discussion of Anne-Marie Slaughter's smash hit Atlantic cover story, "Why Women Still Can't Have It All," one aspect that hasn't gotten a lot of attention is the particular type of work Slaughter found herself unable to balance with her family life -- a career in public service.
As the State Department's director of policy planning, Slaughter was a top-level Obama administration political appointee, and she writes frankly in her article about the different challenges this type of career posed versus her previous life in academia. Though she frames her story as applicable to women in all the top professions, from business executives to partners in law firms -- and there are certainly broad lessons to be drawn from it -- many of her examples are naturally drawn from the policymaking world she's most familiar with.
Public servants at the highest levels, whether elected or appointed, face two principal challenges not shared by other professions. First, they're not paid as well as those at the equivalent levels of corporate life; and second, they're subjected to a unique level of public scrutiny.
Men and women alike seem to have gotten increasingly vocal about of the pressures of public life on family in recent years. One of the most notable recent examples was Indiana Gov. Mitch Daniels, the fiscally hawkish Republican whom GOP elites tried strenuously to conscript for the presidential race last year.
A talented politician and manager with a knack for combining the folksy and the wonky, Daniels was tempted by their pleas, he told me in an interview at this weekend's Aspen Ideas Festival. But ultimately, his wife and four adult daughters vetoed the idea.
"When a number of people I respected enough kept coming around and urging me, I did finally think seriously about it," Daniels said. "But, one, I wanted to finish the job I was elected to do and do justice to that, and two, my family was very united in believing it was a bad thing for them."
That Daniels deferred to their judgment is itself a remarkable sign of how times have changed. It is rather impossible to imagine LBJ, say, curtailing his own ambitions out of family considerations. Expectations have changed in America for fathers and mothers alike, but politics, with its enduring great-man-on-a-pedestal tropes, hasn't caught up. More than one ally of President Obama has wondered to me whether part of the rap he gets for being detached from official Washington is that he sets aside time to attend his daughters' school events and put them to bed at night.
Daniels told me he feared the intrusion of a national hashing-out of his family's difficult history -- his wife, Cheri, left him and the children and lived with another man for several years, then returned and remarried him. But he was equally leery, he says, of the way their lives would be distorted by the White House bubble.
"After many, many stories about the mudballs that you take and the unfair terrible things that get said, one of my daughters said, 'Dad, these people don't get it,'" Daniels said. "We're not afraid that you'll lose. We're afraid that you'll win.' How their life would change -- [Secret Service] protection and all the rest, young families."
Some of this is just politicians complaining about their jobs, which are extremely difficult but also extremely rewarding. We shouldn't have too much sympathy for the pleadings of the very powerful. But there's a widespread worry that America loses a lot of good leaders because of the high costs of public service, and this is affecting the very quality of our policy and leadership. Daniels pointed out that it's not just elected officials; in Indiana, where judges are appointed rather than elected, those under consideration often balk at the demands of entering the public sphere.
"They have to make their interests public, the whole dossier, and I know a lot of high quality people are discouraged," he said. "We value transparency, but sometimes we take it too far," ensnaring would-be public servants in "the free-for-all of campaign politics" as a result. Daniels, for his part, has taken a job as head of Purdue University once he leaves office in January. He continues to bang the drum for his pet issue, entitlement reform, while ostensibly staying out of the partisan fray.
Slaughter, in her article, lauds another male politician who cited family concerns as a reason to stay out of the 2012 race -- New Jersey Gov. Chris Christie, who told donors at a fundraising event that "his son [missed] him after being gone for the three days on the road, and that he needed to get back." Slaughter also relays a telling anecdote about the resignation of Michele Flournoy, who spent three years as undersecretary of defense before stepping down to be with her kids: Flournoy's allies strained to insist that she meant it when she said she wanted to spend time with her family, and wasn't just citing the "standard Washington excuse" for being pushed out of a job.
"Think about what this 'standard Washington excuse' implies," Slaughter writes. "It is so unthinkable that an official would actually step down to spend time with his or her family that this must be a cover for something else. How could anyone voluntarily leave the circles of power for the responsibilities of parenthood?"
Washington is a notoriously backward town, mired in senseless tradition and slow to acknowledge changes in the broader culture. But as more and more politicians and civil servants step off the treadmill of power to spend more time with their families -- really! -- our public life may finally have to adapt.