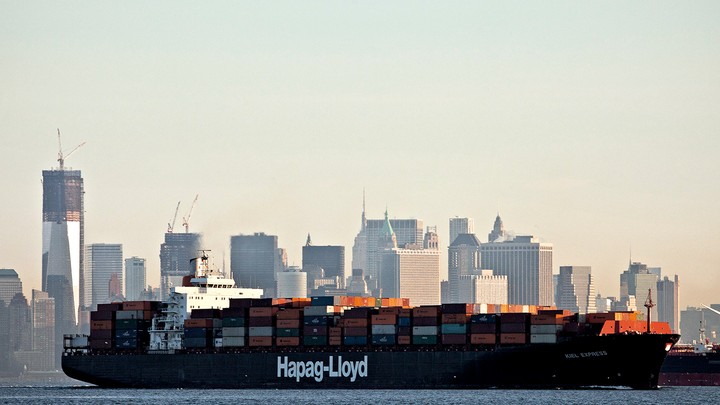 When the oil and gas industry wanted to protect tax breaks for its five biggest companies this year, Republicans in Congress rose to the occasion, killing any attempt to strip the breaks away. Republicans in both chambers have also been consistent in pushing for expanded offshore drilling, in criticizing the Interior Department's moratorium on deepwater wells after the BP oil spill, and in fighting relentlessly for the Keystone XL pipeline. To an outside observer, the pattern is clear: When the oil and gas industry says jump, the GOP doesn't wait to ask how high. But this time, Republicans are sitting on their hands.
The Law of the Sea Treaty, supported by the American Petroleum Institute and a number of business and trade groups whose interests are traditionally supported by the GOP, now counts 34 Republican senators opposing its ratification. Because a two-thirds Senate majority is required for ratification, that's enough to kill the treaty. Although Senate Foreign Relations Committee Chairman John Kerry, D-Mass., isn't giving up on pushing the pact in the lame-duck session, opponents say it's effectively dead.
The distinction here is that for the GOP, ideology wins when it comes to international treaties. With the Keystone pipeline, offshore drilling, tax breaks, and regulations, the interests of the energy industry align with the tenets of the newly defined, tea party-honed Republican Party — limited government, constitutional fidelity, and national sovereignty.
"It's like synchronized swimming," explained Michael Franc, vice president of government studies at the Heritage Foundation, the treaty's primary opponent. "If they're synchronized with the Republican Party's base, it's easy to make those broad generalizations that they are joined at the hip, but here, the treaty was really swimming against that core."
The Law of the Sea Treaty plays into the tea party narrative that suggests President Obama is trying to hand the nation's reins to the United Nations — an idea that's completely antithetical to modern, hard-line conservative movement. "When I tell people that we'd be submitting our sovereignty, surrendering it, to the United Nations "¦ that really is enough," Sen. James Inhofe, R-Okla., said on the Senate floor this month.
And that's why opposition groups and limited-government types succeeded here, Franc said: "To the extent that the treaty looked like, and could be critiqued as, giving up U.S. sovereignty to a U.N.-sanctioned body — any of those kinds of counterarguments trumped whatever it was the Chamber [of Commerce] or those trade associations were doing."
The Law of the Sea has long shown the possibility of earning bipartisan ratification. It is supported by key industry groups such as API, the U.S. Chamber of Commerce, and the National Association of Manufacturers; companies such as Verizon and AT&T; and top administration officials. Still, the treaty has languished in the Senate since 2004, when then-Foreign Relations Committee Chairman Richard Lugar, R-Ind., first brought it to a vote. This year marks its third tour through the chamber, and Lugar might just be the only Republican still supporting it.
The treaty, which has been in effect since 1994 and has been ratified by more than 160 countries, sets the rules for leasing, drilling, deep-seabed mining, and navigation in international waters. As the years have gone by, support for the agreement has weakened in the U.S., but its ratification has simultaneously become more pressing.
For the oil and gas industry, access to resources farther offshore is becoming increasingly important as technological advances allow for greater opportunities off the nation's coasts. Even more pressing is that countries such as Russia, Norway, Denmark, and Canada are staking claims in the Arctic Ocean and setting the rules for royalty rates to be paid to the International Seabed Authority. "Look, this treaty is moving forward without us," warned Marty Durbin, API's executive vice president. "This is getting to be more of an issue for us. We need to be at the table to set the rules."
Ratification is just as critical for the defense and telecommunications industries, which are seeking greater access to rare-earth mineral resources as well as clearer rules on the building and repairing of underwater telecommunications cables. Both sectors are trying to protect their interests, given China's virtual monopoly on the global supply of rare-earth minerals needed for technological and defense applications and the legal disputes over the maintenance of undersea cables.
Still, although the oil and gas industry and other business groups willingly voice support for the treaty, they aren't necessarily holding anybody's feet to the fire. That is to say, Inhofe, who has garnered some $509,250 in campaign contributions from the oil and gas industry since 2007, won't see that number dwindle because of his anti-treaty tirades on the Senate floor. The only strategy left for groups like API is education. "Many of them are, [and] have been, friends to our industry," Durbin said. "We want to maintain an open dialogue."
Meanwhile, the Obama administration is still trying for passage: Secretary of State Hillary Rodham Clinton, flanked by Defense Secretary Leon Panetta and Joint Chiefs of Staff Chairman Martin Dempsey, has testified in favor of the treaty, while the last five secretaries of State from Republican administrations — Henry Kissinger, George Shultz, James Baker, Colin Powell, and Condoleezza Rice — penned an op-ed to the same effect.
But that strategy may have backfired, Franc explained. "You have this room full of four-star generals, CEOs, and other luminaries. Who was against them? People who were ordinary American citizen-types. It was British redcoats against the hard-scrabble colonists," Franc said.
In this election cycle, oil and gas industry contributions to federal candidates and parties have so far totaled more than $30 million, 88 percent of which has gone to Republicans, according to the Center for Responsive Politics. While that figure should not be dismissed, nowadays, Franc said, elected Republicans "take their cues as much from the tea party base as much as they would from a corporate industry base."
We want to hear what you think about this article. Submit a letter to the editor or write to letters@theatlantic.com.
Olga Belogolova
is an associate editor at
InsideDefense.com
in Washington, D.C., where she covers the Navy. She was previously a staff reporter at
National Journal
, where she covered energy policy and other global issues.