Abraham Lincoln's Warning About Presidents and War
Vesting one man with the ability to initiate armed conflict is "the most oppressive of all kingly oppressions," he wrote.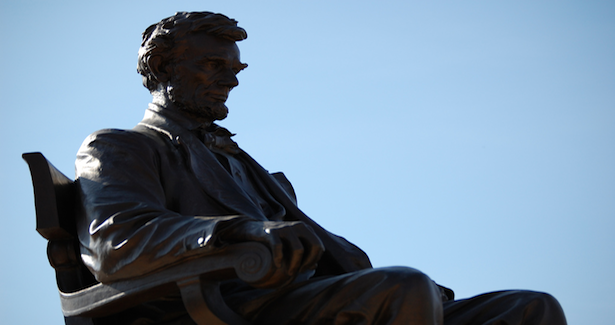 Adam Jon Fuller / Flickr
Writing to his law partner in 1848, Abraham Lincoln offered his take on the prudence of vesting the executive branch with wide latitude to initiate wars with foreign countries. "Let me first state what I understand to be your position," Lincoln wrote. "It is that if it shall become necessary to repel invasion, the President may, without violation of the Constitution, cross the line and invade the territory of another country, and that whether such necessity exists in any given case the President is the sole judge."
That is the position many conservatives take today, and that Barack Obama has seemingly embraced.
They're being foolhardy if Lincoln's position is correct. Here's how he put it:

Allow the President to invade a neighboring nation whenever he shall deem it necessary to repel an invasion, and you allow him to do so whenever he may choose to say he deems it necessary for such purpose, and you allow him to make war at pleasure. Study to see if you can fix any limit to his power in this respect, after having given him so much as you propose. If to-day he should choose to say he thinks it necessary to invade Canada to prevent the British from invading us, how could you stop him? You may say to him,--I see no probability of the British invading us"; but he will say to you, "Be silent: I see it, if you don't."

The provision of the Constitution giving the war making power to Congress was dictated, as I understand it, by the following reasons: kings had always been involving and impoverishing their people in wars, pretending generally, if not always, that the good of the people was the object. This our convention understood to be the most oppressive of all kingly oppressions, and they resolved to so frame the Constitution that no one man should hold the power of bringing this oppression upon us. But your view destroys the whole matter, and places our President where kings have always stood.

Thanks to Glenn Greenwald for reminding me of this letter. I wonder how the Claremont Institute would react to an earmarked donation to disseminate it more widely in conservative circles.