A New Twist on Scout's Honor: Standing Up for Gay Affiliates
Eagle Scouts, men who've attained the highest and most esteemed rank in the Boy Scouts of America, are resigning in protest of the organization's exclusionary policy.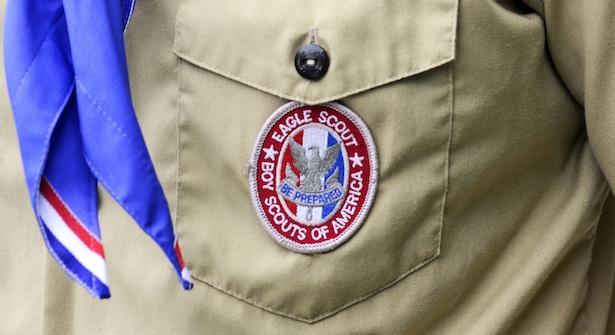 Reuters
Twelve years after the Supreme Court decided that the Boy Scouts of America had the right to exclude gays, and a week after the private membership organization affirmed that it would continue doing so, a new protest movement is emerging from within. In the last two weeks, a number of Eagle Scouts -- the highest rank that can be achieved in the organization -- have returned their medals. A spokesman says it's happened fewer than 10 times. As Alex Halperin goes on to point out, Boing Boing has posted more letters than that from disaffected Eagle Scouts in recent days.
More than 2 million Boy Scouts have earned the Eagle Scout rank in the last 100 years, with 51,473 achieving it last year alone, so the protest movement encompasses a very small subset of Eagle Scouts. It is nevertheless a significant development. In the past, protests of the Boy Scouts has come mostly from outsiders. In my estimation, the critique they've offered has been accurate. But it's more powerful for insiders steeped in an organization's values and recognized for embodying them to say, in effect, "You're failing to live up to the ideals you taught me."
That's the message Matthew Munley sent in his letter:

I must break from my brothers; my lifelong friends. I can no longer stand with them as a proud Eagle Scout. Though I will retain the values, morals and skills that scouting has taught me, I cannot, in good conscience, remain an Eagle. That honor has been corrupted by the BSA's blatant discrimination and bigotry. The BSA's policy of "not granting membership to open or avowed homosexuals" is not a practice in line with the teachings of the Boy Scouts. Instead, this is the practice of bigots. Scouting taught me to stand up against the unethical and that it is wrong to exclude someone for any reason, whether it be race, religion, gender, sex, physical ability or sexual orientation. I was taught to stand up for those who need my help. I am a straight man and I choose to stand with those whose voices you choose to suppress and ignore.
Said Ian Birnbaum:
When I was a Cub Scout, there was one boy in our pack who had been born with a cleft palate. Due to his speech impediment, he spoke rarely and quietly. Naturally, the rest of us teased him and made him an outcast until our pack leader sat us down and explained things. He impressed upon us this boy's desperate need for friends and inclusion. He made sure that we knew that excluding others, no matter the reason, was completely unacceptable and against every law of scouting and brotherhood.

I want you to think about the boys you are casting out of your organization, and I want you to wonder how many of them need support while their families, their schools, and their churches turn their backs on them. I want you to think about the pain you are causing, the depression you are enabling, and the suicides that you are contributing to. I want you to recognize your weakness of character as you fail in your duty as men to protect the powerless.
Maggie Koerth-Baker offers some context for what these men are doing:

Eagle Scout is a big deal. For one thing, it takes a lot of work to get the position. A scout has to earn 21 merit badges and then spearhead a community service project that they organize and manage themselves from start to finish. Add to that the fact that most kids don't stay in scouts through high school anyway, and you end up with the award representing a relatively small and elite group... And it has serious implications once you graduate high school. There are scholarships. Eagle Scouts who enlist in the military after high school can start off with a higher rank than their peers. The adult Eagle Scouts I know have told me that they've gotten interview call-backs or even job opportunities because the award was on their resumes. Basically, it's more than just this medal you pick up at age 17. For many men, it's a lifelong position--and one that demonstrates a commitment to serving others and caring for the community. So when Eagle Scouts start returning their medals to the Boy Scouts of America, that matters. Especially when these men are making this decision because they think it's the best way to demonstrate the values of being an Eagle Scout.

Boing Boing has more Eagle Scout resignations posted here and here.
In email correspondence, Daron Smith, a Boy Scouts spokesman, told Salon that the policy excluding gays exists partly because "forcing parents to potentially have to address this topic with their children before they are ready infringes on their rights to address issues of their choosing, when they wish to address them." It's an extraordinary statement, at once presuming that parents have a "right" to control when their children discover that gay people exist, and that it's possible for parents to hide from their children the fact of gay people if only they aren't in Boy Scouts.
In fact, gay people aren't ever going back into the closet, and American society isn't going to pretend that they aren't around for the sake of parents who'd prefer to hide a basic reality from their kids. It seems somehow at odds with the spirit of the Boy Scouts (motto: "Be Prepared!") to react to a fact about the world by hiding it rather than teaching children how to assess and navigate it. Before leaving childhood every last Boy Scout is extremely likely to encounter gay peers.
The message the organization is effectively sending: Shun them. Were I an Eagle Scout I'd resign in protest too.