Why Are There So Many Conservative Conferences?
Recent years have seen a proliferation of right-wing activist meetings unmatched on the left. The result: a fired-up base for the GOP.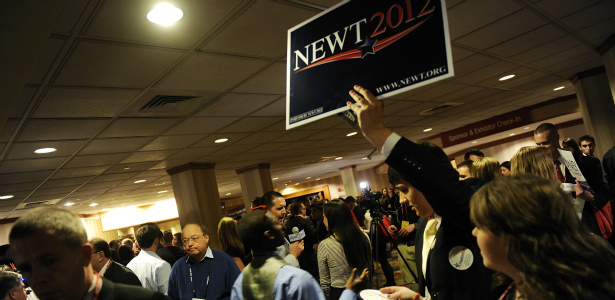 Reuters
Last Friday morning, the conservative author and commentator Jonah Goldberg began his day with a speech to the Faith and Freedom Coalition's annual conference, a gathering of more than 1,000 social-conservative activists in Washington, D.C. After delivering his fiery address on the evils of liberalism to a packed and attentive hotel ballroom, he headed for the airport -- bound for Las Vegas to address another conservative confab, the RightOnline convention of conservative bloggers.
"It does seem like these things are proliferating," Goldberg, whose willingness to travel is enhanced by the fact that he has a new book to promote, mused in an interview upon his return to D.C. on an unpleasant red-eye flight. Even with the book-tour imperative as motivation, the ceaseless circuit of sometimes overlapping gatherings can get to be too much. Goldberg had turned down an invitation to speak in Chicago the previous weekend at a spinoff of the Conservative Political Action Conference, which this year undertook an expansion to supplement its yearly extravaganza in Washington with regional versions in the South, Midwest and West. "These things," Goldberg observed, "are all over the place."
The past few years have seen an explosion of conservative get-togethers, a ceaseless national circuit of weekend meetups packed with speeches, strategy sessions, panel discussions, dinners and parties. The Faith and Freedom conference, now in its third year, in many ways duplicates the Values Voter Summit put on each fall by the Family Research Council. RightOnline, begun in 2008 to counter the liberal YearlyKos (now Netroots Nation), has analogues in the BlogCon and RedState gatherings. And upstart conventions put on by tea party groups or grassroots activists seem to spring up all the time. To make his appearance at CPAC Chicago earlier this month, Herman Cain had to cancel his appearance at the Conservative Leadership Conference in Las Vegas, while conservative news outlets found themselves pulled between those two and the concurrent Future of Journalism Summit being put on in Providence by the Heritage Foundation and the Franklin Center. "I can hardly keep up with them all," marveled Jerri Ann Henry, who handles digital outreach for the political PR firm JDA Frontline.
There are activist gatherings for the left -- Netroots is the big one, the liberal CPAC if there is one (this year's program featured Keith Olbermann and Elizabeth Warren). A nine-year-old progressive gathering, the Take Back the American Dream conference, was getting under way in Washington on Monday. But for Democrats, there has been nowhere near the proliferation of candidate cattle calls and ideologically oriented activist confabs recently seen on the right.
The conservative conference programs always seem to feature the same few dozen right-wing commentators and media stars -- figures such as Grover Norquist, Scott Rasmussen, Michelle Malkin and S.E. Cupp -- as well as conservative politicians looking to test their mojo before a national audience. Virginia Gov. Bob McDonnell, Louisiana Gov. Bobby Jindal, Florida Sen. Marco Rubio and Kentucky Sen. Rand Paul, all thought to have their eye on a national ticket someday, have recently surfaced on convention programs far from their home states, as have Michele Bachmann, Rick Santorum and Newt Gingrich, who are presumably looking to stay nationally relevant after falling short of the presidential nomination. (Wisconsin Gov. Scott Walker, fresh off his recall election victory, looked to be taking a victory lap by speaking at the Faith and Freedom conference this past weekend, but he didn't show -- an aide said Walker's appearance, though advertised on the event's program, was never confirmed -- leaving his lieutenant governor, Rebecca Kleefisch, to speak and collect an award in his stead.)
The sudden flowering of conservative meetups appears to be organic -- the result of a plethora of activist groups jockeying for attention and influence. "It's the difference between a central-planning hierarchy and a more Hayekian, million-flowers-blooming philosophy," posited Matt Lewis, a writer for the Daily Caller and frequent conservative-conference panelist.
And there appears to be plenty of audience demand, despite the seeming danger that the marketplace is becoming too crowded. CPAC Chicago drew 2,000 attendees, while 1,500 attended all or part of Faith and Freedom. Tickets for the latter ranged in price from $35 (for students who skipped the banquet) to $224 (for the full program, starting with Thursday's luncheon featuring Rubio); that covered some meals, but not travel or hotel costs for the attendees, many of whom came from far and wide.
For Marvin and Barbara Asmus, octogenarians from Grosse Pointe, Michigan, the Faith and Freedom gathering was an excuse for a vacation to Washington as well as an opportunity to be around like-minded people. They came a few days early to take in such sights as the Newseum, the Spy Museum and the National Cathedral. "We're Christians and we're conservatives, in that order," said Marvin, a retired spice importer in a plaid suit. "It's encouraging being with so many like-minded people. You couldn't get in an argument around here no matter how hard you tried." The pair, who supported Santorum during the primaries, said they would leave Washington freshly inspired to work to get Mitt Romney elected. "Glenn Beck brought me to tears," Barbara confessed. "I have got to do more to get my three children involved in politics."
If there is a tinge of profiteering or self-promotion to the welter of political exhibitions, their organizers say it is all in service of the cause. "In spite of the amazing lineup of speakers, the main focus is really on training and equipping grass-roots activists to go back to their respective states, organize at the precinct level, and educate, persuade, mobilize, register and turn out voters," Faith and Freedom Coalition Chairman Ralph Reed told me. He noted that the Washington conference was supplemented by forums held in half a dozen states. While Reed allowed there was probably some duplication between his event and the Values Voter Summit, he said there was no animosity between the two: Tony Perkins, whose organization sponsors Values Voter, spoke on the Faith and Freedom program.
The constant conferencing has some obvious upsides for the conservative movement. It helps keep the base engaged, enthused, and working to build the kind of grassroots organization that has historically been Democrats' stronger suit. And while the flood of invitations can be wearying for Republican politicians, who must carefully pick and choose appearances based on whom they wish to appeal to and what message they hope to send, it's also a valuable opportunity for officeholders with their eyes on bigger things to build a profile outside their home states.
In his address to the conference's concluding banquet, Reed sketched an expansive vision for his group's influence: Lobbyists at all 50 state legislatures, 5 million members, a $100 million annual budget. During this year's elections, he proclaimed, Faith and Freedom plans to build a database of more than 25 million social conservative voters, then contact each of them seven to 12 times -- with mailers, phone calls, emails, text messages and door knocks -- to make sure they vote.
The mingling, the speeches, the chicken dinners -- that's all well and good. But at the end of the day, Reed made clear, it's about Republicans winning.
"We're not just playing around. We're not just shadowboxing," said Reed, whose rise as head of the Christian Coalition in the 1990s was derailed somewhat by his involvement in the Jack Abramoff lobbying scandal. The Faith and Freedom Coalition represents Reed's political comeback, and it's clear that his natural affinity for this type of work has not diminished.
"We're playing for keeps," he added. "We're playing for the biggest prize in the history of the human race -- that's the United States of America -- and we are not going to lose."