Who Is Mike Leavitt, the Man Leading Mitt Romney's Transition Team?
The former Bush cabinet member is a close confidant of the GOP presidential contender, but his support for a key part of Obamacare has conservatives furious.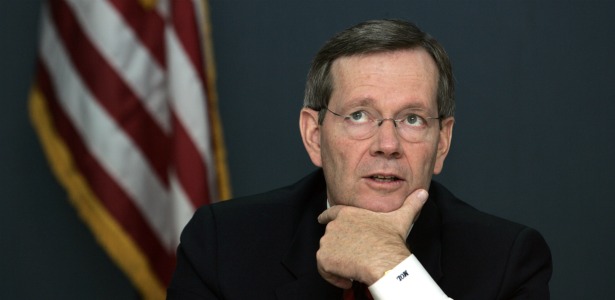 Reuters
Even as a presidential campaign fights to win the election, it has to be preparing for what comes after. For any candidate who's not an incumbent, that means choosing a transition chair who quietly sets in motion a plan for an administration, including choosing who might fill top posts, if the candidate wins.
Mike Leavitt is in the spotlight today after Politico reported that the former Bush cabinet member has been tapped to lead the transition. But his backing for part of President Obama's health-care reform law has upset conservatives, and his past support for cap-and-trade could come back to haunt him. So who is the quietly powerful Leavitt, why was he chosen, and why is he controversial?
*He's a lot like Romney. A member of a prominent Mormon family; the son of a politician; a technocratic Republican governor with a special interest in health care; a successful businessman; a cool-headed efficiency evangelist. Sure, that could be Mitt Romney, but it's also Mike Leavitt. The two men became friends when Leavitt, then governor of Utah, helped install Romney as head of the troubled Salt Lake City Olympic Games. His style as governor was much like Romney's as leader of Massachusetts: Politico describes Leavitt as "a hands-on executive who's driven more by data than by ideology, a high-energy if vanilla technocrat who reads heavily in his spare time." For Romney, who keeps a small core of like-minded, long-time lieutenants close to him, Leavitt is a perfect adviser.
*He has a long resume in Republican circles. Unlike Romney, who likes to boast that he's not a career politician, Leavitt has never been far from politics. He got his start running his father's unsuccessful bid for Utah governor. He continued to work on campaigns throughout the ensuing decades. He served an almost unprecedented three terms as Utah governor and was generally very popular. After his third term, he moved on to the Bush Administration, where he replaced Christine Todd Whitman after her tumultuous term as EPA administrator, then took over the Department of Health and Human Services for the entirety of the second Bush Administration.
*He's known as a moderate. Like Romney, Leavitt has often been described as a moderate -- a potential liability for the candidate, who has wrapped up the GOP nomination but is still seeking to convince conservatives he's one of them. For example, as EPA administrator, Leavitt was a prominent advocate of cap-and-trade rules for cutting carbon emissions. Back then, that position was attacked by environmentalists as far too lenient. Since, however, the cap-and-trade idea has become a serious taboo in the GOP. Responding to the "moderate" label, Leavitt told Politico, "That's probably by Utah standards. I'm clearly center-right."
*He has been a prominent backer of one element of Obamacare. Even as Obamacare has become the GOP's bete noire, Leavitt has vocally backed one provision of the law: state-level health-insurance exchanges. As part of the law's expansion of insurance, these exchanges allow citizens to shop for insurance from private companies, and if they qualify they can use federal subsidies to purchase coverage. Insurance companies accepted various strictures -- most notably, the ban on rejecting applicants with pre-existing conditions -- in return for the individual mandate, which broadens the pool of insurance buyers. A Leavitt aid told Politico, "We believe that the exchanges are the solution to small business insurance market and that's gotten us sideways with some conservatives." But Leavitt also has a major financial interest: His health-care consultancy has won contracts from many states to help set up the exchanges, which must be in place by 2014 (unless the law is struck down by the Supreme Court).
That has conservatives hopping mad. Prominent conservative pundit Erick Erickson wrote on Monday, "This should shake every conservative's confidence in Team Romney to really understand just how badly we want Obamacare fully repealed and calls into question the conservative bona fides of those who would staff a Romney White House when Obamacare pimps staff the campaign." Several other conservative groups told Talking Points Memo they were very concerned about Leavitt's selection for the same reason.
*He could play a powerful role in shaping a Romney administration. Why do they care so much? Well, Leavitt would have an important voice in setting both the personnel for the new administration and settings its agenda. He'd help Romney choose who would fill top spots in the cabinet. President Obama selected John Podesta, a former White House chief of staff under Bill Clinton, to lead his transition; his eventual team included many veterans of the Clinton administration. It's also rumored that Leavitt might have his eye on a top job in a Romney White House, perhaps as chief of staff. So while a Leavitt-led transition wouldn't guarantee a moderate Romney administration, it's not unrealistic to expect his philosophy would be reflected in the result.