Who Is Commerce Secretary John Bryson?
The Cabinet member is under investigation after a hit-and-run accident that may have been related to a seizure.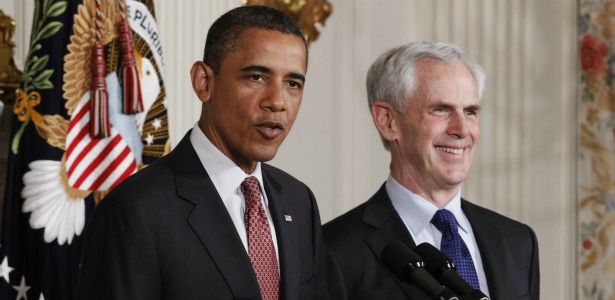 Why Are We Talking About This Guy? News emerged early this morning that Bryson was involved in two accidents within minutes of each on Saturday in Los Angeles County, California. The first was a hit-and-run, which police are investigating as a felony; after the second, Bryson was found unconscious and taken to a hospital for treatment. The good news -- if there is any -- is that police don't believe that drugs or alcohol were involved. The Commerce Department released a statement saying Bryson had suffered a seizure. ABC's Jake Tapper reports that Bryson, who is 68, has had seizures before -- during a board meeting at Boeing about four years ago, he blacked out and had to be taken to a hospital.
What Exactly Does the Commerce Secretary Do, Anyway? It's a relatively minor Cabinet post, though it's been held by a few important politicians -- most notably, Herbert Hoover used it as his springboard to the presidency. On the surface, it sounds important: The Commerce Department is responsible for fostering economic growth and job creation domestically and working to promote overseas trade. But the reality is that Congress, the president, and the Federal Reserve have more direct control over job creation and the economy. Commerce collects much of the nation's economic and population data, most importantly the Census, and also includes the National Oceanic and Atmospheric Administration and the world's saddest aquarium, in the basement of the department's offices in Washington. Bryson's Commerce page says he's taken a particular interest in manufacturing.
How Did He Get the Job? Bryson is actually the fourth person Obama nominated for the gig. The president first nominated Bill Richardson, who withdrew amid an investigation of fishy contracts in New Mexico; then Republican Judd Gregg, who withdrew over political differences; and finally Gary Locke. Locke served for two years before being appointed ambassador to China. Obama, criticized for being "anti-business" was under pressure to choose someone with a corporate background. Bryson became commerce secretary in October 2011.
What Is Bryson's Background? His big resume line is 18 years as CEO of Edison International, the parent company of regional electric giant Southern California Edison. He also served on the boards of directors for Boeing and Disney, chaired the California Public Utilities Commission, and was a trustee at Stanford University.
What About His Politics? Though Commerce is his first major position in politics, Bryson is a Democrat. He has strong environmental credentials, which was one reason he appealed to Obama: An environmental lawyer by training, he helped found the Natural Resources Defense Council. He's given money to Democrats over the years, including Californians Jerry Brown, Dianne Feinstein, and Jane Harman, but he's also donated to Republicans such as Dick Lugar and Brian Bilbray. As CEO, he contributed regularly to the Edison International PAC, which gives in roughly equal amounts to both parties.
What Happens Now? We still don't know all the facts about Bryson's accidents this weekend, so it's hard to tell. If Bryson leaves his post, it's hard to imagine he'll be replaced before January. Even with his long business record, Bryson aroused the ire of Republicans, especially Sen. James Inhofe. Given the short time remaining in the current presidential term, the Commerce Department might have to settle for an acting secretary until Obama is reelected or a Romney Administration takes power.