Where the Real Political Action Is Happening: The Statehouses
Washington is gridlocked and focused on the presidential election, but bitter fights rage for control of state capitals around the country.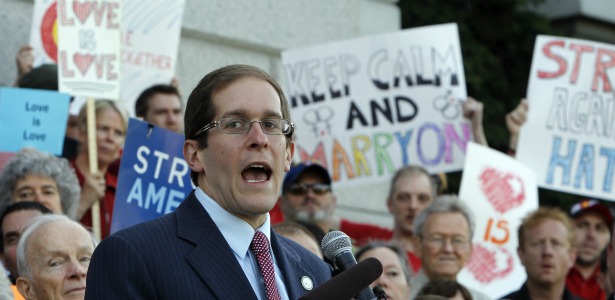 If you wanted a ringside seat for some high-flying political drama last month, Denver would have been hard to beat. The statehouse pyrotechnics over civil unions for gay couples --a late-night standoff, a filibuster, and a tense countdown to the end of the session -- were much more exciting than the scene in Washington, where legislative work has mostly come to a standstill in the midst of a presidential-election year.
In a few months' time, the White House race will suck up most of the oxygen in Colorado, as President Obama and Republican Mitt Romney flood the state with TV ads and muscular get-out-the-vote operations. But just as crucial to the future of the Centennial State are its legislative elections, and how they turn out will be tied to the performance of the Obama and Romney campaigns.
The Colorado House, where Republicans hold a precarious 33-32 majority and all 65 seats are up, is one of some dozen legislative chambers around the country that could flip from one party to the other. Many of them are in the same swing states, and hinge on the same battleground counties, where the presidential race will be decided.
"The biggest impact is the ground game and we've seen it over and over again," said Tim Storey, an analyst with the National Conference of State Legislatures. "Clearly whoever wins the White House always has coattails."
The GOP staged an unprecedented takeover of state legislative bodies in 2010, adding over 500 seats to their ranks, capturing control of 55 legislative chambers, and increasing the number of states where they had control of both chambers -- to 26, up from 15 in 2008. They're looking to expand their turf this year, while Democrats are hoping to stage something of a comeback after their stinging setback two years ago.
The Republican Legislative Campaign Committee, responsible for electing Republican state lawmakers, is pouring at least $35 million into legislative campaigns across the country. A spokesman for the Democratic Legislative Campaign Committee said its candidates would also be well-funded, but declined to give specific spending figures. While legislative races tend to fly mostly underneath the radar in comparison to the intense scrutiny attracted by federal elections, the implications are huge.
"With gridlock in Washington, it's where real policy is being done in the United States right now," Storey said. "States have to balance their budgets, which means making tough decisions year in and year out, allotting hundreds of billions of dollars on things that really matter to people."
If the U.S. Supreme Court upholds Arizona's controversial immigration law or strikes down Obama's federal health-care legislation, state legislatures may become even more influential -- bearing the responsibility for coming up with their own health care and immigration solutions. They already are leading the charge on controversial social issues that Congress largely avoids: same-sex marriage, abortion rights, even medical marijuana.
Dan Roth, communications director for the DLCC, said that some of the more controversial measures taken up by state legislatures in the last few years -- the Virginia House's failed requirement for transvaginal ultrasounds before abortions, for example -- have created the right conditions for a backlash.
---
MORE FROM NATIONAL JOURNAL
---
"We've seen a lot of ideology and a lot of ideological discussions in state legislatures and I think voters have had it, whether it's issues involving reproductive rights for women, workers' rights, or voter intimidation laws," he said.
In Wisconsin, it was the GOP-controlled state legislature that passed Gov. Scott Walker's controversial legislation to curb collective-bargaining rights, sparking protests, national interest, and recall petitions. Four Republicans in the deadlocked 16-16 Wisconsin Senate face recall elections on June 5.
David Avella, president of GOPAC, an organization that provides financial support and training for Republicans running for state legislative offices, called the June 5 recall election "the second-most important in 2012, next to the presidential race. You'll have a number of Republican legislatures who will think twice about the legislation that they put up, depending on what happens in Wisconsin. So for us, it is the most important race."
Come November, Republicans are eyeing slim Democratic majorities in several swing-state chambers. Democrats are up by five seats in the Colorado Senate, four in the New Mexico House, two in the Iowa Senate, and one in the Nevada Senate.
"As good as the 2010 cycle was, we believe the Republicans left some opportunities on the table and that, in 2012, we have an opportunity to get some of these chambers," Avella said.
Democrats, meanwhile, are aiming for coups in both legislative chambers in Maine and Minnesota, in the New York Senate, and potentially in the New Hampshire House, where the small size of the state's 103 districts -- most with multiple representatives -- means even small changes in votes can make a big difference.
In other swing states such as North Carolina, Florida, and Pennsylvania, Republicans have built seemingly insurmountable advantages because of the number of seats gained in 2010 and redistricting that bolstered those majorities. Few analysts are expecting as dramatic a wave for either side as the one Republicans rode in 2010. "That comes down to one word: redistricting," Storey said. "Republicans had their wave election at the perfect moment."
The civil-union debate in the Colorado House, with its one-vote GOP majority, underscores how small shifts in legislative seats can have a huge impact. The bill extending various privileges to gay couples had enough Republican votes to pass the House and make it to the desk of Democratic Gov. John Hickenlooper, who had lobbied for its passage.
But House Speaker Frank McNulty and other Republican opponents orchestrated a series of late-night maneuvers to block it. When the clock ran out on the legislative session the next day, more than 30 other bills died along with the civil-unions measure, including $20 million worth of water projects. Despite what he concedes was a "rough end" to the session, McNulty said he is proud of what the GOP-controlled House accomplished in the areas of tax relief and budget priorities. "The difference was Day 1," he said of the GOP majority that took over the Colorado House in 2010.