What the Eric Holder Contempt Vote Means: Not Much
The vote won't break the stalemate over Operation Fast and Furious, but it's a good cudgel for Republicans.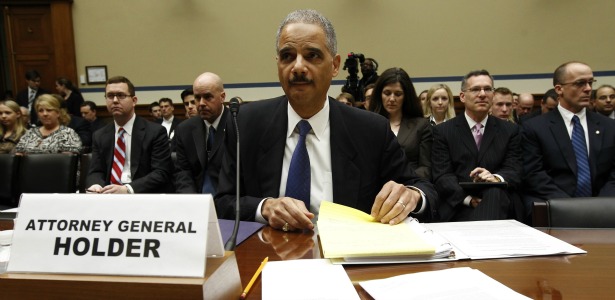 Reuters
Thursday was a climactic day in politics, with the Supreme Court handing down its highly anticipated ruling on the Affordable Care Act. But in the House of Representatives, anticlimax carried the day. Sure, the vote to hold Eric Holder in contempt of Congress was a major landmark -- the first time a sitting attorney general has ever been so held. But the vote was a surprise to no one, and we won't be seeing Holder tossed in jail, tendering his resignation, or contritely handing over banker's boxes full of documents any time soon.
GOP members of Congress are furious at Holder for refusing to turn over certain documents related to Operation Fast and Furious, a botched "gunwalking" operation. Holder has testified before Congress about the case nine times and turned over around 7,600 documents; the bone of contention here are documents from February on, which Republicans claim might show that the Justice Department tried to cover up Fast and Furious. After negotiations to turn over certain documents broke down, the Obama Administration asserted executive privilege over them. That didn't satisfy the House Oversight and Government Reform Committee, which voted to ask the full House to find Holder in contempt. The House voted to do so Thursday afternoon, with 255 members for it and 67 voting against. Seventeen Democrats voted with the GOP, while most of the caucus walked out and refused to vote. (Two Republicans, Ohio's Steve LaTourette and Virginia's Scott Rigell, broke ranks with their party.)
As partisan warfare goes, that's pretty successful. But there's a good chance the vote won't do much more than ratchet up tensions. Here's the problem: Once the House holds someone in contempt, it's left up to the nation's top law enforcement officer to carry out prosecution for criminal contempt. That officer happens to be Eric Holder. The House could go in a different direction by referring the matter to a federal court for civil contempt and trying to get the court to compel Holder to turn over the documents in question. How that plays out remains to be seen, but administrations are often able to defend withholding documents.
None of this is to say that the partisan tension isn't important. Holder has clashed repeatedly with the GOP, on matters from where accused terrorists would be tried to voting rights, and this is the chance to finally smack him. Even if he's not compelled to turn over documents, it's obviously a black mark on his term as attorney general. For Republicans, who were sorely disappointed by the Supreme Court upholding Obamacare, it's a symbolic and morale-boosting victory. Fast and Furious is a popular crusade in the GOP caucus, although Speaker John Boehner seemed reluctant to bring the contempt issue to a full House vote -- then scheduled it on a day when it would be largely overshadowed by the health-care ruling. It's also a helpful cudgel for the GOP to use against Obama and his party in November.
Democrats, meanwhile, are furious -- as the walkout showed. Prior to the vote, some alleged it was racially motivated. Pelosi suggested it was intended to intimidate Holder, who has opposed strict voter ID laws pushed by Republican state governments. Holder issued a statement calling the vote "a crass effort and a grave disservice to the American people," while the White House derided it as "a transparently political stunt."
Despite the chest-thumping on both sides, the flap might still end in a negotiated settlement -- a technique often used to avoid court hearings. With the exception of the contempt vote, Holder has gotten some good news on Fast and Furious in the last two days. The Associated Press reported on emails showing Holder demanding answers from inside the Justice Department, including one in which he wrote, "We need answers on this. Not defensive BS. Real answers." Meanwhile, a major investigation in Fortune magazine suggested that guns were never intentionally allowed to "walk."