Want to Thank Someone for Obama's Immigration Move? Thank Marco Rubio
The Florida senator has been a leader in pushing the GOP toward a more open stance, and pioneered the plan the president announced today.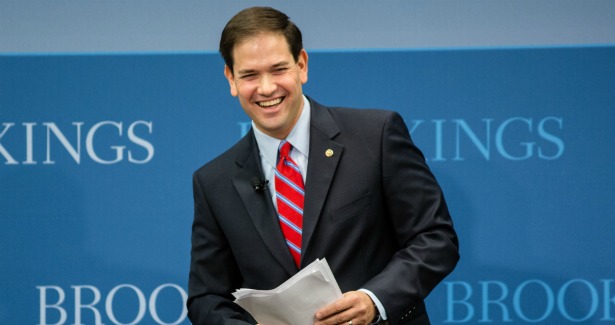 Getty
The administration's announcement that it would suspend the deportation of hundreds of thousands of immigrants who were born abroad and came to the United States without authorization as kids has immigration advocates showering hosannas on President Obama. There is another politician, though, who deserves quite a bit of credit for the administration's move: Florida Republican Senator Marco Rubio.
Two months ago, Rubio floated a watered down version of the so-called DREAM Act -- and the administration this morning essentially made it the law of the land (at least temporarily).
The original bill would have put immigrants on a path to citizenship if they arrived in America as minors and were pursuing higher education or had joined the military. Under Rubio's plan, immigrants who were pursuing higher education wouldn't get a green card, but could apply for two-year work visas, which could be renewed in perpetuity. The senator also would have offered citizenship to immigrants who served in the military.
President Obama isn't in a position to bestow citizenship on thousands without approval from the U.S. Congress -- and despite repeated tries, the DREAM Act has never made it past the Senate. Otherwise, though, what Rubio proposed was basically what the Department of Homeland Security announced as official policy Friday.
What Rubio proposed was basically what the Department of Homeland Security announced as official policy Friday.
When Rubio floated his proposal, it generated excitement in the immigration reform world. There was no way the original DREAM Act was going to pass the current Congress, and the fact that the GOP's premier Hispanic politician was proposing a way to break the logjam breathed life into a moribund effort. Because every year immigrants are "aging out" of being DREAM Act eligible (only those 30 or under can apply), not to mention the fact that hundreds of thousands of men and women were living under the threat of deportation, the lack of momentum had a real human cost.
Personally, I wasn't one of the admirers of Rubio's plan. As I wrote earlier in The Atlantic, the "half a loaf" option -- you guys can stay, but without a path to citizenship -- could trap hundreds of thousands of young people in an underclass. A look at the experiences of countries like Germany and Austria makes the perils of that model apparent.
Rubio won paeans to his political courage for pushing the conversation forward from some immigration reform advocates. It was, however, an arguably necessary move if he wanted to position himself as the man in the GOP who could make inroads with Latino voters. Rubio is smart and articulate, but the reason the 40-year-old is being touted as a veep contender just two years after entering the U.S. Senate is because of his Cuban immigrant parentage and position representing Florida. Still, he's spoken of immigrants in compassionate terms, describing how he would tell his Republican colleagues that "people who enter this country illegally do so because they are looking for a better life."
Until he unveiled his DREAM Act proposal, though, that rhetoric wasn't coupled with an effort break with the Republican orthodoxy on immigration reform during his time as a senator. Rubio hadn't introduced a written version of his DREAM Act, and he did file a bill in the U.S. Senate that would have made it more difficult for undocumented immigrants to claim a child tax credit.
Given that history, Rubio would have been dogged by criticism for having being all talk and no action on immigration, were he to join Mitt Romney on the Republican ticket, damaging his credibility with Latino voters. His DREAM Act proposal seemed more like a necessary corrective rather than political courageousness.
In retrospect, though, if political leadership is defined as taking a risk to advance the policy conversation, then what Rubio did does qualify. Because the fact is, without Rubio's proposal, it's unlikely the administration would have taken the risk of circumventing the U.S. Congress to make it possible for possibly a million residents to live and work here legally. That's because Rubio's plan changed the way the Obama campaign could frame the debate on immigration. There has been mounting frustration in the Latino community over the administration's failure to pass comprehensive immigration reform while simultaneously presiding over a historically high number of deportations. An obvious rebuttal to this criticism was "we may not have delivered, but the Republicans are even worse"-- an argument Romney lent credence to when he advocated "self-deportation" and announced he would veto the DREAM Act as president.
Rubio's contribution to the DREAM Act debate made it harder to allege the GOP was the "do nothing" party on immigration reform. The senator had been spreading the word in the media that the administration was telling DREAM Act advocates to refrain from working with him on his effort. It put pressure on the administration to shore up its credentials with Latinos, a voting block that could decide whether Colorado, Florida, and Nevada end up in the Red or Blue column this fall. With its announcement Friday, the administration did just that.
Without subsequent Congressional action, though, thousands of the DREAM Act eligible kids won't be able to become citizens -- the only way they will become full-fledged members of U.S. society. Nonetheless, the administration's announcement is life-changing for these men and women. Senator Rubio released a statement criticizing the president's decision to bypass Congress in order to make that possible. But make no mistake about it: it was his own effort that helped spur the administration to action, and it has made Rubio the most influential freshman senator serving in the U.S. Congress today.