This Is What Romney-Backing Billionaires Look Like
Pretty much exactly what you'd expect, as pulled by the Public Campaign Action Fund for a Pinterest board.
Pretty much exactly what you'd expect, as pulled by the Public Campaign Action Fund for a Pinterest board.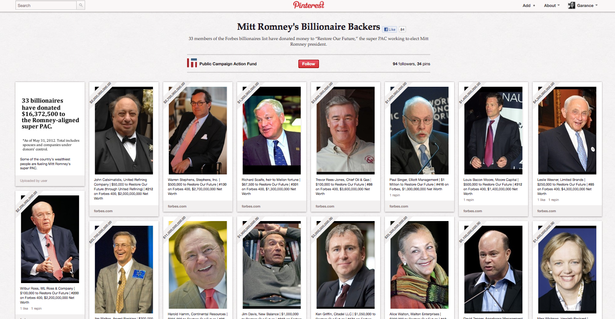 As Mitt Romney prepares for a weekend in the resort community of Deer Valley, Utah -- an even posher, often gated enclave just outside Park City, full of enormous private ski chalets -- with Republican leaders and major campaign donors, you might want to take a look at the Public Campaign Action Fund's Pinterest board picturing 33 billionaires who have donated to Restore Our Future, a pro-Romney super PAC. The Romney gathering will be for donors to the Romney Victory Fund, but billionaires who donate large amounts to outside groups tend not to skimp on the formal campaign, once they've committed, and some of these folks seem likely to make an appearance in Utah, too.
Reports Utah's Deseret News:
The exclusive event is one of the perks for donors who have given at least $50,000 or raised a minimum of $250,000 for the Romney Victory Fund, which shares contributions with the Republican Party.

The more than 700 guests expected will hear from what's being billed as the GOP "Dream Team," a list that includes the party's 2008 nominee, Arizona Sen. John McCain, strategist Karl Rove, former Secretary of State Condoleezza Rice and former Florida Gov. Jeb Bush.

Besides panel discussions Friday and Saturday on banking, health care, Israel, innovation and the media, there's a barbecue at the Utah Olympic Park, a tea with Romney's wife, Ann, and Olympic ice skating gold-medalist Dorothy Hamill, and golf.

"This is about rewarding your big donors," University of Utah political science professor Matthew Burbank said. "There won't be any average Utahns there at all unless they're serving food or something."...

The Deer Valley retreat is one of two that will be held for top donors and fundraisers. Details of the fall retreat, including where it will be held, have yet to be announced. The same group will also receive special access to the GOP's national convention in Tampa.

Hagle said such treatment is typical for big campaign backers, Republican and Democrat. "It's that access," he said, "that causes them to open their checkbooks."
(via TPM)