The Right's Romance With Rubio Continues in CPAC Veep Straw Poll
Activists gathered in Chicago signal they want Mitt Romney to pick a conservative running mate -- preferably the Florida senator.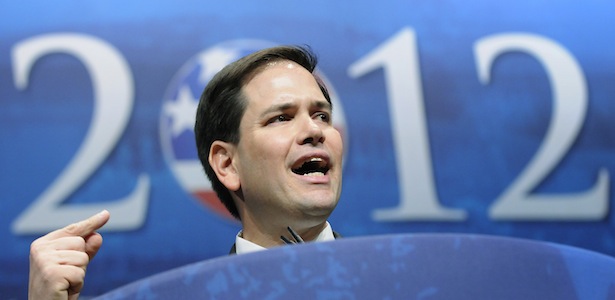 Reuters
ROSEMONT, ILLINOIS -- Florida Senator Marco Rubio was the undisputed favorite vice presidential choice of conservative activists gathered for the Chicago Conservative Political Action Conference, receiving 30 percent of a straw poll vote that asked attendees who they would like to see as Mitt Romney's running mate this fall.
Rubio -- who did not speak at the conference -- was followed by New Jersey Governor Chris Christie with 14 percent and Representative Paul Ryan, with 9 percent of the vote. Fourth and fifth place went to Kentucky Senator Rand Paul and Louisiana Governor Bobby Jindal (who spoke to the crowd Friday afternoon) respectively.
Virginia Governor Bob McDonnell, who spoke to the crowd Friday afternoon, and Ohio Senator Rob Portman, a top-mentioned VP possibility who did not attend the conference, both received less than 2 percent of the vote.
The poll's results were much less conclusive on the question of what should drive the presumptive nominee's choice. Thirty-two percent of the voters wanted to see Romney run with someone who could reach out to the more conservative wing of the party, 27 percent would like to see a running mate who would complement his governing, and 20 percent said they would prioritize a candidate with broad national appeal, especially to minorities. Only 17 percent thought the top criteria should be qualification to lead the country, and just 4 percent said Romney should pick a running mate from a key state.
The straw poll, which featured 23 prominent Republicans as choices on the poll, was co-sponsored by The Washington Times. Five hundred and twenty people at the conference voted out of well over 1,000 in attendance at the height of the conference.