The Politician Who's Not Afraid to Love Bain
In the presidential race, the name of Romney's onetime employer has become a dirty word. But in Utah, an underdog candidate rushes to embrace what he calls "Mitt's company."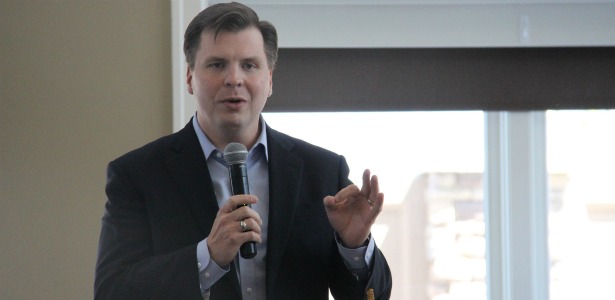 Dan Liljenquist/Flickr
In recent weeks, the Obama campaign has slammed Mitt Romney's work for Bain Capital, while Romney has struggled to find an effective way to positively cast his well-remunerated work on leveraged buyouts and other private-equity deals. But it seems there's one politician who's not at all leery about being connected to Bain: Utah Republican Senate candidate Dan Liljenquist.
Liljenquist is the conservative challenger hoping to stage a primary upset against the state's senior senator, Orrin Hatch. In April, he succeeded in forcing Hatch into a primary election for the first time in Hatch's 36-year career, by holding him to less than 60 percent of the delegates at the state Republican convention. But Liljenquist, a former one-term state senator, remains a major underdog. He got just 28 percent of the convention vote, he's not well known, and Hatch has assiduously courted the party grassroots and Tea Party activists -- unlike another Republican who fell to a Tea Party challenge this primary season, Indiana Sen. Dick Lugar -- scoring, for example, the endorsement of Sarah Palin.
Now, as he works the state in advance of the June 26 primary, Liljenquist has hit on a new strategy -- identifying himself with Romney, whose popularity in the Mormon-majority Beehive State is off the charts. (Romney got nearly 90 percent of the Utah primary vote in 2008.) And one thing Liljenquist and Romney have in common is that they both worked at Bain -- in Liljenquist's case, Bain & Company, the management consulting firm where Romney worked after graduating from business school, and to which he returned to as CEO in the 1990s. (Bain Capital, the private equity firm, was founded in 1984 as a Bain & Co. spinoff.)
At a town hall in Provo over the weekend, Liljenquist referred to Bain as "Mitt's company," according to a report on Disreport.net, and repeatedly dropped the names of Bain and Romney. If sent to the Senate, he said, he would "use every ounce of my training at Bain Consulting" to solve the entitlement crisis.
One problem for Liljenquist: He only worked at Bain for two years, 2001 to 2003, and would not have crossed paths with Romney, whose last stint at the company ended in 1992. Another problem: Romney has endorsed Hatch.