Should Democrats Worry About Hispanic Turnout?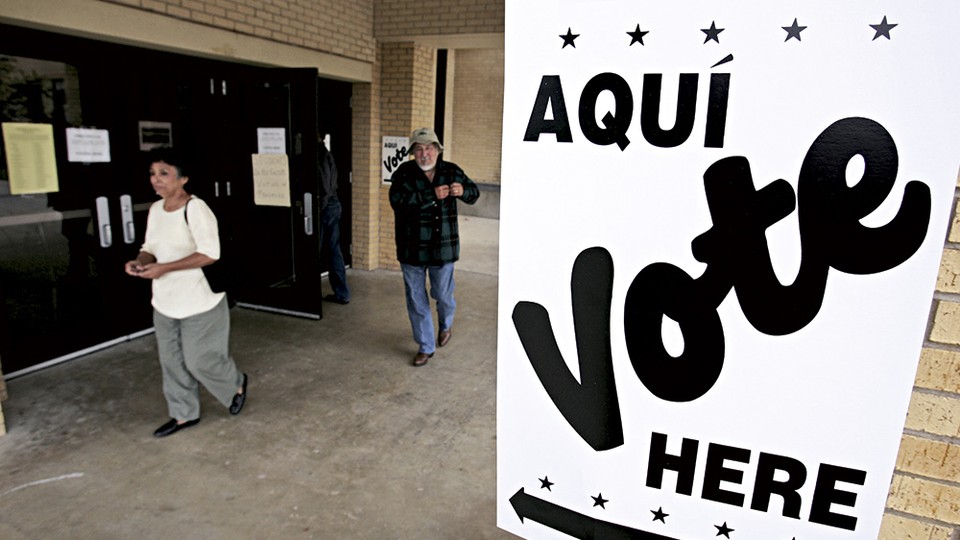 If there was any doubt about the importance of the Hispanic vote this election year, President Obama laid it to rest with his recent, aggressive courtship of Latino voters. But this month also provided fresh warnings to the Obama campaign that Hispanic voters, despite their growing numbers, aren't all that interested in turning out to vote.
The evidence can be drawn from the House primaries that took place in states with significant Hispanic populations over the last month, particularly California, New York, and Texas. In contests from Southern California to Spanish Harlem, Hispanic candidates suffered political disappointments because of low turnout from their own voters.
The biggest setback for Hispanic representation took place in Texas, where Latinos fueled the population growth in the state over the last decade. But it's unlikely they will gain more seats in Congress even with four new congressional districts. While 38 percent of Texas voters are Hispanic, it's likely that only six of the state's 36 House districts (17 percent) will be represented by a Hispanic member of Congress in 2013.
In the state's primaries, several Hispanic candidates suffered several stinging defeats, largely because of low levels of Latino participation. Their most notable setback took place in a new Fort Worth-area seat specifically drawn to elect a minority member of Congress. But former state Rep. Domingo Garcia, a Democrat, wasn't able to take advantage of the district's sizable Hispanic population, which makes up nearly two-thirds of the district (and 39 percent of its voting-age population) and finished 12 points behind Democratic state Rep. Marc Veasey, who is African-American. Only about 18,000 registered Democrats showed up to vote, an anemic turnout level far below the rates in other districts featuring competitive Democratic primaries. Garcia is the heavy underdog in the July 31 runoff.
At least Democrats could take solace that the seat will remain in their hands. But in California, the party took a major hit when its favored candidate in a 49.4 percent-Latino battleground district didn't even qualify for the ballot. Redlands Mayor Pete Aguilar was one of the party's brightest recruits, and looked like an early favorite against Republicans Rep. Gary Miller (who didn't live in the district he was running in) and state Sen. Bob Dutton. But turnout in the district's fast-growing Hispanic core was anemic, and Aguilar didn't even qualify for the general election ballot, finishing in third place in the all-party primary. This, in a district Obama carried with over 55 percent of the vote.
In another cautionary note for the Obama campaign, immigration was a major dividing line in the election, but it didn't push Hispanic voters to the polls. Aguilar campaigned on a comprehensive immigration reform that would create a path to citizenship for some illegal immigrants. Miller, meanwhile, is one of the leading immigration restrictionists in Congress, and recently sponsored legislation that would end birthright citizenship for children of illegal immigrants born in the U.S. Despite so much at stake for Hispanic voters, they didn't show up.
Democratic operatives were blindsided by the results, anticipating much better Hispanic turnout to comfortably push Aguilar to face off against a Republican in November. Now Republicans are guaranteed to hold the seat in November.
"We clearly have to do a much better job reaching out to Hispanics to get them to vote," Aguilar said in an interview. "We put together a decent field program, but it appears from the data we've seen, the precincts that were more Hispanic were not as likely to get to the polls."
The latest sign that Hispanic voters' clout may not match their numbers took place Tuesday night in New York City, where Rep. Charles Rangel, D-N.Y., comfortably defeated Hispanic state Sen. Adriano Espaillat. Espaillat entered the race against Rangel  in hopes of capitalizing on the demographic change in the district -- it's 55 percent Hispanic after redistricting -- and campaigned mainly in Hispanic areas. Espaillat looked like a formidable contender against the ethically-embattled congressman. But Rangel's victory -- he was leading by five points as of presstime -- showed that a shared ethnic background isn't enough to turn voters out to the polls.
However, the early expectations for Espaillat have been tempered by the reality that a shared ethnic background isn't necessarily enough to turn voters out to the polls.
To be sure, you can't read too much from the primary turnout numbers. Voter turnout can be notoriously low in primaries, and increases significantly for November. And so far, the primaries occurred in states where the presidential race isn't expected to be competitive.
But there are a number of pivotal congressional races that are taking place in battleground states, where the difference between winning and losing depends on the level of Hispanic turnout and whether they overwhelmingly support the Democratic candidate. Obama's get-out-the-vote machine will be active in all these areas, and its effectiveness will be critical for his own prospects.
In suburban Las Vegas, GOP freshman Rep. Joe Heck is facing Hispanic state Assembly Speaker John Oceguera, a Democrat, in a district where Hispanics make up 13 percent of the voting-age population. In Colorado, Democrats are bullish on their chances of defeating Republican Reps. Mike Coffman (who recently apologized for saying Obama was not American "in his heart") and Scott Tipton and need strong Hispanic turnout to win.
Meanwhile, Rep. Allen West, R-Fla., moved up the coast to run in one of the country's biggest battleground districts, which voted for both Obama and Republican Florida Gov. Rick Scott. He's facing Democrat Patrick Murphy in a district where 12 percent of voting-age residents are Hispanic. This district about as close to a bellwether as they come: If Obama wins the district, it's a good sign for his reelection.
These races highlight some opportunities for Democrats to win back seats, demonstrating how Hispanic growth can change the political map. But the primary results offer the opposite side of the coin, and should serve as a cautionary tale for Democrats who believe that the growing Hispanic vote, by itself, is enough to be a game-changer.
Scott Bland contributed