Senate Stalls on Dream Act, Other Measures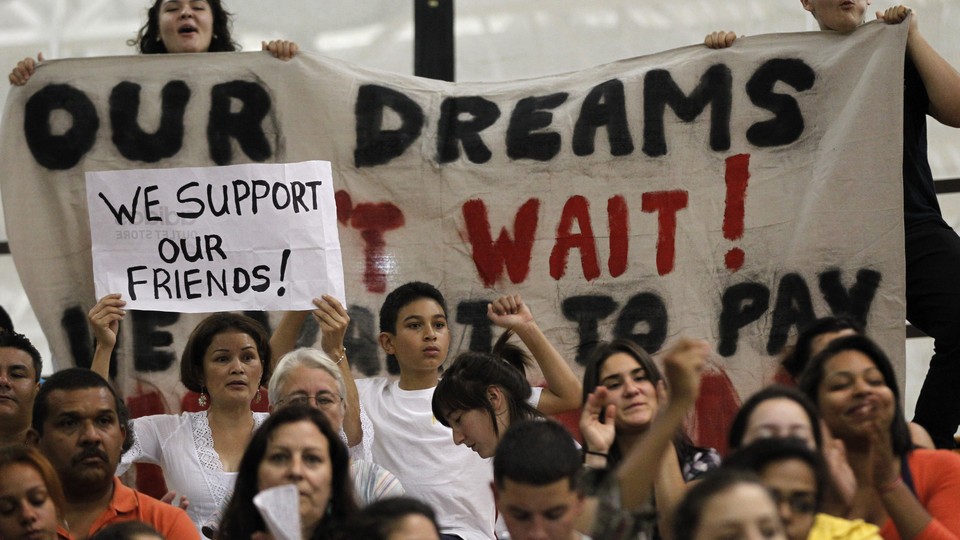 Modest hopes for congressional action on small immigration proposals are fading, as Democrats in the Senate see no possible avenues for moving them forward.
Democratic leaders have effectively ruled out seeking a vote either on the Dream Act, which would give legal status to illegal-immigrant teens who join the military or go to college, or on similar legislation, according to Democratic aides familiar with the Senate floor plans. Chances aren't much better for legislation addressing visas for skilled workers.
Early this year, Senate Democratic leaders and the White House discussed the possibility of forcing a vote on a narrowly tailored immigration measure, according to a leadership aide. Such a bill would have had little chance of passing the Senate, but it might have benefited Democrats in other ways. It would have built goodwill with advocacy groups clamoring for reform, both Hispanic organizations and business groups eager for foreign labor.
More importantly, it would have helped drive Hispanic voter turnout in states critical to control of the White House and the Senate, including Nevada, Arizona, and Colorado. An immigration debate also might have offered an issue to wield against presumed GOP presidential nominee Mitt Romney, who opposes the Dream Act.
Democratic aides said that leaders now have decided against such an effort. That is in part because groups clamoring for immigration changes will not be satisfied by a partial bill, and Democrats say they would be unable to keep the measure small. "It's hard to do narrowly," said one aide to a senior Democrat. "It becomes a total Christmas tree."
Senate Democrats are owning up to the obvious political problems accompanying votes on any immigration proposal, no matter how small. A win on a relatively noncontroversial bill risks irritating advocates for broader reform. Yet an almost-certain loss on a bigger proposal would likely lead to future debates. The topic of immigration was taboo for several years after a comprehensive bill died on the Senate floor in 2007.
Still, acknowledgments from Senate leaders that immigration issues are too dicey for floor votes will dash the hopes of many in the business community who had hoped for some progress on a skilled-worker visa bill. On Wednesday, a bipartisan group of House members led by Reps. Michael Grimm, R-N.Y., and Loretta Sanchez, D-Calif., will unveil legislation to create a new visa for foreign students who receive graduate degrees from U.S. schools in science, technology, engineering, or math fields. A similar bill already has been introduced in the Senate by Sen. Mark Warner, D-Va., with Sens. Christopher Coons, D-Del., Jerry Moran, R-Kan., and Marco Rubio, R-Fla., as cosponsors.
The technology industry is pushing hard for this legislation, dubbed the Startup Act, arguing that firms on the cutting edge of innovation and job creation need access to all the skilled workers they can get.
"As a forward-looking U.S. employer that wants to keep driving innovation and growing the U.S. economy, we need better access to foreign nationals who graduate with U.S. [science and math] master's and Ph.D. degrees," said Laurie Tortorella, worldwide immigration manager at Intel. Tortorella spoke at a briefing on Monday for tech business leaders sponsored by American Council on International Personnel, before the executives headed to Capitol Hill to tell policymakers to fix the skilled-worker visa system.
At the same time, the technical professional association Institute of Electrical and Electronics Engineers is pushing members in their districts to support a similar bill sponsored by Sen. John Cornyn, R-Texas, that would eliminate a current lottery for green cards to create 55,000 permanent visas for skilled engineering and math graduates.
Lobbyists smell a deal, but they aren't likely to seal it in the current Congress. Republicans may be sympathetic to the business leaders' plight, but once any legislation on immigration hits the floor, there is potential for mischief in the form of political-messaging amendments and filibustering.
What's more, Democrats are no longer interested in trying to move a bill without GOP support. Despite optimism sparked by a modified Dream Act proposal from Rubio, Democrats and the White House believe no GOP support is forthcoming.
Senate Majority Whip Dick Durbin, D-Ill., the chief backer of the Dream Act, said he has not given up on efforts to move the bill this year, but his words bear the mark of one looking for a thread of a silver lining in a giant cloud.
There are "indications from the House of interest in the Dream Act or versions of it, Senator Rubio's interest. All those things are encouraging," he said.