Rubio's Split Stance Frustrates Critics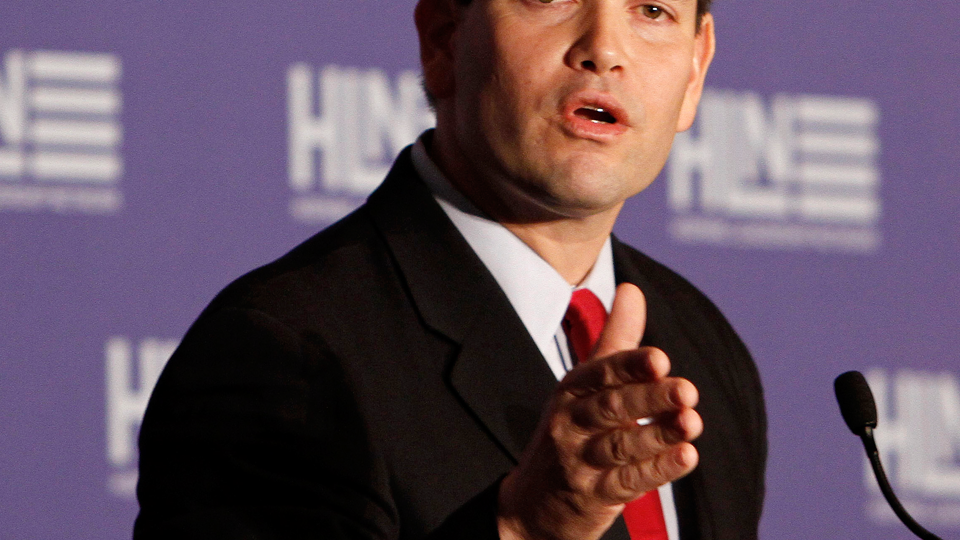 In early May, Sen. Marco Rubio, R-Fla, talked immigration with conservative talk show host Laura Ingraham.
The Democrats planned to push the Dream Act, he told Ingraham. Rubio didn't agree with the legislation that would give undocumented immigrants, brought to the country as children, a path to citizenship.
Rubio said he wanted to offer an alternative - one that would grant young people legal status if they go to college or serve in the military but which stopped short of offering citizenship.
Rubio's plan would not reward those lawbreakers, he explained.
A conservative and a Latino, Rubio -- a possible Republican running mate for presidential aspirant Mitt Romney -- is uniquely positioned to successfully bridge the troubled waters separating the GOP and the Hispanics, many of whom had been turned off by the harsh tone that colored debates over illegal immigration during the Republican primary.
In discussing his position on the Dream Act, Rubio stepped into the crosshairs of the national debate on immigration. Both sides quickly took aim and fired.
Some immigrant rights advocates complained the plan, which has yet to be officially unveiled, would put young people in immigration law limbo for years; they accused Rubio of pandering for Hispanic votes and panned the plan.
Others opposed to illegal immigration labeled it amnesty, questioned Rubio's conservatism, and, in some cases, his citizenship; they also discredited it.
Now a liberal group has Rubio in its sights, accusing him of hypocrisy for sympathizing with undocumented students while at the same time introducing legislation they say "attacks" the children of illegal immigrants, many of whom are U.S. citizens by birthright.
The same day Rubio discussed his position on the Dream Act with Ingraham, he quietly introduced legislation that would make it more difficult for illegal immigrants to claim a child tax credit.
The bill would require immigrants to submit immigration papers along with their tax documentation in order to receive a child tax credit refund.
"There is no way Sen. Rubio can logically square this proposal that puts low-income U.S.-citizen children in the crosshairs with his professed desire to provide "˜humanitarian' relief to "˜blameless' undocumented youth," wrote Marshall Fitz, the executive director of the Center for American Progress, in a statement on the think tank's website.
Rubio's office dismissed the criticism as partisanship, the Miami Herald reported Tuesday. Under the bill, noncitizens working here legally could still claim the credit by providing documentation, Rubio's spokesman told the Herald.
His spokesman did not respond this week to requests for further information.
The introduction of the tax credit bill in the wake of Rubio's Dream Act debate is nuanced politics at its best, said Susan MacManus, a political science professor at the University of South Florida in Tampa.
Rubio's discussion of the Dream Act may resonate with younger Cubans and Hispanics of other backgrounds for whom the plights of promising undocumented students are a symbol of what's wrong with the country's current immigration system and conservative views on illegal immigration.
The bill limiting illegal immigrants' access to the child tax credits was a message to older Cubans and other conservatives who believe that illegal immigrants snub American laws and believe that they cost the government money.
The bottom line, McManus said,  is that courting the Hispanic vote in Florida is a complex proposition.
"Dancing on a tightrope. That is what he's doing for sure," she said.
Cubans represent nearly 30 percent of all Hispanics in Florida, according to 2010 Census numbers. Puerto Ricans make up the second largest share with 20 percent, followed by South Americans at 16 percent, and Mexicans at 15 percent.
Hispanics affiliate almost equally with the Democratic and Republican parties in Florida - 13 and 11 percent respectively, MacManus said.
The debate over illegal immigrants and the Additional Child Tax Credit flared in April when an Indianapolis TV station aired a report that some illegal immigrants had received tax refunds after they claimed the credit for children they didn't have or who lived in other countries.
In 2010, people not authorized to work in the U.S. received $4.2 billion in tax refunds the previous year, according to a report by the Treasury Inspector General for Tax Administration.
The report did not say specify the number of fraudulent claims but noted that people who file with an Individual Taxpayer Identification Number were much more likely than others to claim the refund.
An ITIN, issued by the Internal Revenue Service, allows immigrants to file and pay taxes, regardless of their immigration status,
More than 70 percent of tax returns filed using a ITIN claimed an additional child tax credit, compared to 14 percent of individuals who filed with a Social Security number, according to the report.
The IRS says that it follows the law when determining who should get the tax credits. Eligibility does not depend on work status or the type of taxpayer identification number used, according to an emailed statement from the agency.
The IRS has procedures in place to evaluate questionable tax credit claims prior to issuance of a refund, according to the statement.