Romney's Strategy: 'Es La Economía, Estúpido'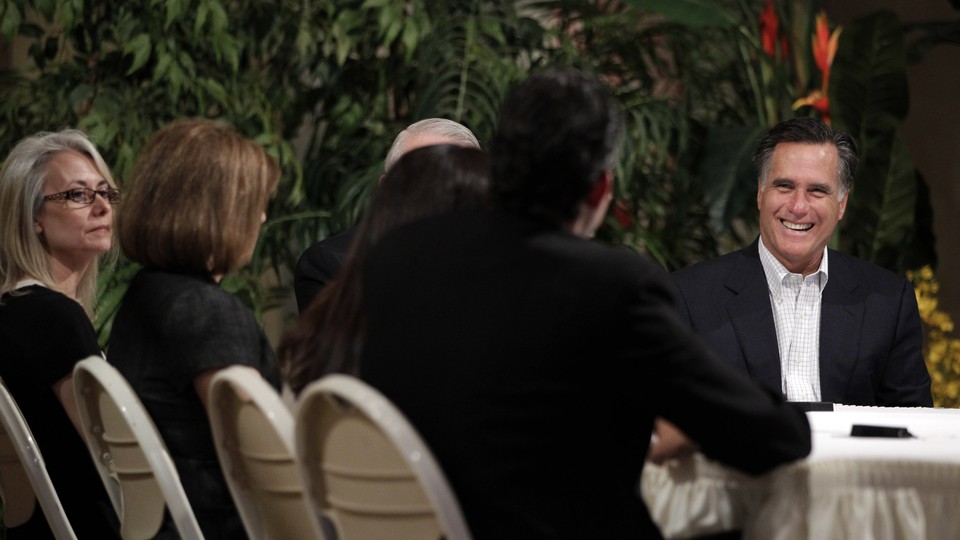 Mitt Romney has a plan to lure Latino voters into his camp, and perhaps not surprisingly, it's the same strategy he's employing to win over women, young people, independents, and all other undecided voters. Here's a hint: It's the economy, stupid.
"Did you know that the rate of unemployment among Hispanic Americans rose last month to 11 percent?"Romney said Tuesday during a rally in Fort Worth, Texas. "And that the people in this country that are poor, living in poverty, one out of three are Hispanic American?"
You couldn't blame any Republican who, upon hearing Romney's remarks, may have whispered, "Finally." Indeed, the political chattering class has long wondered: When will Romney, who lags far behind President Obama among Latino voters, signal an aggressive outreach to the country's fastest-growing demographic? And, considering Romney's hard-right stance on illegal immigration made his Republican rivals look "moderate," perhaps the more salient question is: How will Romney sell himself to a group that was often ignored and occasionally vilified during a brutal, prolonged primary contest?
Five months removed from Election Day, it appears we have our answer -- and it's consistent with a campaign that tailors an audience to their candidate's message instead of the other way around. This strategy speaks to a staple of the Romney campaign. Whenever he has encountered a voting bloc with which he's not entirely comfortable, Romney goes back to basics and pounds the one message that compels universal resonance: jobs and the economy. When Romney sold himself to socially conservative Iowans, he spoke about the "moral crisis" of rampant unemployment. When Romney was accused of waging a "war on women," he counter-punched by saying female professionals have been hit hardest by the economic downturn. And when Romney finally offered an olive branch this week to wary Latino voters, he did it on his terms, talking about jobs and the economy rather than immigration and foreign policy.
For the Romney campaign -- and the GOP -- this courtship of Latinos is long overdue. Republican officials have long expressed fears, both privately and publicly, that the party's harsh tone on Hispanic-sensitive issues could permanently alienate a critical section of an ever-diversifying electorate. These concerns hit home especially hard in March, when a Fox News poll showed Obama drubbing Romney among Latino voters, 70% to 14%, and pundits of all political stripes declared Republicans doomed unless they partially closed the glaring gap. Foolishly, Romney devoted little time to this cause in the months that followed, keeping his eyes on the primary prize. By the end of last month Romney had the nomination secured, yet he had invested next to nothing in Spanish-language media buys. Meanwhile, Obama was spending millions of dollars running multiple Spanish-language spots in several Hispanic-heavy swing states. Romney needed to play catch-up, and quickly.
Then on June 1, like a gift from the election gods, came the May jobs report, providing an ideal launching point for Romney's Latino campaign. Not only was the report entirely underwhelming -- only 69,000 new jobs were created and unemployment ticked up to 8.2% -- it also showed Hispanic unemployment rose to 11% in May from 10.3% in April. For the Romney camp, which blasted out a searing statement on the "devastating" report within 30 minutes of its release, it seems these numbers provided precisely the opening they'd been waiting for.
Armed with fresh ammunition, Romney on Tuesday launched a full-scale offensive aimed at Latino voters. It started with the release of a Spanish-language web ad that uses May's jobs report to rebut Obama's message, delivered in a recent Spanish-language TV ad, that America is on the "right path." One day later, Romney announced his "Hispanic Leadership Team," members of which include rising Republicans stars such as Florida Sen. Marco Rubio and New Mexico Gov. Susana Martinez. Finally, peppered throughout the past 48 hours have been a bevy of bilingual press releases, featuring prominent Latino Republicans making the case that Obama's economic policies have been disproportionately detrimental to their community.
Romney and his most high-profile Hispanic surrogates have made the case that immigration is not the driving issue for Latino voters -- it's the economy, as it is with everyone else. That theory will be tested in the months ahead, as Romney confronts some of the unpalatable policy specifics he advocated during his primary run. For now, Romney will reach out to Latino voters with a simple question, one that echoes in any language and across every demographic: Where are the jobs?